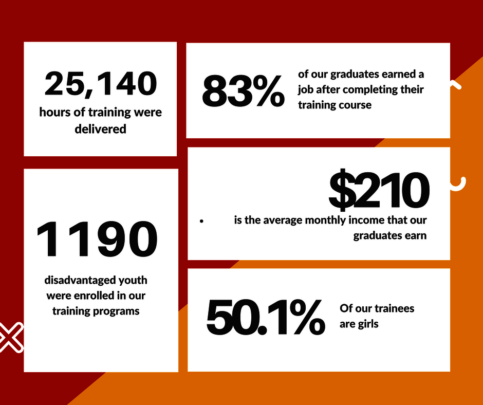 "2017 was a year of milestones for REACH!
REACH's mission is to address the ongoing needs of the most disadvantaged youth across Vietnam and empower them. This has inspired each and every of REACH's staff with a burning desire to bring hopes to the beneficiaries. Our work in 2017 highlighted our ongoing development which meant more lives have been touched and more life-changing opportunities have been provided." - Tam P.T, REACH's Executive Director
Our 2017 courses
REACH's core program, LABS, was initiated by Plan International in 2004. It aims to address the high rates of unemployment among Vietnamese youth through targeted training that aligns with industry skill deficits. It delivers a program of standardized vocational training curriculum followed by job placement and support through six months monitoring and mentoring. REACH conducts three LABS intakes each year, with courses running between 15 and 24 weeks and spanning nine training areas. Our goals are to skill students and equip them for sustainable employment. We target for an 80% outcome of graduates measured at six months after graduation.
In 2017 - our 13th year of LABS operating, 1190 disadvantaged youth accessed to our training programs. Our broadly-based curriculum embraces not only technical contents but also fundamental life-skills set, Green skills, and English language education. These equip our graduates well for sustainable employment. Overall, 87% of our graduates earned a job after completing courses provided by REACH. Their sustainable employment can also be attributed to our 6-month job monitoring and mentor. More importantly, 81% of our graduates reported an improvement in their life quality which reflects our goals to social impact as we empower youth and bring positive changes to their lives.
Sales and Marketing
Sales and Marketing was one of REACH's first courses. It continues to be one of the most successful courses. This year, its graduation rates reached a high of 95%. Our students undertook their own business projects as part of their training instead of taking internships. Some of these projects assisted to promote sales at our Social Enterprises, KOI Bento and EM Hair Salon. Through these projects, our Sales and Marketing trainees obtained invaluable business experience which gave them insights into their future jobs.
Hairdressing
Of the 46 trainees who signed themselves up to our 3 hairdressing batches in 2017, 43 accomplished 14 weeks of salon-standard training. This training not only equipped the youth with professional skills of hairdressing but also provided them with other essential customer services, communication and salon management skills. After 6 months after graduation, 85% of our hairdressing graduates were still in employment.
Cooking
This year, 65 out of 67 enrolled trainees have graduated from cooking courses provided by REACH. This high rate (97%) can be attributed to our training priorities in Japanese and Asian cuisine. Our potential Japanese chefs were also engaged in real tasks to sharpen their skills during training by engaging with our social enterprise, Koi Bento. This included assisting our chefs to prepare a lunch buffet for over 100 people at a conference and making Bento boxes for more than 150 people including HSBC and REACH students at a charity event, 'Love Filled Spring'.
Housekeeping
121 housekeeping trainees have graduated from REACH's training courses in Da Nang and Hue in the past year. Significantly nine new partnering resorts/hotels offering 4-5 star services have committed to join our partner network. This will provide more employment opportunities for our graduates of coming batches. 2017 also brought us wonderful news that many of our alumni have been promoted to supervisor/manager positions in prestigious hotels and resorts.
3D Modelling
2017 marked a milestone for our 3D Modelling training. Launched in late 2016, one batch completed the six-month course. Of the 15 trainees who took up the course, 13 (87%) completed what is considered to be a difficult and skill-demanding area. Positive employment rates of 3D Modelling graduates at 92.3% give us confidence in a bright prospect for this course into the future. It also serves to inspire us to take up the challenge of training students in areas of new technology. These are the jobs of the future for the youth in Vietnam.
Graphic Design
In total, 201 disadvantaged youth were admitted to nine Graphic Design training batches making Graphic Design the second most popular course in REACH's LABS program throughout 2017. Upon completion of the course, our trainees were able to master professional software such as Adobe Photoshop and Adobe Illustrator to design various media and advertisement products.Figures indicated 85.8% of our graduates got employed after finishing their Graphic Design courses at REACH.
Food & Beverage
Remaining the most popular course in our LABS program, Food & Beverage took 516 disadvantaged youth in its training programs this past year. 485 (94%) trainees have completed the training. In addition to professional and Vietnam Tourism Occupational Standard (VTOS) training, tens of hours of English language education were also provided to our trainees to increase their competitiveness in the industry.
Coding
Introduced in mid-2017, Coding is one of the most intensive courses offered by REACH. Its comprehensively developed curriculum engaged in-depth consultation with industry experts in accredited IT companies such as Br24 and ArrowHiTech. 16 trainees successfully completed REACH's first Coding course and were awarded certificates in early February 2018. This new technology course and its success is the testament to REACH's mission in providing training that addresses the skill shortages in Vietnam's growing economy.
Beauty, Spa & Make-up
This course was exclusively delivered to trainees in REACH's Hue center. In 2017, there were 3 batches conducted. These courses totaled 48 trainees with 43 graduates (89.5%). The majority were employed by professional spa and hotels after completing their training. Of particular significance is that the course has established partnerships with 11 new spas in Hue and Da Nang city. This is evidence that this sector of the tourism industry is growing fast and is an encouraging sign for future employment opportunity for our students.
YCI Program
This year, YCI program in Hanoi has attracted the participation of xx disadvantaged youth, delivered xxx hours of training across many different skill areas in the 5-star hospitality sector. This training was delivered and supervised by skilled professionals from the hotels where the students were placed. In addition to this training REACH delivered essential life skills training and mentoring.
Leveraged on its previous accomplishments in Hanoi, REACH's YCI Program has been successfully extended to Southern Vietnam. The first YCI course in Ho Chi Minh City was conducted with the engagement of four our new partnering high-end hotels: Sheraton Sai Gon, Le Meridien, InterContinental Sai Gon and Renaissance. This collaboration has enabled us to provide quality and high standard training to 53 YCI trainees who successfully graduated in February 2018.
Social Enterprise
The development of Social Enterprises has been identified as a major strategic objective for REACH. Its goals are to enhance student learning outcomes through a business model that also delivers an income stream. This income will create financial sustainability for REACH in the future. The social enterprise initiatives in the past year were Koi Bento, a Japanese bento box delivery service, and EM Hair salon.
While generating revenue to reinvest in our training program and sustaining our financial capacity, these businesses provide invaluable opportunities for our trainees to deliver on real customer-related tasks. Over the past year, Koi Bento and EM Hair Salon model have engaged 238 REACH trainees attending Cooking, Hairdressing, Sales and Marketing and Graphic Design courses. In addition, they have achieved significant business outcomes for start-up enterprises.
Koi Bento
KOI Bento is a Social Enterprise initiative in which income generated helps disadvantaged young people training at REACH. The business provides a healthy Japanese lunch meal delivered to customers at their workplace. The preparation of KOI Bento is done by REACH's Japanese trained chefs assisted by their trainees. The trainers in the cooking program were trained in the skills of Japanese cuisine by master chefs in Japan. The enterprise is rapidly expanding its customer base to include Vietnamese businesses, foreign corporations, and Hanoi based NGOs.
EM Hair Salon
Inspired by Em – a determined and brave girl who attended REACH's hairdressing training course with hope to begin a new life after suffering domestic violence, EM Hair Salon was opened with contributions from volunteers, REACH trainees and talented alumni. The salon provides high-quality hairdressing and styling services with experienced staff team while delivering in-salon training to REACH students. The business is performing well as a start-up enterprise and there are ambitious plans to expand it to other venues in Hanoi.
Student story - Thuy, a trainee of Cooking batch 37, REACH Hanoi
Thuy is a girl originating from a family in Thanh Hoa province. Her family is one of the poorest households in the commune with the income of less than US$45 per month. Her parents are both farmers. However, the income generated from farm work is so low that they have to find different seasonal work to make ends meet. Her father had a hearing difficulty so finding a job was very challenging. During harvesting season, he was hired to help other households' farming work with the pay of 2.5 dollars per day,5-7 days a week. Thuy's mother sold home-grown vegetables at a local market and collected trash that can be recycled to sell.
After finishing high school, Thuy wanted to pursue university but she knew it would be just a dream. She enrolled in a 3-year vocational training program at a college but then dropped out because she could not afford training fees. During her time at the vocational college, Thuy took part-time work at a restaurant, which finished at 10.30pm, to cover her living cost. However, after spending 2 years pursuing college, Thuy decided to stop her education because of the unaffordable tuition fees.
Then she was introduced to REACH by a friend of hers and she grasped this opportunity.
"At first, I was shy, unsociable and afraid to talk to anyone. But then my teacher encouraged me and my fellow trainees to share our own stories with each other and it worked. We felt more connected, comfortable and we trusted others to confide in. REACH felt like home to me" said the girl.
She is now working at the Cooking Division of Sushi Kei restaurants and able to earn around 4.5 million Vietnam dong per month. Such income enables her to give her family some financial support. Thuy has a plan to learn Japanese because "The language competency will be my asset when applying for a new job and it gives me better leverage to career promotion and wage increase".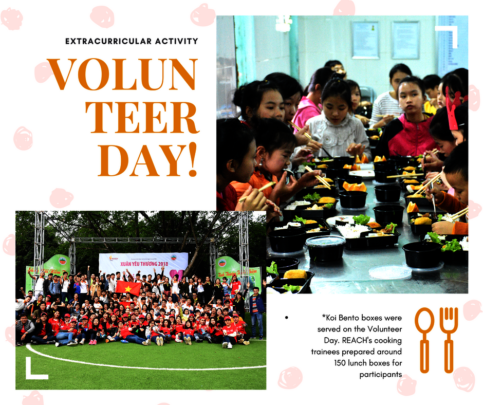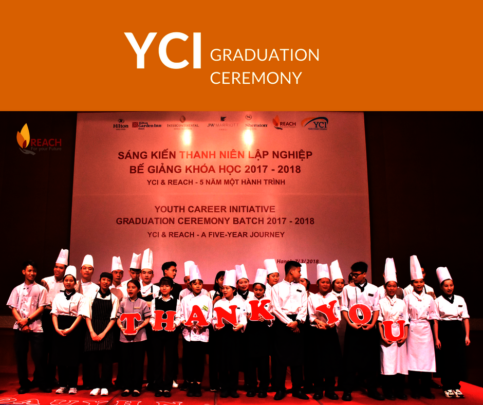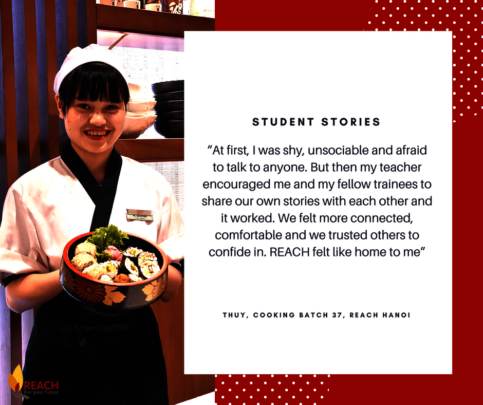 Links: