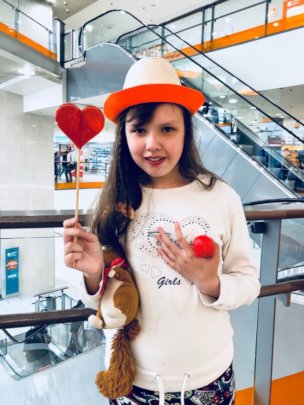 From May 26th till June 01st five children living in the Orphanage for disabled kids # 4 in Pavlovsk went on a journey. They got acquainted with the life of their native city, its daily routine and organization. Saint Petersburg welcomed children and volunteers with an uncommon sun, but it was as usually warm and hospitable.
We managed to visit lots of places: Aquarium, Planetarium, «Obed-Buffet» cafe, Loft Project «Etagi», several children's playgrounds, tropical butterflies park «Mindo», museum in the apartment of N.A. Rimsky-Korsakov, scientific and entertaining space «LabirintUm»…
The program was busy, interesting and very educational. But the most important is that within such a short period we managed to become real friends, open new sides in ourselves, open new opportunities and hidden potential. Children learned to trust their volunteers, while the latter became more attentive hearers of children's needs and wants.
The step forward Saint-Petersburg has been taken!
Volunteer Sasha and Nikita:
I was on the camp for the first time. I was lucky to go with Nikita. For several reasons we actually had to travel to the camp every day. The trip was very tiring, but Nikita enjoyed EVERYTHING. At least he said so. Nikita went to every place and examined everything with interest - be it the Aquarium or Butterflies museum. But most of all I think he liked to be with all of us - children and volunteers). It seemed that it didn't matter for him where to go as long as we were together. The camp gave Nikita communication.
Communication is very important for children's development, and also for adults. I talked to Nikita as an equal, as if we were acquaintances or friends. We even had our own secrets, none of us disclosed them. This is amazing. Nikita appreciated that and started trusting me. I didn't feel that immediately, I realized it later, when I remembered the way he grabbed my hand and said «Sasha!»
Volunteer Sonya and Misha:
Rather unexpectedly I had to go with a different child. I was expecting a five-year-old brat Maxim, but finally I went to the camp with Misha, who during the time I didn't see him, became so to say a problem teenager with an unobvious love for an early Alla Pugacheva (her song «Ne Obeshay» (Don't Promise) was a number one hit for Mikhail) and all the beauties of adolescence.
But nevertheless even teenagers enjoy visiting Aquarium, Planetarium, etc. In the Aquarium Misha most of all liked a weird tortoise, who was hiding its head not in its shell, but somewhere on the side and the creature itself looked more like a snag. In a musical concert «I see music» although Misha refused to sit in the hall near everybody else, we took a good place on a soft velvet pouf in the corridor, so we were able to listen to classical hits performed on a harp comfortably sitting in a reclining posture. «Mindo» however, where various butterflies and other tropical creatures were represented, left Misha absolutely indifferent, unlike the nearby park where we spent a great time listening to the audio book «Master Flea» by Hoffmann.
Although everything was not according to the plan, it was a very cool camp!
It was difficult, cheerful, adventurous and very friendly!
Volunteer Natali and Misha:
I don't know for whom the camp was more important: for me or for Misha, but I know for sure that this time paid off for both of us. A few words about Misha. It seemed to me that Misha most of all enjoyed eating pastry after breakfast. He could sit for a long time, take one spoon of pastry and slowly enjoy the moment. Every day we walked for lunch and dinner. On our way we saw road crossings, traffic lights, cars, pedestrian crossings. Misha properly worked through this way, but sometimes when we were waiting for a green light he could hug me and hang on me. Frankly speaking I could not bear his weight and immediately bent, but these were important moments in our relations. Both of us were breaking personal boundaries and opening ourselves for each other.
In Planetarium Misha got frightened at first as there was no light, the pictures were shown above us and the sound came also from overhead. Misha was worrying and going around in circles. But then I invited him to lie on a pouf and look up. He lay down and relaxed. We were lying in this way for around 20 minutes. Misha was interested in watching what was going on. But then he wanted something else and we went looking for it.
A few words about myself and what I would like to say. All children have the right for attention, support and help. And they need it very much in their childhood. The more they get in childhood, the more confident they will be when they grow up. In childhood when they lack care, love, attention they get all of that by means of manipulations. In this case adults should find out what exactly the child lacks and take action.
Conclusion: it is important to accept children's manipulations, go for them, identify what a child needs and give them what they need. In this way we can make children's life more comfortable.
Volunteer Natasha and Sonya:
In the camp I was with Sonya. We established a good contact with the girl from the very beginning, which is always an important factor.
Sonya is much younger than the rest of the children but this didn't keep her from taking active part in all the activities. The kid especially liked the Aquarium, Planetarium, the roof of Loft Project «Etagi» and museum «LabirintUm».
In the Aquarium Sonya was passionately watching small fish, and she was also attracted by a waterfall. In the Planetarium she was overjoyed with the surrounding stars, on the roof she enjoyed the swing, while in LabirintUm she was delighted to play the piano. Sonya also liked riding the elevator in the shopping mall and taking a shower in a hostel.
I was very glad that I went with this very girl, and that this camp gave her so many new impressions and positive emotions.
Volunteer Julian from Vienna and Dima:
We spent a wonderful time in a city camp with Dima. Unfortunately, they didn't let him stay overnight so we had to travel from the orphanage to the city and back every day. We visited lots of interesting places in the camp, we ate in the canteen where Dima chose himself what he wanted to eat, we walked around the city and for the rest hour stayed in a hostel. He was mostly impressed by the Planetarium where huge pictures of the planets made him open his mouth, and also by the Aquarium where we admired sturgeons, sharks, batoidea and many shell fish.
Volunteer Varya and Lisa:
This was a wonderful and unpredictable camp. A real adventure! Every day we handled various difficult tasks which arose unpredictably, and every day we went to bed with a smile of satisfaction - one more day is over, and it was great. We coped with everything together and became even closer to each other than before.
I was with a girl named Lisa, although originally we didn't plan that. Unexpectedly on the day where the camp was held the volunteer who had to go with Lisa couldn't go, so I spontaneously turned from the head of the camp to Lisa's volunteer, and I am very happy about that.
Lisa is a great kid. She knows a lot and she can do a lot. She is very tender and sensitive. She draws incredibly, she can read, she likes to show her mini sketches on the life of animals and their habits. She always carries toys with her - a squirrel, a red lion and a card with a drawn raccoon. At the beginning when we just got to know each other Lisa didn't give them to me even when it was inconvenient for her to carry them. But after several days of our life together our friendship grew stronger, and here I am carrying a hat where Lisa carefully put her animals to sleep.
Lisa enjoyed LabirintUm a lot, she liked to eat potatoes with «smileys» and Greek salad, she enjoyed washing and loved the mice in the tropical butterflies' park and red colored food. She enjoyed Planetarium and liked swinging on a swing in the Loft Project «Etagi».
Within 7 days we learned to come to agreement with Lisa, I found out where she feels most comfortable, and she knew that I am absolutely not able to make her favorite braids, and it seems to me she forgave me for that.
Lisa found a new friend in the camp - Nikita. She speaks very silently, barely audible. Nobody passing by can hear her. But I heard how worried she was when Nikita wasn't in time for the escalator, how she said: «Watch out, Nikita!», how she showed him the thing she liked.
I am very grateful for all the circumstances came around the way they are. I am grateful for being granted these days spent with my new little friend, who was very sad on the way back home, but was very happy on the next day.
Thank you for this incredible adventure!