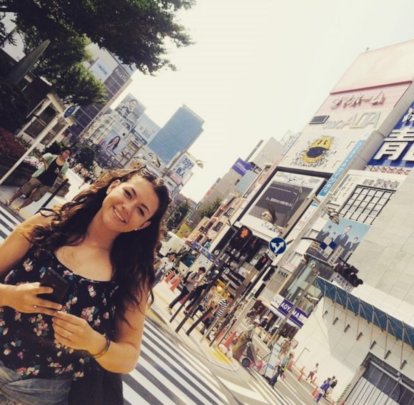 We wanted to share with you a little interview of one of our volunteers Dora, who came to Russia couple months ago. We asked her about her life, decision to come to Russia and her work with kids with disabilities.
Here it is:
—Tell a little bit about yourself.
—My name is Dora, I'm 21, I'm from Hungary. I study at university with a system of special education. After graduation I'll become a speech therapist for kids with disabilities and mental disorder.
—Where did you learn about our organization and why did you actually decide to come to Russia not some other country?
—I decided to have a gap year to get some practical experience and test myself at work. That's why I was looking for an EVS project, that would correspond to my specialty. There were a lot of them. Even though I was approved for a few of them I chose Saint Petersburg anyway, because it's a big city with lots of opportunities.
—Have you already worked with kids who has disabilities or mental disorder?
—Yes, I have. At university practice where I also worked as a volunteer. In addition, I used to be a horse rider and helped at the horse club every summer. There was a hippotherapy. Probably at that moment I realized that's what I want to do.
—How much does the job here differ from what you did before?
—In Hungary I mostly worked with children with autism and Down syndrome. Here're different children, and there're more other diagnoses. Moreover, besides mental disorder the majority of children has physical disabilities.
—What do you like the most in working with children and Shag navstrechu foundation?
—I love walking with kids, because I can speak Russian with them and even learn some new words if it's necessary. Sometimes I don't speak at all if it's more convenient for a child. I also love painting with children, watch them drawing, and analyze why he chose an exact color, an exact form, why he tore a sheet or why he wants me to paint for him. It's very exciting.
In Shag navstrechu I love a friendly environment and a feeling of mutual help. This is very important—volunteers see they aren't alone in a new place where they don't even know what to do. Here they're among friends, I would say—in a family. I remember my first week at the foundation: my coordinator Natalya guided me, showed me around, explained everything. It's amazing how everybody support each other here.
—What stories and myths about Russia did you hear before coming here? Did they come true?
—About bears, of course! But actually nobody said anything bad. Although, when I said I was going to Russia for 10 months, some people, just in case, specified if I was sure and all. There were people who said that Russians are not very friendly, but I think such people are everywhere, that's not the point. Yes, some people here are not very frank with me, but that's because I don't speak much Russian.
—The last question: what Russian word is the most difficult for you to pronounce?
—All of them! To talk seriously the most difficult one is zdravstvujte (hello). That's the first word you say to a person when you see him. It creates the first impression of you, so you'd better pronounce it correctly. But this word scares me every time when I have to say hello to someone! And yet prepodavatel (teacher, professor) is hard, too. I don't even try to pronounce it.
Dear friends, Merry Christmas and Happy New Year! Thank you for supporting our kids, we hope that you'll consider donating again.