We are pleased to announce that SOIL is a winner of the 2016 Humanitarian Water and Food Award! Founded in Denmark in 2008, the WAF Award promotes global best practices in water and food security initiatives.
With billions around the world still relying on water sources that are polluted by human wastes, and declining soil fertility disrupting global agricultural productivity, we still have a long way to go – but we're excited that more and more people are learning about the power of Ecological Sanitation to address these problems.
Thank you for supporting SOIL's work in Haiti to strengthen sustainable agriculture production in Haiti. Without the support of people like you we would not be able to do the work that we do.
Links: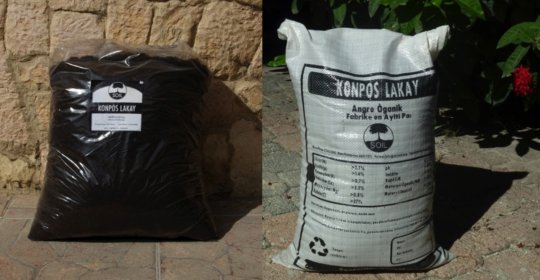 * My apologies to the late great James Brown
Here in Port-au-Prince, our customers love Konpòs Lakay – in fact we recently sold out our stock yet again – but there is one regular complaint we were getting: What is with that bag? It's true. For a product that is all about restoring health to the earth, made by an organization full of people who truly love the environment, it sure had unfortunate packaging. The 5-gallon plastic bags were thin and tore easily, so they were difficult – if not impossible – to reuse. Since our waste treatment site is inside the Port-au-Prince city dump, we know firsthand how terrible it is to send more plastic bags to the landfill. Even aside from the environmental impact, there wasn't much to love about the packaging. The tiny (yet expensive) sticker didn't leave us much room for helpful information. Furthermore, our customers aren't used to calculating in gallons for agricultural products, so determining how many sacks they'd want to order frequently involved a lot of extra math. As with all things SOIL, we did plenty of research, testing, and planning, and now we're finally ready to debut our new packaging! These new bags are:
More eco-friendly: the woven polypropylene bags are made from recycled plastic, are durable and reusable, and can even be re-recycled.
More Informative: the bag has helpful nutrient information and usage guidelines right on the label.
Bigger: the new bags now match other fertilizer/soil amendment packaging on the market, both in units (weight) and sizes (20-lb and 40-lb).
We're pretty excited about them, and we think our customers will be, too! And even with all of these upgrades, there's one thing hasn't changed: rich, organic compost that's rebuilding the health of Haiti's soils!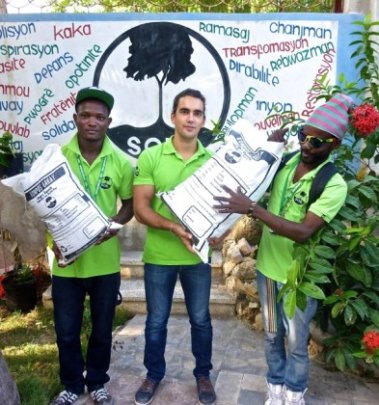 Links: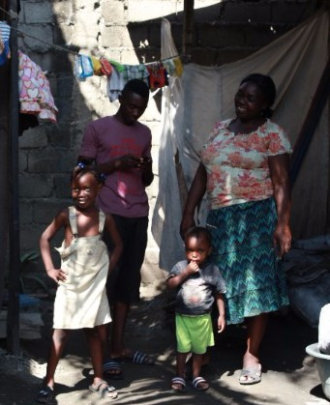 It's World Toilet Day! Around 2.5 BILLION people around the world don't have access to a safe toilet, which is why diarrhea and other waterborne diseases are the leading cause of death for children under five.
Today we are celebrating World Toilet Day by increasing our efforts to expand access to dignified toilets through outreach events in the communities where we work.
We believe that sanitation is a basic human right, and we look forward to promoting this vision in solidarity with the 2.5 billion people around the world who do not have access to a toilet. We commit to follow our vision through the ups and downs, not only for the larger cause but also for our individual customers on a day-to-day basis.
Lovanie Charles, an EkoLakay customer in Cap-Haitien, told us: "We want more toilets, more protection. If we have more toilets in this neighborhood, we'll have more environmental protection against disease."
So this November, while you're reflecting on all that makes you grateful, don't forget to include your toilet on the list! And we continue to be so grateful for your support as we work to make safe, dignified sanitation accessible for everyone.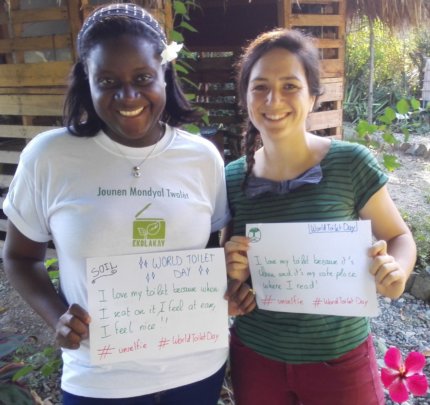 Links:
WARNING: Javascript is currently disabled or is not available in your browser. GlobalGiving makes extensive use of Javascript and will not function properly with Javascript disabled.
Please enable Javascript
and refresh this page.