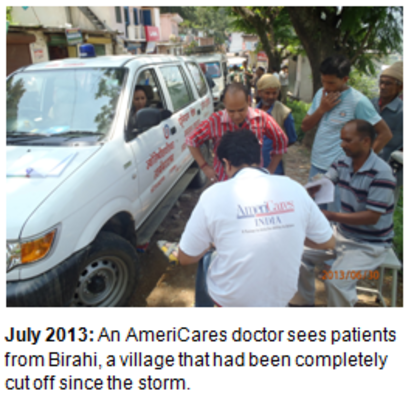 AmeriCares Response to the Flooding in Uttarkhand, India
AmeriCares continues to respond in the aftermath of severe monsoon rains that occurred in India in June, devastating the Himalayan region of Uttarakhand. The heavy downpours and cloudbursts unleashed 23 inches of rain in just 60 hours, causing flash floods, landslides and widespread devastation. In June and July, at the peak of rescue operations, persistent rain and fog hampered evacuation, relief and clean-up efforts. The death toll was reported to be almost 6,000, with thousands more displaced and struggling with the lack of access to food, shelter, clean water and health care.
Since the disaster, AmeriCares India has been in the forefront of response efforts to provide medical aid to survivors, working closely with government officials and our local partners. AmeriCares India conducted medical camps in the hardest-hit areas and provided critically-needed medicines. We implemented a program to provide quality primary care for survivors, with particular focus on maternal and child care, the most vulnerable population, and distributed specially created kits to support the health needs of pregnant women, children and families.
AmeriCares India is currently addressing longer-term needs, which includes the rehabilitation of health facilities, the provision of winter survival kits for families still struggling after the historic floods, the provision of delivery kits to traditional birth attendants in Rudraprayag, and the distribution of standard safety equipment for construction workers.
Following are highlights of AmeriCares work over the last six months:
Health camps
AmeriCares India, along with our partners, have conducted 86 health camps and provided medicines to more than 9,000 beneficiaries.
Medical Nutrition Kits
To support expectant mothers and their children, we distributed nearly 6,750 kits with a three-month supply of quality nutritional supplements.
Winter/Family Care Kits
AmeriCares provided family care kits to help prevent vector-borne diseases, and winter kits to protect against extreme winters, enough for more than 12,000 survivors.
Clean Delivery Kits
To ensure the safety of mother and child during emergency home deliveries, AmeriCares provided 3,000 clean delivery kits in Rudraprayag and Chamoli.
Upgrading health care facilities
AmeriCares is upgrading 31 health care facilities in Rudraprayag and Chamoli by providing them with labor tables, weighing machines and incubators. In addition, AmeriCares has donated 119 vaccine carriers and eight refrigerators within the two districts.
Safety gear
AmeriCares has donated 500 sets of safety gear including helmets, boots, gloves and raincoats to protect construction workers working on roads in Rudraprayag district.
School Stationery Kits for 500 children
AmeriCares has donated special stationery kits for 500 school children in Rudraprayag