To prevent malnutrition among Ghana's orphaned children, AmeriCares launched One Child One World, a five-year pilot program helping vulnerable children aged 0-18 months living in 30 residential homes. Ghanaian organizations Hope for All Foundation and Youth and Social Enterprise Fund joined the effort.
Our team found that compared with children living with families, twice as many children in the homes were underweight—an alarming statistic when you consider the serious health consequences that arise as a result of malnutrition, including increased susceptibility to diseases, and delays in physical and cognitive growth. The team also discovered that caregivers in the homes needed training on issues such as hygiene, nutrition and addressing the emotional needs of orphaned children. At the same time, we continued sending deliveries of nutrition-packed cereals.
The AmeriCares team and partners worked with local experts to create lessons for caregivers to improve their knowledge of children's health and nutrition. Some instructions were simple, such as making soap and water more available to children to prevent the spread of disease. Others were more complex, such as finding sustainable local sources of low-cost, nutritious food. Working together, the teams trained representatives from the 30 participating homes.
Now, real lasting change is taking hold. Not only are children in the homes steadily gaining weight, but more than 100 caregivers know what needs to be done — and are sharing that knowledge with others. The lessons can be used in orphan homes across Ghana.
What's growing here — knowledge and healthy children — will benefit generations to come.
AmeriCares One Child One World™ Program
AmeriCares has continued its work to improve the nutritional, health and hygiene conditions of orphaned and vulnerable children in 30 residential homes in Ghana through its One Child One World™ program, launched in 2011 in partnership with Hope for All Foundation and the Youth and Social Enterprise Fund. Today the program is serving 1,800 newborns and children up to age 18, an increase of 20 percent since it started, and the number of course treatments of nutritional supplements has grown four-fold. Vaccinations have been administered for both the orphans and their caregivers.
To improve the quality of care, AmeriCares has developed standardized caregiver training, in partnership with Ghana Health Services and the Department of Social Welfare, and has already trained more than 100 caregivers.
In addition to continuing with the ongoing delivery of nutritional, health and hygiene support, the program going forward will focus on the completion of caregiver training and the formation of a caregivers' association to advocate on behalf of orphans, vulnerable children and their caregivers. The program will also continue to investigate local sources of sustainable nutrition for the participating homes, working in partnership with the Ghana Health Services, the University of Ghana Nutrition Department, and other corporate partners.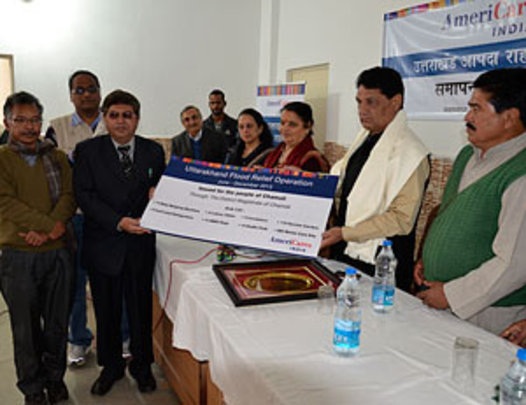 Shri Surinder Singh Negi, Honorable Minister of Medical & Health, honored AmeriCares for its response to the catastrophic flooding in Uttarakhand during a ceremony in Rudraprayag on Nov. 30, 2013. Mr. Negi handed over relief supplies donated by AmeriCares to the Chief Medical Officers (CMO) of Rudraprayag and Chamoli during the ceremony and thanked local volunteers, ASHA Members and NGO partners for their work on the recent disaster.
"AmeriCares has been in the forefront, offering medical aid to the survivors of the disaster since June 13. They were one of the first to come with help and one of the most consistent. The people of Uttarakhand will never forget the help offered by AmeriCares in these trying times," Mr. Negi said.
In response to the disaster, AmeriCares India has provided:
Health Care Services for 9,200 survivors
Over the last six months the medical team from AmeriCares and partners conducted 86 health camps in the districts of Rudraprayag and Chamoli, providing free medicines to more than 9, 000 beneficiaries.
Mother and Child Care Kits for 6,750 Survivors
To support expectant mothers and their children with quality nutrition, AmeriCares distributed nearly 6,750 kits with a three-month supply of quality nutritional supplements.
4,000 Winter/Family Care Kits
AmeriCares provided 4,000 family and winter kits to protect more than 12,000 survivors from vector-borne diseases and extreme winters.
3,000 Clean Delivery Kits for Emergency Home Births
To ensure safety of mother and child during emergency home deliveries, AmeriCares is providing 1,500 Clean Delivery Kits each in Rudraprayag and Chamoli.
Equipment for 31 Health Care Facilities (Rudraprayag & Chamoli)
AmeriCares is upgrading 31 health care facilities in Rudraprayag and Chamoli by providing them with labor tables, weighing machines, ambu-bags, vaccine carriers, refrigerators and incubators.
Safety Gear for 500 Road Construction Workers
AmeriCares has donated 500 sets of safety gear including helmets, boots, gloves and raincoats to protect construction workers working on roads in Rudraprayag district.
School Stationery Kits for 500 children
AmeriCares has donated special stationery kits for 500 school children in Rudraprayag.
AmeriCares has been working very closely with the government officials in Uttarakhand and has partnered with local NGOs to ensure relief supplies reach the right hands.
"AmeriCares is committed to saving lives and preserving the health of survivors in times of natural disasters of this nature. We are glad that with the cooperation of government officials, volunteers, partners and our donors we were able to make a difference in Uttarakhand," said Mr. Shripad Desai, Managing Director of AmeriCares India Foundation.
WARNING: Javascript is currently disabled or is not available in your browser. GlobalGiving makes extensive use of Javascript and will not function properly with Javascript disabled.
Please enable Javascript
and refresh this page.