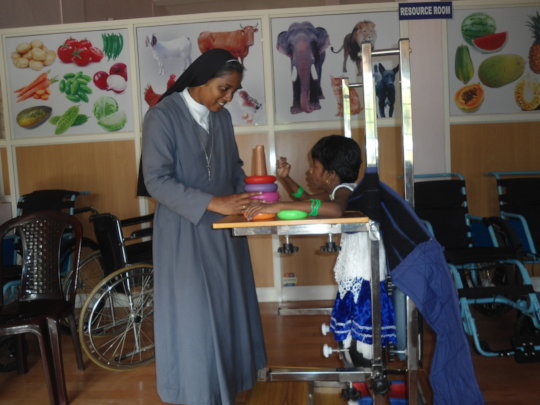 Eight-year-old Sakshi's lives in Amanakara village in Kottayam, with her parents, two siblings and her grandparents. Her father is a daily wage worker and her mother a homemaker. Her family lovingly calls her 'Kuttoos'. Sakshi is our firstborn and her birth was a dream come true!" says her mother, Sita.
But three days after her birth, her parents watched helplessly as Sakshi experienced her first fit of epilepsy. "When we consulted a paediatrician, he said Sakshi had been born with congenital rubella syndrome. He explained she had impaired hearing and vision (she had cataract in her eyes), heart problem and cerebral palsy," says Sita. With income barely enough to feed the family, Sita and her husband were unable to afford regular treatment for Sakshi. The epileptic fits got more frequent.
When she was five, Sakshi began her journey of discovery with us. By the time, our field worker from Kottayam Social Service Society (KSSS) met Sakshi's family, she had delayed development with poor motor coordination and mobility, zero communication, poor vision and hearing.
Our team assessed her for clinical and functional abilities and based upon the recommendations of experts and in consultation with her parents, we developed an individualised education programme (IEP) for Sakshi. She started training in motor, mobility and orientation, communication, education and sensory skills and in activities of daily living (ADL). She also underwent surgery to remove her cataracts.
Over the last three years, Sakshi has made tremendous progress. Today, she can stand with support and has improved her eye-hand coordination. She is able to hold biscuits in her hand and drink a glass of milk independently! She has greatly improved her expressive and receptive communication. She is also oriented with her home and her surroundings. Anakha now recognises her parents and her siblings and she responds to her name. Regular medical care and nutrition has improved Sakshi's health and the epileptic fits have reduced.
Sita is overjoyed at the progress of her daughter. "My daughter couldn't even recognise my voice earlier. But now, Sakshi has inspired a new confidence in me and she has given me the strength to be there for her and her sisters. I am so proud of her!" she says. The knowledge from Sakshi's trainer, Simi, and her experience of caring for her daughter at home has made Sita a good trainer – she often helps other children at the centre now!
* Name changed to ensure privacy & safety.