4 years old Lucy (name changed) comes across as a cheerful and adorable girl. Lucy's lives with her family in a small village of South West Khasi Hills, Meghalaya. Her family includes her parents, three sisters and one brother. Her parents work as daily wage labourers to earn living and meet their family's needs. Unlike her other siblings, Lucy is unable to run around, play and go to school. Born at home her parents noticed that she is not able to crawl and missed several developmental milestones. At the age of two Lucy was diagnosed with deafblindness along with cerebral palsy. She also has epilepsy. Her diagnosis as a child with multiple disabilities was a huge emotional setback for the parents. They wished that their daughter could walk, play and live life like her other siblings. Coming from a small village, financial constraints and unawareness made it a struggle for them to access necessary help for their daughter.
In Oct. 2019, Lucy was identified by Sense International India project team members during fieldwork. Before enrolling at the centre, Lucy was very weak and would fall even while seating. She used to have frequent epilepsy episodes because of which her mother was scared to engage her in any activities. Where on one side cerebral palsy affected Lucy's muscles tone, on the other side deafblindness resulted in severe communication gap in her life and frequent epilepsy episodes drained her of energy.
Our team is working to improve Lucy's health so that she can be more actively engaged in other activities. There is a noticeable improvement in her health as she is receiving nutritional support in the form of oats, cerelac, health drinks and other nutritional support from the project. Lucy has gained both strength and weight as compared to earlier. Her parents have received support for medicines too which ensured regular medication and reduced epilepsy episodes. Through the regular home visit of community-based rehabilitation worker as per the schedule fixed, Lucy's mother is learning to involve her in activities such as identifying common vegetables, fruits as well give attention to her hygiene. Parents have received training from rehabilitation professionals incorrect positioning of Lucy while sitting as well as basic exercises to develop the habit of sitting and improve their daughter balance. Her parents have been guided to apply for disability certificate as soon she turns five this year.
Lucy's mother says, "We give our hearty thanks and gratitude to Sense India and we are filled with joy and happiness for their kind helping hands in distribution of medicines and supplement foods for our daughter. We cannot repay back for the good things that they have done to our child including the whole family, Thank you."
Attachments: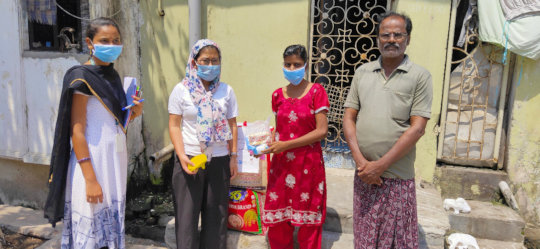 COVID -19 crisis has posed serious challenges for all of us. During the lockdown and after that, many families have lost their livelihood, either the earnings have reduced or ceased. Families with people with deafblindness and multiple disabilities have additional responsibilities of taking care of the nutrition and medical needs of their child so the ongoing pandemic has impacted hugely upon people from low socio-economic backgrounds. Making arrangements for daily meals is a herculean task for many families. We are grateful to you for your valuable support as it has enabled Sense India to reach out to many such deserving families with ration kits, to help them sustain and survive during these dicult times. Please accept our heartfelt indebtedness for supporting this initiative to help vulnerable families.

Sense India ensured that essential ration kits are distributed to deserving families with persons with deafblindness/multiple disabilities in these dicult times. In spite of severe challenges to reach families living in containment zones and high-risk zones, team members strived to reach to such families with help from district administration and volunteers. Most important was to ensure that children with deafblindness, who may have low immunity due to associated medical conditions get proper nutrition and essential items on time. Providing essential food items meant a lot to the families with the single-earning parent; fathers who have lost their job during lockdown; parents who themselves are aged and cannot step out; families who have spent their entire savings during lockdown; daily wage laborers parents and families of children with deafblindness living in far o interior places. It surely will bring immense relief and satisfaction to see families of children and adults with deafblindness/ multiple disabilities collecting ration kit and returning to their safe abode with hope in their eyes for better days. Your support assured parents that they are neither alone nor forgotten and that with your kind patronage, Sense India will always be there for the wellbeing of their children.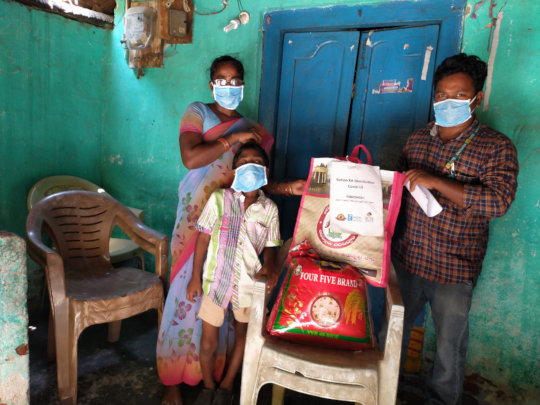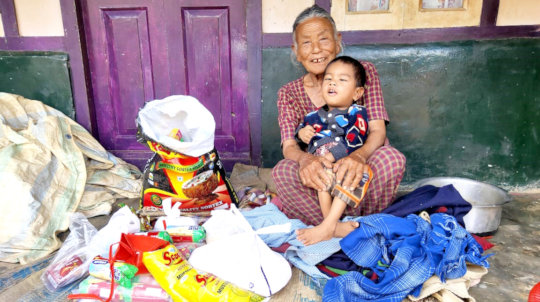 Attachments:
14 years old Tanisha (name changed) lives in Agartala, Tripura with his parents. Her father is a teacher in a govt. school and is the sole earning family member. Tanisha has Aphakia (absence of the lens of the eye) with partial hearing impairment along with intellectual disabilities and attention deficit hyperactivity disorder (ADHD). Tanisha's father felt helpless that he is not able to help his daughter in understanding concept and teach.
At present Tanisha has poor concentration. Though she has a good memory but needs to work on semantic skill i.e. understanding meaning in different types of words, phrases, narratives, signs and symbols. She can count till 20 but fumbles a lot. Also because of poor vocabulary, she is not able to communicate much and at times keep repeating words. Though she follows instructions but needs a verbal prompt to do activities. Her parents' dream of seeing her independent in activities of daily living and that she can concentrate better.
After enrolment under the project special educators has been working on engaging Tanisha different activities to improve her concentration as well as introduce her to the new concept like counting till 30 and additions using the abacus. Over the next three months, rehabilitation professional will work with Tanisha and help her make her independent in other activities of daily living like dressing herself etc. Step by step Tanisha is learning and moving forward in her life.
Attachments:
WARNING: Javascript is currently disabled or is not available in your browser. GlobalGiving makes extensive use of Javascript and will not function properly with Javascript disabled.
Please enable Javascript
and refresh this page.