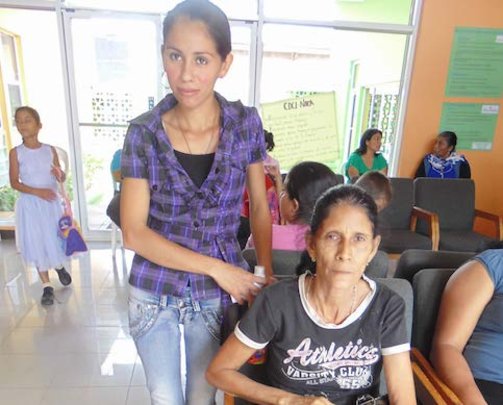 Dear Supporters:
I'd like to share two separate stories with you this month. One is a brief snapshot of two of our patients, written by Maria Jose Montiel, a Nicaraguan student of Communications who sometimes interviews patients for us. The other is a blog post by one of our interns, Paige Preston, a student at University of Southern California. Both offer perspectives into our work in the world. I hope that you will enjoy the inside view.
Thanks, as always, for making our work possible!
Gratefully,
Susan Dix Lyons
12 Hours of Travel
By María José Montiel Castillo
From a far-away community – farther than San Pedro del Norte – in the department of Boaco came Elena Rios and her daughter Claudia. They had traveled a long stretch to arrive at Clinica Verde, arriving with closed faces that made it difficult to read their moods. This bearing is common among women in Nicaragua, who present themselves as humble and submissive according to the cultural roles of women and men in society.
Claudia, 17, had come for a consult: She was extremely thin and fragile, appearing malnourished and coughing frequently. Her mother Elena, 38, also appeared worn and concerned for her daughter, who she said had problems with her blood pressure and ovaries.
"The illness made me come," said Elena, while her daughter withdrew shyly. Together they had discovered Clinica Verde when they passed the clinic on a bus and they decided they liked the way it looked. And, Elena added, they needed to go somewhere where costs were low. Basic household expenses made healthcare difficult.
Both mother and daughter said they were housewives. Claudia was the youngest of seven siblings. Elena said they were also looking for a psychologist for one of her other daughters because she was often depressed. Concern was etched in her eyes as she shared that she didn't have options because there is no health center near her community.
For Elena and Claudia arriving at Clinica Verde was an odyssey, taking them 2 hours on horseback and 10 by bus. Elena said she wanted only the health of her daughter – it was the only thing she could offer her. She said her daughter wanted a different life, but she didn't know how to help or please her. Claudia said she had left school. Her mother showed no emotion. Resignation invaded her.
The two women prepared to see the doctor.
This story is simply a snapshot of some of the patients we have the honor to serve. The names of the patients have been changed.
María José Montiel Castillo is a student in the School of Communications at the University of Central America.
• • •
More than Just the Facts
By Paige Preston
I had all the facts—the first trip, the million dollar fundraising campaign, the number of people seen and served in the first year of operation. I would tell anyone and everyone that would listen about this ambitious vision that had turned into an amazing clinic in a small town in Nicaragua. No matter how much I believed that there was a mighty force for good working behind Clinica Verde, I would see doubt in other people's eyes. I could only throw more facts at that doubt, and I knew that would never be enough.
In many ways I agreed with them and their skepticism. In their position it would take more than a 16-year-old who had never even been to Central America, let alone Nicaragua or the clinic, to make me believe in what could be perceived as an idealistic mission. I would need more to convince me as well. When I finally did make it to Boaco, Nicaragua two Februarys ago for the annual board meeting, it is quite possible that I spent more time in our van driving to the clinic than I actually spent inside. I had seen the drawings, prototypes, and photos of Clinica Verde, but nevertheless as we drove up to the gate, my breath was taken away.
Perhaps it was the direct contrast between the numerous sheet metal "houses" I had passed on our way, but the clinic looked beautiful. I understood the sense of relief that a patient would feel as they arrived, as well as the hope and security they would feel once inside. For the time I walked around the clinic, I evaluated all that I saw. I am no medical professional, but I tried to objectively observe. I noticed people looking genuinely comfortable in the waiting room. I noticed natural light flooding in from widows and skylights, and fans to keep the temperature cool. I took note of the brightly colored walls that inspired warmth and power. I saw a smiling staff that was Nicaraguan just like the people they served. Seeing it in person, the why care? Why bother? What's so different? And all the other answers to the questions that founded the doubts I had faced became illuminated.
Clinica Verde does not just treat the symptoms—it heals the person. I was not sick upon arrival at the clinic, but nevertheless I left healed, hopeful, and somewhat relieved that a place like Clinica Verde in all its idealism could actually exist. It is a clinic that could be placed anywhere and would continue to challenge the norm for healthcare. It's a new model that is not only for those who can pay for the best treatment and care, but for the poorest of the poor as well.
It has been a year since I saw the clinic for those brief few hours. That initial impression has not left me. I believe now more than ever in Clinica Verde. When people ask me now why Clinica Verde matters, I can give more than just facts. I can tell them that mine is not a blind belief in the mission, but that I have seen it and the work being done there will truly change the world. I can tell them that it is a place I would be honored to receive treatment from. For those who doubt it, I challenge them to go see for themselves, see how this clinic is different. Don't simply rely on my story, but dig deeper, decide for themselves, and then share what they discover.
Paige Preston is a sophomore at the University of Southern California studying Political Economy. She has been an intern with Clinica Verde since her freshman year of high school, volunteering and contributing research.