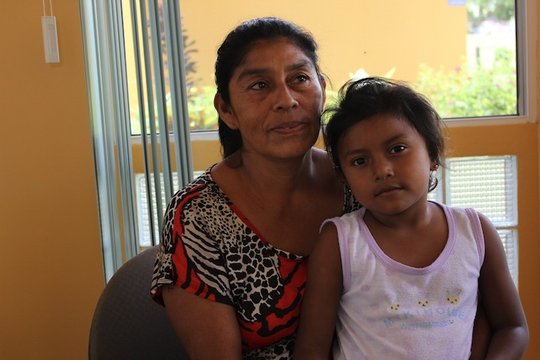 When Ana Urbina, 47, visited Clínica Verde for the first time in November 2012, she complained of having body aches and pain in her right arm.
She had suspected something was wrong with her heart since the day she experienced a sudden, acute pain in her chest, a feeling "like someone was pressing down on it," she says. Ana, who washes and irons clothes for a living, noticed that even moderate amounts of physical work were beginning to cause her palpitations.
An electrocardiogram performed at the clinic revealed cardiac ischemia, or an insufficient flow of blood to the heart caused by an obstruction of the arteries. Chest pain, discomfort, and fatigue are common symptoms.
Not long after her diagnosis, Ana received more bad news: her husband had been killed in a road accident. The weeks that followed were what she calls the darkest times of her life. And it was during this time that she experienced strange episodes of anxiety.
"I would start crying out of nowhere," she remembers. "Anything would scare me. If I heard a phone call my whole body would shake. … I would get the feeling something bad was going to happen to me." Clinica Verde's Dr. Varela, who is in charge of her case, believes the stress aggravated the pre-existing condition.
Clinica Verde provided Ana with medication designed to improve blood and oxygen supply to the heart and prevent chest pain. Ana says she has not experienced panic attacks or heart discomfort since she started taking it.
Dr. Varela has also advised her to reduce her workload, given her heightened risk of suffering a heart attack. Ana says she's been working a lot less but can't give up the job completely, as she is coping with difficult financial times. "My husband used to help me line-dry the clothes when I got too tired," she says. "Now I have to find others to help me. It often means I have to pay them," she says.
Clínica Verde Director Dr. Alba Castillo explains that because the clinic deals primarily with maternal-infant cases, medication for chronic diseases is sometimes limited. Still, the clinic receives all types of patients, she says.
Dr. Varela was able to obtain a similar medication, a drug designed to improve blood and oxygen supply to the heart and prevent chest pain. "It's nice to see that our doctors still go out of their way to meet their patients' needs," says Dr. Castillo.
"I don't think I would've been able to get it otherwise," says Ana, who has not experienced panic attacks or heart discomfort since taking the medication.
Ana recently moved in with her daughter and says spending time with her 5-year-old grand-daughter Frangie has kept her mind off her condition. "I only wish I had taken care of the problem sooner," she says. Ana brought Frangie with her to Clinica Verde when she came to see Dr. Varela, and Frangie received preventive pediatric care. Ana said her favorite thing about Clinica Verde is the attentive service.
"The service here is excellent," she said. "The nurses and doctors are all very welcoming."
Clinica Verde is honored to serve both cherished patients.
Maria Oviedo is a student at The University of Notre Dame.
• • •
From January through October 2013, Clinica Verde ...

• Served over 12,000 patient visits

• Performed 120 Pap tests (precancerous screenings) on women

• Experienced a 40% increase from the same period in 2012 in growth and development consults of children under 5

• Treated more than 175 children under 5 for diarrhea. Globally, diarrhea is the second leading cause of death among children under 5 and the leading cause of malnutrition

• Began a census of pregnancies in compliance and coordination with the Nicaraguan Ministry of Health
Thanks for your continued support! We couldn't do our work without you.