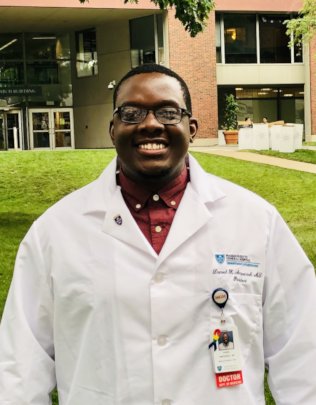 Today He's a Doctor at Mass General
One of the things that makes us most proud is to see members of the Clinica Verde family move on to accomplish good and meaningful things in their lives. Daniel Amponsah is one such person. Daniel traveled to Clinica Verde in 2013 when he was a student in our HIGHER program – a hands-on education program for students interested in global health. Today, he's a physician at Massachusetts General Hospital, the largest teaching hospital of Harvard Medical School. Our admiration goes to Daniel for his great accomplishments – and his big heart.
Where are you and what are you studying now?
I am currently an internal medicine resident at Massachusetts General Hospital in Boston, MA.
What got you interested in participating in the Clinica Verde HIGHER program?
Missionary work has always been a passion of mine. When (HIGHER Director and CV Founding Board member) Dr. Mary Huber came to Pacific Union College (in California) to talk about traveling with a group of students, nurses and doctors to Clinica Verde, I jumped at the opportunity to join. At the time, I was becoming interested in the medical field and I believed that this would be a great experience for me to explore the field more.
What was the experience at CV like for you?
My experience was educational, fun, and eye opening. It was surprising to see how close the community seemed with the clinic. The minimum payment model and access to health care provided by Clinica Verde showed me how compassionate a business could be in order to care for those in their community. I loved rounding with the different physicians, especially with the OB/Gyn doctor.
Is there a patient or two from your time at CV that stands out to you?
One experience I enjoyed was when we went to the villages and were able to examine the children and teach them how to use stethoscopes on each other. Another, although non-medical, is when our group went to visit an elderly group home and keep them company. Although there was a language barrier, I ended up dancing with this older lady who tried to teach me the steps to a common dance in Nicaragua.
What is your hope and plan for your career now?
My career goal after the completion of my internal medicine residency is to complete a cardiology and interventional cardiology fellowship and work in an academic institution that would allow me to join mission groups for several weeks.
Congratulations, Daniel – and thanks to all of you who helped make Daniel's experience possible by supporting our work in the world.
*Note: We have received permission from Daniel to use his full name.