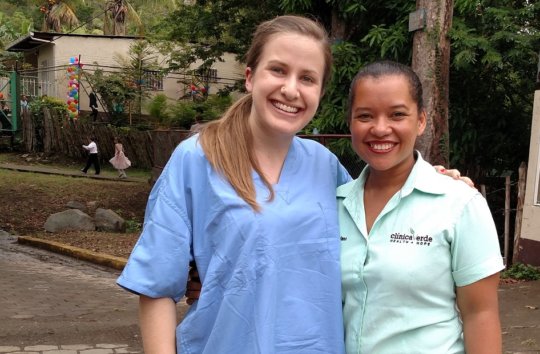 At Clinica Verde, we're lucky to have talented professionals and students serve in internship positions. Below, a couple of posts by current intern Adrienne Clermont, a research associate at John Hopkins Bloomberg School of Public Health.
As a public health professional who is getting ready to change careers and start medical school next year, I wanted to gain some clinical experience and learn more about the practice of being a doctor. Because my specialty is international health, I wanted my first clinical experience to be in a developing country – and I could think of no better place than Clinica Verde to see how holistic primary and preventive care can be done well in a very low-income setting. I am excited to be here for three weeks and to share some of my experiences here in writing!
Working as a public health researcher dealing with maternal and child health in low-income countries, I'm familiar with the major challenges faced by Nicaragua and other similar countries. However, my work has always been done from afar – reviewing spreadsheets of data on my computer in the U.S., or holding training workshops in the capital cities of various countries. Spending time in Boaco with the staff of Clinica Verde has brought many of these issues to life in front of my eyes. Rather than analyzing statistics on Nicaragua's fertility, mortality, and morbidity rates, I've had the chance to see pregnant women and families with children who come to the clinic for care. Rather than reading research studies on the effectiveness of antenatal care visits in reducing pregnancy complications, I've had a chance to sit in on those visits while shadowing the clinic's gynecologist.
Clinica Verde's staff have been helpful and welcoming, and seeing the work of the doctors, nurses, and administrators here has me very excited about the path I am about to start down in training to become a medical professional. I look forward to learning more over the next two weeks of my time here!
• • •
Today I found myself, unexpectedly, marching in a parade in the small village of Santa Lucia. It was not an activity I'd planned to be part of my shadowing experience at Clinica Verde, but it was a fun surprise that speaks to the great relations that the clinic has with its surrounding communities.
I had gone to Santa Lucia with Yesica, the nurse who leads the teen education and outreach programs at the clinic, to visit a primary school in Santa Lucia that was celebrating its anniversary. Many schools have annual celebrations like this one, which included a mass in the local church, election of a "king and queen" of each grade or section in the school, and a parade through the center of town, complete with the school's marching band and drum corps. After the parade, we returned to the schoolyard, where festivities continued with lunch and (super adorable) dance performances by students from each class. Yesica had been invited to attend the celebration as a guest of honor, because of her past work with students from this school and many others in the TeenSmart program. So when Yesica, two of her teen peer counselors, and I showed up to attend the celebration and pass out fliers advertising Clinica Verde, we were told not just to watch – but to jump in and join the parade!
I had the chance last week to sit in on one of the group discussions for teens, facilitated by Yesica and another clinic staff member, David. On the day of my observation, the topic was bullying. I listened as the youth participants shared stories about instances of bullying they had witnessed in their schools (and online – not surprising considering how wildly popular Facebook is among young people here). The facilitators skillfully guided them in discussing how those instances made them feel, and what they might do differently if they witnessed bullying in the future.
The teen education program is just one of several important community outreach projects that are taking place at Clinica Verde. I have also had the chance to join Dr. Leal on his community outreach visits, which take place several days per week and provide mobile health services to schools, retirement homes, and rural communities surrounding the clinic. The doctor's patience and kindness when discussing important medical issues with patients in a poor, rural village we visited was truly inspiring. Finally, I was also able to visit a
casa materna
(maternal waiting home, where women from rural areas can go to stay near the hospital when they are expecting to deliver soon) with the clinic director and learn about how the prenatal nutrition education program may soon be extended there. All of these experiences have shown me the importance of community engagement and the many ways in which Clinica Verde is becoming an important service provider, not just for patients who come to the clinic for care, but to all of the surrounding communities.