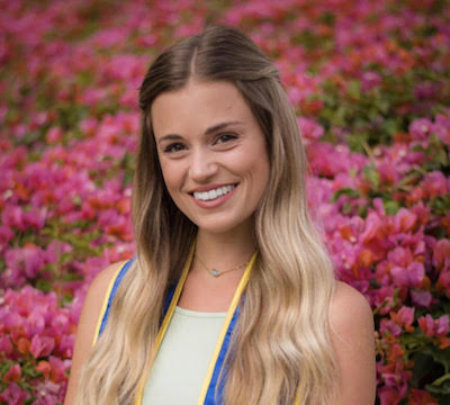 Corinne Kamrar first got to know Clinica Verde in 2015, when she was a sophomore at UCLA. She joined a group of students for our HIGHER education program, and it changed her life. Corinne graduated from UCLA in the spring of 2017 and is now in the Pre-Med program at UCSD. Here, in her own words, is her experience.
Tell us about your experience with Clinica Verde and the HIGHER program.
In a remote community such as Boaco, Nicaragua, Clinica Verde stands out and I'm not just referencing it's welcoming vibrant green and yellow paint. The clinic's available resources and care in contrast to other clinics in the area is immeasurable. My experience with the HIGHER program allowed me to get involved with health care in a hands-on way. I was able to take vitals, teach nutrition concepts to children, work in the Clinica Verde garden, and watch a C-Section at the local hospital. This hands-on experience surprised me as I wasn't expecting to be so intimately involved with the community members of Boaco. I was also surprised at the integral role the local community members had in helping maintain CV and also their role in giving back to other community members with the knowledge they had gained through their education at CV. For example, I noticed that young women who had gained knowledge on women's health care presented this information to their peers in the community. CV and its myriad services and outreach are truly is in place because of the buy in of the local people.
What did you learn?
It takes a village. This applies to not just Clinica Verde but all of health care. And that even the basic needs and care can make a huge difference in people's lives.
Is there a story or a patient that lingers with you today?
Although there are many memories I continue to reflect on, reminisce about, and gain wisdom from, there are two specific experiences that put me right back at the clinic.
No words were needed to convey the worry, concern and shame on the mother's face regarding her inability to purchase the medication seven months earlier.
The first has to do with complexity. An unforgettable experience I had as a volunteer in Nicaragua began with doing rounds alongside a doctor at the local hospital. We were told if there was a birth that day, we would be able to observe. While visiting one of the first patients of the day the doctor was paged and we were told to "scrub up." I will always remember the feeling of following operating room protocol and putting on my scrubs. Prior to that day I had been in scrubs many times but something about putting on the cap, face mask, and shoe scrubs to observe a Caesarean section operation in an underdeveloped country confirmed the importance of outstanding medical care for everyone. This experience added an additional reason for pursuing medicine through an immense fascination with life itself. I still remember the overwhelming feeling of emotion when I saw the doctor gently remove the newborns from where they had spent the last nine months. Reflecting on the complexity and mystery of the development of a human life is astonishing and has continued to motivate me to pursue my passion to become a physician and make an impact in other's lives.
The next has to do with emotional valence. Few words can describe another humbling experience I had while shadowing a doctor on my third day at Clinica Verde. I sat in the consultation room with the doctor, a Spanish translator, a returning patient, and her mother. Since the young girl's last visit, she had been living with a painful yet curable body rash because the family could not afford the prescribed medication. The gestures and emotions in the room overpowered the words being translated. As the doctor examined her face and back the facial expressions of the young girl clearly expressed her pain and symptoms far more than the translated words. Similarly, no words were needed to convey the worry, concern and shame on the mother's face regarding her inability to purchase the medication seven months earlier.
Other experiences I've had working in a variety of health care settings including local hospitals and clinics have consequently allowed me to see how special Clinica Verde is.
Shortly after the consultation other volunteers and I followed the family to the pharmacy to discover that only one out of the two necessary medications had been purchased. As the family was leaving the clinic we asked the pharmacist if we could purchase the remaining medication. The experience of buying the medication and running to the bus stop to give it to the mother was tremendously fulfilling; the sense of relief on her face and gratitude in her eyes were immensely touching. This experience is important to me because it clearly demonstrates the power of body language, gestures, and human emotion as a form of unspoken communication. It made me realize that these universal forms of communication can connect us to one another despite economic and cultural differences.
How did your experience at Clinica Verde affect your opinions and ideas about healthcare?
Other experiences I've had working in a variety of health care settings including EMT training and volunteering in local hospitals and clinics have consequently allowed me to see how special Clinica Verde is. My time at Clinica Verde changed my perspective while amplifying my existing thoughts on the importance of health education, understanding cultural backgrounds and empathy to one's individual health and life circumstances as integral parts of treatment. Furthermore, I can't help but implement the powerful things I learned and observed during my volunteer experience, not only into my future medical career, but as a compassionate human being. I have become more aware that the lack of money or education should never be reasons we as humans do not give or get treatment. The resources and information that one takes for granted, some might not even know exist. Clinica Verde not only recognizes this, but implements and executes community education, care, and treatment. Clinica Verde promotes not only a health care facility, but a facility that cultivates hope and optimism-two integral aspects of ones present and future well being.
Any thing you'd like to share with others or Clinica Verde supporters?
Clinica Verde continues to not only change the lives of patients in the community, but anyone who is involved with this impactful organization. I know this because Clinica Verde changed mine!
One patient at a time ...
Since opening our doors in 2012, Clinica Verde has provided over 140,000 healthcare services to the community we serve – including prenatal visits, medical consults, vaccinations to children, Pap tests for women, optometry, dental, laboratory services, nutrition counseling and educational talks. Our staff is guided by our compassionate care approach, serving each patient as though he or she were a family member or loved one. We do this in a country where close to 50% of families live in poverty.