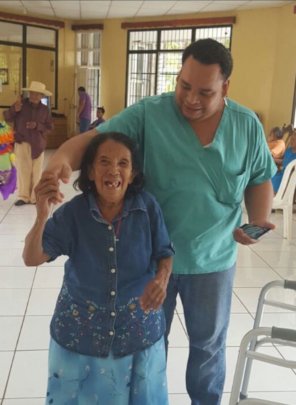 In 2012 Clinica Verde opened its doors to serve the rural poor in Boaco, Nicaragua and in 2013 we hired David to be our first Administrator – a critical support role for our Director and General Manager. David is often the first to arrive and the last to leave our clinic health hub. He's a class act, a dedicated worker, and a supremely decent human being. Here, David shares with you in his own words what the work means to him.
By David Narvaez

On the most personal level, Clinica Verde has represented a rebirth in my life, providing me the opportunity to work for my city and for my people. But on a larger level, Clinica Verde has also meant hope.

When I look at the past and where I was in 2013, knowing each of the members of our work team, I realize that Clinica Verde has represented the biggest challenge in my professional life because it has meant constant struggle, dedicated teamwork, union of purpose and a resurgence of personal meaning in my life.

Clinica Verde became our lives. Being part of this organization made me grow little by little – not only as a human being, but as a professional and as a member of a team. As the years progressed we have watched the baby that was a dream grow step by step, through challenges and difficult times that we always overcame together.

Getting to where we are today has meant a long road full of stones, of fighting for what we believe in, of undertaking new ideas, of supporting the ideas of our colleagues, of attracting attention throughout the country and abroad, of attending to those who call us to serve, to persevere, and to focus always on working for those in need.
There is nothing better than to see the satisfaction of the team when we have completed a job and when that job represents the well-being of a patient, of giving hope in a moment of distress. To be a light of hope has meant to open Anacleta's eyes for the first time, to see the fifth and last pregnancy of Doña Dina and the first steps of her little Jordan, to meet Maicol and his family as his vision was restored, to see every woman who has been a part of our Prenatal Nutrition Program, every teenager that we have reached through our Teen Club, knowing that we have surely marked others deeply and will be remembered as a clinic that has given the opportunities of a good life.
To talk about Clinica Verde is also to think of the young people who have graduated from university with their heads full of optimism and their hearts full of vitality to serve – like Olman, Juan Miguel, Celina, and Sugey; it's to face the diseases of our colleagues Alba and Catherin as a team; it's to accept and support the departures of excellent doctors like Dr. Miranda and Dr. Varela so they can undertake new projects; it is to see Dr. Paredes arrive with a renewal of ideas; to see Rafael Morales share with the team; and to see the children of each of us grow, and watch as many have become adolescents over the past years that we have spent working at Clinica Verde together.

And for my community of Boaco it has been the opportunity for social and economic development, as Clinica Verde has provided a place of dignity and quality to care for people who come to us in search of answers. Little by little, we have gained the trust and recognition of the people we serve, and we have earned the empathy and admiration of other organizations that have sought alliances with us so that we can continue to grow, reaching more people in more communities – including some that had never before seen a doctor or received professional medical attention.

Clínica Verde was the dream of its Founder and Board of Directors, but that dream has taken root and materialized in each of the team members who work here each day for our community. Thank you to our supporters for making this work possible, for providing opportunity and hope for so many who would otherwise not have it. You have changed lives.
Links: