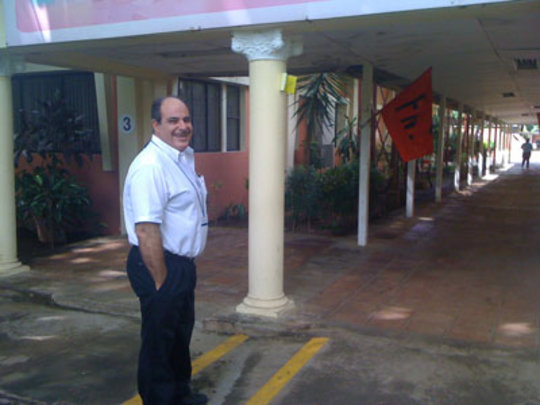 We've been lucky to have Juan Jorge Siman ("Johny") serve as our project manager and all-around man-on-the-ground in Nicaragua. He had a big and challenging job overseeing construction of the clinic, while keeping up with those of us in California who expected him to be there for us 24/7 – even if it interfered with his World Cup games. (Go, Madrid!) Johny knows how to get things done. Clinica Verde is a reflection of his perseverance, smart negotiating skills, and hard work. We grew to love him and will truly miss working with him. (P.S. Johny, please stop smoking.)

Here, some parting words from the man himself ...
What has it been like working for Clinica Verde these past couple years?
Being part of the Clinica Verde Team has been a much enriched and challenging experience. With all the ups and downs, natural to any project, we were able to carry out our goals and build Clinica Verde the way it was intended with all its features that will make this project unique. I would have to confess that when I was presented with the project I didn´t think we would be able to carry it out. Yet, I took on the challenge and the project took its course.
What about Clinica Verde stands out to you?
Clinica Verde has so many things that make it stand out. The holistic approach to healthcare and education, the ecological design, the cooling of the building with natural air instead of electricity, the natural sunlight that illuminates all the areas of the building, the classroom for education on nutrition, prenatal and postnatal care, etc.
But if I have to pick out one thing that stands out the must, it would have to be the people involved in the project: Susan, Tim, Peter, Vikki, Ken, Kathryn, Dennis, Mary, Bill, Don, Joan, Elquis, Rafael. I believe that the success of any venture is due to the people that are in charge of making the decisions. The team of Clinica Verde is much diversified and has lots of experience on social projects. And even though each person is assigned a specific field of the project, everybody is involved on the decisions of the project. John D. Rockefeller once said that an extraordinary person is just an ordinary person that does something extra. I believe that the members of the board of Clinica Verde are ordinary people doing something extra for the people of Boaco. That's why I think that this is the aspect of Clinica Verde that stands out the most and the reason Clinica Verde will be a success.
What is your hope and dream for our project?
I hope that once the Clinic opens up, that the people of Boaco understand and appreciate all the effort going into this project from so many people. That they understand that Clinic is theirs. That they know that we don't expect anything from them except to help them mitigate poverty by having quality healthcare available to them. My dream is that this project can extend to other parts of Nicaragua or other countries.
Any parting words?
Even though I'm not physically there, it does not mean that I am not there. Clinica Verde will always be a part of me and I always support the project, whether I am in Nicaragua, El Salvador, the United States or any other part of the world.