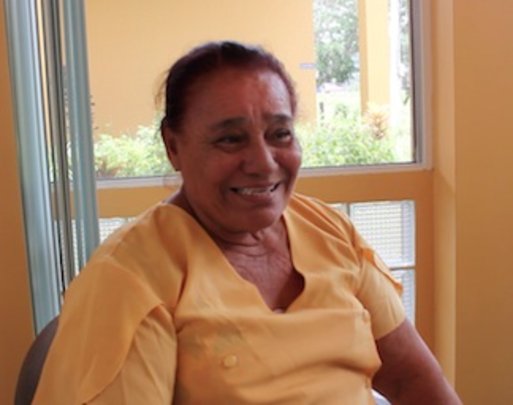 Hola, Awesome Supporters!
Do you ever wonder who our patients are? We have so many stories to share. I'd like to share just one, so that you get a glimpse into the world that you so generously support. Meet Eusebia ...
MOTHER OF 17 FEELS BLESSED
IN HER LIFETIME, 74-year-old Eusebia Rodríguez gave birth to 17 children, 12 of whom survived into adulthood. The friendly Boaco native, who never went to school, started her family at age 16 and spent her early years of motherhood working as a food vendor from her home. The job allowed her to be close to her children, but eventually turned dull, tiresome and financially unstable, says Eusebia.
Yearning for opportunity, at age 33 she and her sons moved to Nueva Guinea, a sleepy agricultural town near the Atlantic coast of Nicaragua – almost 140 miles away. The start was difficult, Eusebia says, but she soon purchased pigs, a cow, and grew her own vegetable plot.
At an advanced age, Eusebia began to suffer one of the possible adverse effects of childbirth: a cystocele, or "fallen bladder." Clínica Verde's Dr. Haldam Varela explains that a cystocele develops when the supportive tissue under the bladder weakens as a result of straining during childbirth, causing it to sink. Women who have multiple natural births are at greater risk of suffering this condition, Dr. Varela says.
Eusebia recalls that any minimal pressure – coughing, sneezing or even sitting down– would cause her urinary incontinence, so she visited a local doctor to treat the problem. "He gave me injections, pills, but nothing had an effect on me," says Eusebia.
"I noticed the problem was persistent; and as time went by it only got worse. I had to make diapers out of old rags," she says. "It's one of the most unpleasant feelings in the world."
Having heard of Clínica Verde through her daughters, who stayed behind when she moved to Nueva Guinea, Eusebia returned to her hometown and visited the clinic, where she was examined and referred to Boaco's local hospital for surgery. Dr. Varela says he is pleased to see "inter-institutional coordination" between Clínica Verde and the hospital, particularly because he works part-time at both institutions. He also says Eusebia could go to the hospital for post-operatory care, but prefers to come to the clinic.
Eusebia says her favorite thing about Clínica Verde is how clean it appears. "This is a real clinic. Other places I've been to shouldn't call themselves clinics – they're just filth!" she says.
She is adamant that the most important aspect of a good household is cleanliness. She says she still hand-washes her own clothes despite Dr.Varela's strict orders to rest, because she believes no one can clean them like she can.
She says she feels much better since the surgery and looks forward to going back to work on her farm as soon as she recovers. "I've been so blessed by God," says Eusebia. "I have my children, my pigs, my chicken – I'm not missing anything."
By Maria Oviedo, CV intern and a student at the University of Notre Dame.
• • •
Thanks for your continued support! Now, below, some info from the first 6 months of 2013:
In the first 6 months of 2013, Clinica Verde served 7,876 patients, an increase of 21% from the same period in 2012. Following are some highlights of that activity:

• We performed 1,017 controls for growth and development of children under 5 years old, an increase of 28% from the previous year.
• 54% of patients served were first-time visitors, while 46% were return patients, demonstrating that we are growing while developing loyalty among our patient base.
• 61% of patients served came from rural zones and 36% came from the urban area (the rest came from other departments)
• 30% of our patients were under 5 years of age.
• 45% of our patients were women of fertile age.
• 61% of our pregnant patients came to the clinic in the first trimester of their pregnancies (a 37% increase in this number from 2012).

We're encouraged by the number of patients who are coming to the clinic for preventative care, and are particularly heartened that 68% of our pregnant women returned for their recommended 4 prenatal visits. We think that's pretty wonderful.
Please email me any time if you have questions about our work in the world. It's always a pleasure to connect with you and share more about our work. Thanks again for your kindness and generosity!
Saludos,
Susan