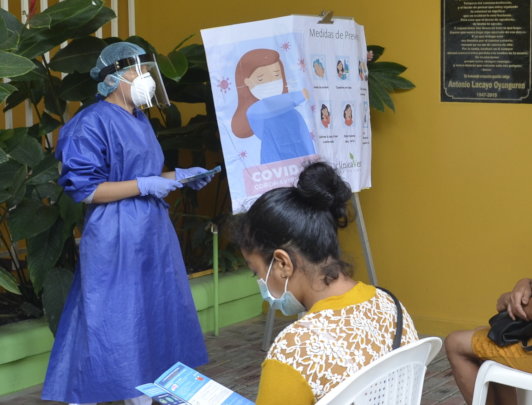 We're Here for You, Lucia
Every day, Lucia receives a phone call asking her how she's feeling. The calls are made by the medical and nursing team of Clínica Verde in an effort to take care of patients who are showing symptoms of the coronavirus. Lucia lives in a small rural village, where treatments for Covid-19 are more difficult to find, in a country that is already short of supplies to prevent and treat the disease.

Lucía was first identified as a possible Covid-19 patient at Clinica Verde after several laboratory tests and a chest X-ray revealed atypical pneumonia. Since then, each morning she receives a call on her mobile phone to find out how her condition is evolving and her response to treatment. As part of the follow-up, the entire family receives medical attention and educational talks about prevention and care.

"I have felt improvement with medicine and I feel very grateful for all the attention that the clinic nurses have given me," said Lucia. "My family had many doubts about this disease, but their questions were answered through the talks that the Clinica Verde nurses give us daily.

"In all the health centers that I have attended, no one has ever cared so much about me and my family," Lucía said.

The Clinica Verde team is so grateful to be able to serve Lucia and her family.
Maria Gives Us Heart and Courage
María José Rojas is someone who reminds us that there's always a way to help others. The only thing required is the desire to serve – and personal will.

Two years ago, while she was still a psychology student, Maria came to Clínica Verde to offer her services free of charge. She wanted to help those who did not have enough money to pay for mental health support. It was during the rise of the social crisis that escalated in Nicaragua in 2018, and Maria knew that people were suffering.

"This young woman worked hard to pay for her own studies and is always willing to collaborate and give her hand to those who need it," said María Elizabeth Flores, who runs the nutrition program at Clínica Verde.
"With courage, we can do it together," the young woman often says to her co-workers, who see in her an example of the struggle that many young people in Nicaragua must face to fulfill their dreams of becoming a professional.

According to the Pan American Health Organization, Nicaragua has the highest teen suicide rate in Latin America. Mental health is increasingly recognized as integral to good public health, but continues to lack resources and a global strategy. We are proud to be able to provide vital mental and emotional health services to our rural patients.
Planning a Healthy Pregnancy
Lisseth González came to Clínica Verde in search of help to start a family. She and her partner had tried for several years to conceive a baby, without any success.

In 2018, after two years of medical support, the young couple had one hope and their first disappointment: a pregnancy that ended two weeks later due to complications with the mother, whom Clínica Verde accompanied at each stage of this difficult process.

It wasn't until 2020 that González would see her dream materialize. With the constant monitoring of our gynecologist the young mother was able to conceive – and is waiting to meet her son for the first time.

Punctual check-ups, ultrasounds, prenatal controls, and vitamins have been provided to the enthusiastic González, who has become part of the Clínica Verde family and whose baby the whole team hopes to meet soon.

A healthy pregnancy depends on support, nutrition, and regular check-ups. Clinica Verde is so proud to provide these services to rural moms like Lisseth.
Maria Jose Rojas and Lisseth Gonzalez have given us permission to use their names.
Thank you for helping us improve lives – and stay well.