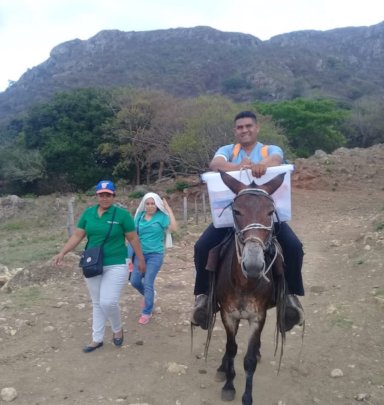 After an approximately 12 kilometer walk, the Clinica Verde team arrived to provide medical and optometry services to the remote community of Mombachito in the municipality of Camoapa, Nicaragua. Mombachito is one of the rural communities in the department of Boaco that is totally deprived of basic services. Clínica Verde had identified two groups of especially vulnerable populations in this community: The first group is the elderly – those over 60 years of age – and the second group is children under 14 years of age. We are focusing our efforts in this region on these two important populations.

During the community consultations, the villagers express deep appreciation for the efforts of the clinic team, who on foot or on mule manage to transport the medicine and supplies needed to the region. If not for Clinica Verde, community members would have to walk themselves to reach the nearest health center, sometimes with the person who is ill loaded on a hammock.

This is how difficult it can be for rural, impoverished populations to simply access care. Often, the only and best solution is to bring the care to them. We're so grateful for the support of you, our awesome donors, who make this service possible.
Why Clinica Verde?

We asked our Executive Director, Yolanda Paredes-Gaitan. Here's what she said.

We treat people with dignity.
We do not discriminate based on political party, religion, sexual orientation, age or precedence.
We respect human rights.
We offer excellent quality healthcare in a space that communicates respect and hope.
We reach the underserved.
We understand the community needs.
We do not judge our patients, we understand them.
Thank you to all of our supporters for making this possible.
Links: