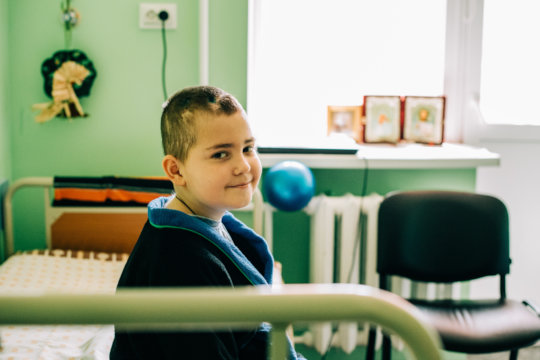 Dear friends,
thank you for supporting seriously ill kids from Ukraine!
One of the hospitals in which we work is the Pediatric Department of Neurosurgery. In the beginning, we came there to help children hospitalized with brain tumors that received chemotherapy at the Institute of Cancer where we started our activities more than 10 years ago. There we met kids with other neurological diseases who needed help and we couldn't leave them without support.
One of such kids is 10-year-old Andriy who had aneurysm rupture in the brain. When we saw the boy for the first time, he was lying in the bed without movements or reactions. At that time his family spent all their savings on treatment but it was only the beginning. The boy needed a special programmed system to be installed in the brain and very expensive antibiotics every day for two long months. The family was provided with everything required.
At the same time, Zaporuka's psychologist supported Andriy's mom who needed to be calm and to give security to her son who was just starting to get better after surgery. When the boy could take a pencil in his hand again, he was drawing his safe place. It was his home. Can you imagine how happy Andriy was when the doctors signed his discharge papers? In his last day at the hospital, we danced and laughed together. And his mom was in seventh heaven that her son could dance.
From January till March of this year 32 children like Andriy received either necessary medicines or medical supplies or special bone prostheses. 25 children benefited from the rehabilitation service. 86 children benefited from individual psychological sessions and 47 from group sessions. 19 leisure time activities were organized for kids.
Thank you for your contributions. Your kind heart and generosity support these kids when they need it the most.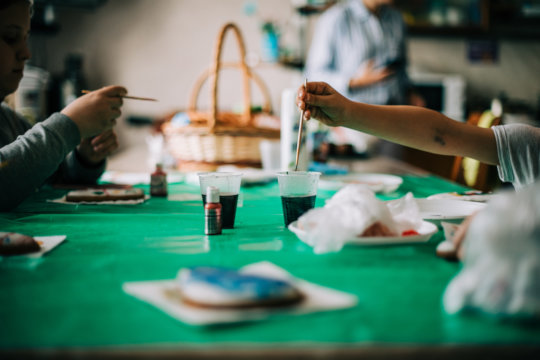 Links: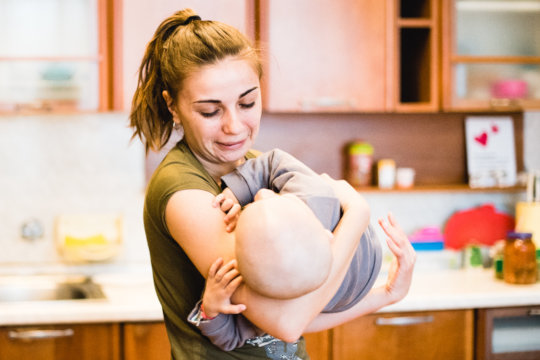 Dear Dacha supporters,
thank you for your contributions that help create this special place for kids with cancer and their families!
Recently, we've had a visitor from the UK at the Dacha. Zoe Wittering came to Zaporuka Foundation on assignment with Photographers without Borders, the organization supporting grass root NGOs by providing them with professional photographs and, sometimes, videos that the NGO can then use to publicize their work. As Zoe explains, "I love to take photographs but feel strongly that having photographs and documenting life should not be a privilege of the few. I also feel that, in a world where we are increasingly bombarded with images and reels of social media that don't reflect the real life of many people, those of us who are lucky enough to be able to tell stories with images and words should also do it for those that can't".
Zoe came to Kyiv to capture Dacha life on camera and to tell the stories of families living here. And that's what she says about this experience: "Staying at the Dacha is like being a guest in someone's home. A home filled with extended family. The smell of home cooked food, the sound of little feet running, smiles and laughter, cups of tea and always a biscuit or a cake. The families have found themselves together because each of them has a seriously ill child but the overwhelming feeling at the Dacha is one of hope and positivity. As she pushed her daughter on the swings one of the mums told me that a friend had asked her how she could smile when her child was so ill. Her daughter, too young to understand, looked up and smiled. She shouldn't live without smiles, she said".
Also, together with Zoe and Dacha families, we visited the construction site of the new Dacha house that would provide accommodation for 15 families. As of now, the masonry works and the roof are completed. Soon windows will be installed too. And then the interior works will be planned. The good news is that the most acclaimed Ukrainian interior designer agreed to make a project for Dacha for free. In the pictures below you can see little Yeva who was the first Dacha kid to visit the new Dacha. For her, it was an exciting journey to see "her future room and playroom". Together we can make this dream come true!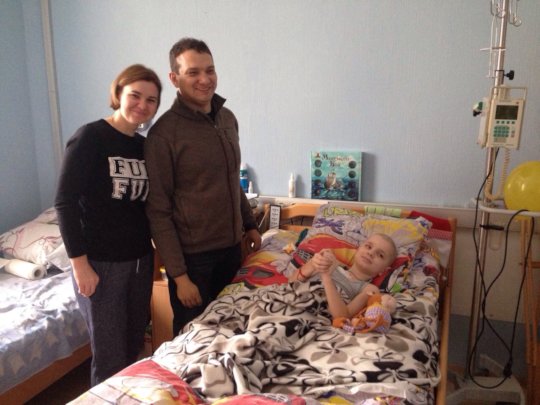 Dear friends,
thank you for supporting Ukrainian kids with cancer in 2018!
It's time to share with you the results of Zaporuka Foundation activities in the previous year. 161 children affected by cancer received individual assistance: 138 kids received medicines, medical supplies, medical materials, etc. which were not provided by the state and 23 children underwent examinations or treatment abroad that were not available in Ukraine. 529 rehabilitation sessions and 852 psychological consultations were provided for children by Zaporuka specialists. 132 activities for kids were organized by Zaporuka volunteers.
Ihnat is our "old" beneficiary. Seven years ago the boy was in treatment for cervical sarcoma of the forearm. Then Ihnat lived at the Dacha with his mom, completed treatment and only returned for regular checkups. As we usually do, we remained in contact with the family, asked them about Ihnat's school life and celebrated with them all positive medical test results.
Unfortunately, after seven years Ihnat got hospitalized again at the National Cancer Institute. This time the tumor affected the pelvic bone and the boy's leg had to be amputated. Thanks to the continuous psychological support the boy and his family were prepared for such a traumatic surgery. Later on, Ihnat started rehabilitation sessions because he needed to learn to maintain balance and to prevent distortion of the spine.
Now Ihnat receives chemo and tries to lead as active life as possible. He knows all the new movies going in the cinemas and is always willing to go to an exhibition or any other cultural or educational event. His classmates call him regularly and send him posters of support. Ihnat is looking forward to the summer because it will be the end of treatment and he will be able to fly in the aero tube – that's was a birthday gift from his mom.
Ihnat and kids like him get help thanks to your contributions. We hope that you will be there for our kids in 2019 too.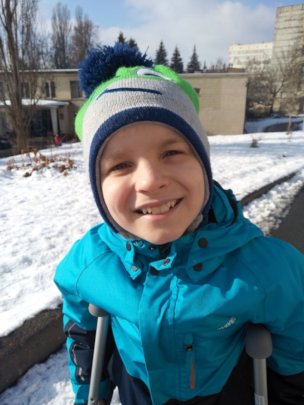 WARNING: Javascript is currently disabled or is not available in your browser. GlobalGiving makes extensive use of Javascript and will not function properly with Javascript disabled.
Please enable Javascript
and refresh this page.