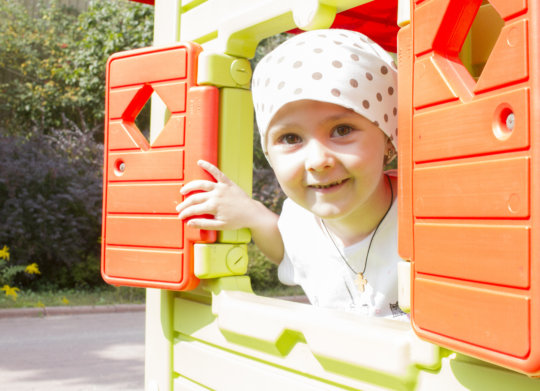 Dear friends,
thank you for supporting our project Center for Children Affected by Cancer Dacha!
Today I would like to share with you the story of little Yeva's family that is at the Center Dacha now. The girl has brain cancer and has been in treatment for a year and six months. During this long period she can always come to the Dacha between hospitalizations for a surgery or chemotherapy cycles. She can be here with her mom and her dad, all the family together. From time to time her granny comes for a visit. And they never have to worry that there will be no place to stay in Kyiv.
Yeva's native town in the Luhansk Oblast is now occupied by Russian invaders. The family cannot go home even during longer pauses in treatment because the parents are afraid that passing block posts and war dangers may put their ill daughter's life at risk. Staying at the Center Dacha is their only opportunity to continue treatment in Kyiv. The family cannot afford to rent an apartment because all the money earned by the father is used to pay medical bills.
Yeva has very bad eyesight because of the brain tumor. The girl sees only contours and she can see objects only if they are very close to her eyes. It's hard for her to orient herself but at the Center Dacha she knows all the corners and all the stairs, so she can even run and be sure that here she will not fall down and get injured. She feels safe at the Dacha. She plays here, she goes for a walk and rides a bicycle her.
Her treatment is not completed yet. Ten more chemotherapy cycles and probably one more surgery is waiting for her. Her parents do their best to provide everything that is necessary. And they are happy that they have Dacha and they don't have to worry about a place to stay.
Thank you for making it possible!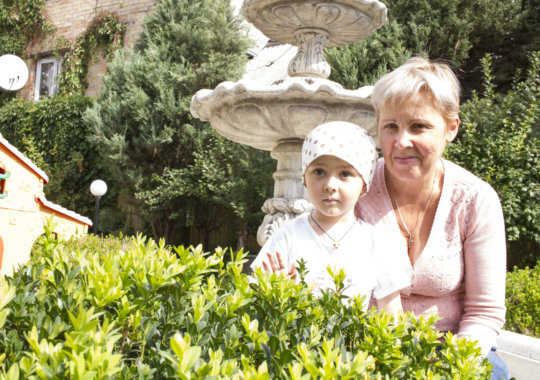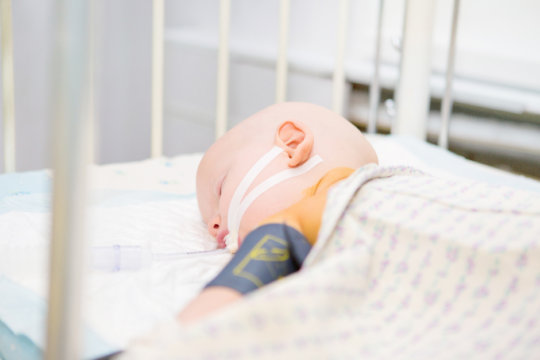 Dear friends,
thank you for supporting seriously ill children from Ukraine.
Unfortunately, the problem of the shortage of drugs and medical supplies in the Ukrainian hospitals has not been solved yet. The medical reform still has to be approved by the Parliament. There are public discussions and protests but even if the reform is approved today as many people aspire it will take time to implement it. Meanwhile, with your support, we do our best to help kids who cannot wait and need treatment NOW. We pay special attention to the most vulnerable patients. They are orphans, children abandoned by their parents, children from single parent families, children who have recurrences and others.
For example, we help kids like little Stas. His parents abandoned him. The boy has been livening with his granny since birth. When Stas fell ill and got hospitalized, at the beginning the doctors couldn't even start treatment because his granny didn't have custody of him and couldn't give permission to perform necessary medical procedures. The elderly woman who didn't get any support from Stas's parents had to go to court in order to get custodial rights and at the same time she had to look for expensive medicines that were not available at the hospital. She asked us to help them and we purchased everything the boy needed for treatment. Now Stas feels better and his granny received full custody of him.
Without your support such families like Stas and his granny would have to deal with hardships alone.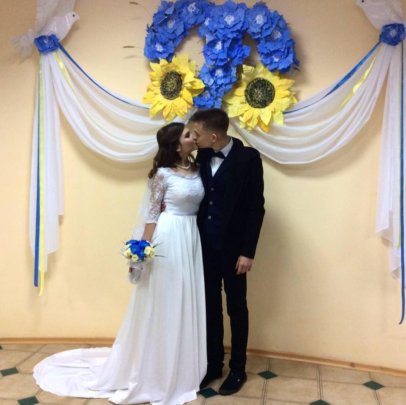 Dear friends,
thank you for supporting our project Center for Children Affected by Cancer Dacha!
We can write a lot of stories about our Center. After all, every family that comes to this house brings their experiences, their habits, introduces something new. We cannot say that only good things happen here. Sometimes there are misunderstandings. And it's quite normal because every person has his/her own habits and preferences that the others may not understand. Also people are anxious because of their children's disease. What helps to reduce emotional distress and to build good relations is working together. For example, from time to time families organize general cleaning of the house, rooms, the kitchen and the yard. While working people speak with each other, joke and laugh. Then they have a rest together with coffee and sweets. And they forget about past disagreements.
That's Dacha's everyday life but sometimes we have really extraordinary stories that may become a movie. One day 17-year-old girl old was hospitalized at the Cancer Institute. She was completely alone in the world. Neither her mother nor her father came to visit her. Later we found out that her parents were alcoholics. The girl often looked with sadness at the families who took care of their ill children. But the next time we saw her we noticed that the girl looked really happy and even her condition improved. It turned out that a guy came to be with her. He introduced himself as her brother because he was afraid that he would not be allowed to visit her at the hospital. He stayed in the common room at the Dacha during his beloved's treatment. Every day he took care of the girl, cooked delicious meals for her and brought to the hospital everything she needed. When she received chemotherapy he held her hand and tried to distract her from pain. Between chemo cycles they could stay together at the Dacha. Anybody who saw them was sure that it was a true love. And now this story has a happy end. The girl completed treatment successfully and a few days ago we found out that they got married!
Dacha is really a magic place that helps families to stay together through hard times and even to create new families too. Thank you for making it possible!
WARNING: Javascript is currently disabled or is not available in your browser. GlobalGiving makes extensive use of Javascript and will not function properly with Javascript disabled.
Please enable Javascript
and refresh this page.