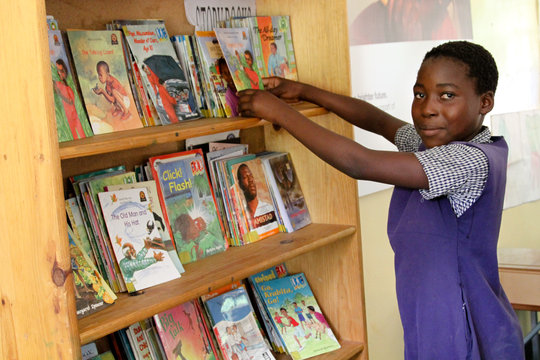 During the reporting period, the School Library program team continued implementing the activities and program components reported on in our previous GlobalGiving reports. In this report, we want to deeply thank Global Giving donors for your support and generosity by sharing a story from the field. This story features a success story from a school library in Zambia.
_________________________________
When the new library was first established at a Zambian Community School in 2011, the school did not have a dedicated librarian. Teachers at the school shared library management responsibilities and implemented activities for their classes during designated library periods. When Jennifer Choonya, a local community member, learned about this, she eagerly offered to serve as a volunteer librarian for the school.
As a mother of four children, Jennifer sees the library as a hugely beneficial resource for the community. She was forced to drop-out of school as a Grade 9 student and is determined to keep her own children and the children of her community from suffering the same fate. Although she lives in Chikumba, a village about five kilometres away from the school, she walks to the school every day, regardless of the weather conditions, to ensure the library is available for the students.
After volunteering to serve as the school's librarian, Jennifer was trained by Room to Read in various aspects of library management. Her daily tasks range from cleaning the library, shelving and sorting books, selecting books for students, and helping students locate books within the library. Thanks to Jennifer, the students at the school now have access to the library throughout the day, outside of their regularly scheduled library periods.
Jennifer says that she draws her passion for the library and helping children learn to read from her own disappointment at having to drop-out of school. She hopes that by volunteering her time, all of the students at the school will be able to excel in their studies and become better educated citizens, with greater employment possibilities. She, in turn, has also been inspired by the enthusiasm of the students, and has decided to rewrite her Grade 9 exams so she can graduate from secondary school herself.