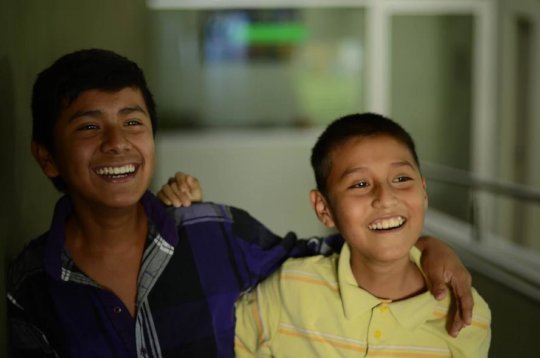 Joab and Juan did not know each other before they reached AMANC SLP. Both, living with their parents and brothers, without knowing that one day their lives will change radically.
Joab began to feel bad, his father took him to the health center of his community called Agua Zarca in the municipality of Tamazunchale, where the doctor told him that his son had something serious, that he had to be moved to San Luis Potosí , to the Central Hospital 8 hours away, for more specific studies. At that time, Joab was seven years old ... he was diagnosed with Non-Hodgkin Lymphoma ... For his father it was a hard blow and for the child, despite the painfulness of the treatment and how bad it felt after the chemotherapy, he started a new life in AMANC, in San Luis Potosí. He has always been a very restless child, eager to learn everything, excited by so many new things that the great city has and with a great charisma that earns the affection of the people who know him and from whom he receives many gifts and attentions. So three years passed in which he took his treatment to the letter, with his parents worried about him. His father was the one who took the most time to take him and accompany him to the hospital every time he was hospitalized for his chemotherapies and medical studies, since, being indigenous his mother speaks Nahuatl and little Spanish, so the lady was coming in few occasions.
Juanito, however, lived in Tancuilín, municipality of Matlapa, went to the school of his community, but began to feel pain in his feet and knees and to have a fever that did not give up. His parents, concerned, took him to the Hospital of the municipality of Axtla, which is 60 minutes by bus from Matlapa, where they confirmed in July of this year, that his son had cancer in the blood: Acute Lymphoblastic Leukemia and had to move it to this city, to the Central Hospital. The child arrived serious, with 800 mg / dl of blood glucose, but is currently at normal levels and takes his treatment properly. Sometimes his father brings him, but mainly his mother is the one who accompanies him. They are indigenous, they speak Nahuatl and Spanish fluently.
On one of the occasions when Juanito was in our facilities, Joab also received his medical check-up and, as they stayed several days with us, they became great friends.
AMANC SLP has treated more than 600 children and adolescents with cancer, of limited resources in the more than twelve years we have operating in San Luis Potosí and we have witnessed these great friendships that arise between our beneficiaries and their families and that last for all life.
Thanks to that we provide them with lodging, food and pay for all the medicines and medical studies that the Popular Insurance does not cover, they have a safe, clean and comfortable place to arrive in this city, and they also find friendly, cheerful and empathetic people. The cost per child annually is $ 1500 to cover the comprehensive support we provide. Fortunately, Joab is very well, currently is 13 years old and is in surveillance stage, so he comes to AMANC SLP three times a year. On the other hand, Juan, who is 11 years old, is in treatment, he must go to the hospital more often, but he knows that, following the instructions of his treating doctor, he will be as good as his friend. They are in constant communication and we are very happy that they can reach this center to meet, share and grow in that friendship!