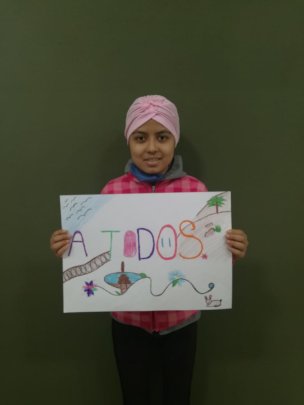 Yamirka is a 16 year old girl with many illusions and desire to live. Born in the municipality of Tamuín in the state of San Luis Potosí 6 hours away from the capital, she comes from a family of limited resources composed of her father, Joaquin who works as a day laborer, his mother, Liliana dedicated home and his older brother Leonardo who is studying the last year of high school.
The story of Yamirka is about the enormous need to find medical attention in circumstances of poverty as well as hundreds of children and adolescents in our State.
At the beginning of the year 2015, Yamirka went to the local doctor because she felt bad and in the consultation they told her it was an intestinal infection, they gave her a treatment, but there was no improvement, when she returned to the clinic they were laboratory tests that described a probable severe anemia; later she went to the nearest hospital in his community where she was transfused with blood and diagnosed with acute lymphoblastic leukemia.
When receiving the difficult news that she had cancer in the blood, on August 17 of that same year her parents moved her to the Central Hospital of the state capital, where the oncology area exists so that she could receive treatment for her illness. It was in this place where Social Workers of the Mexican Association of Aid to Children with Cancer of San Luis Potosí (AMANC SLP) learned of her case and after an interview with her parents, Yamirka began to receive all the support that this institution grants to Improve her quality of life.
After three years of having been diagnosed with Leukemia, Yamirka is in AMANC SLP where she could be accompanied in her fight against cancer; in this place she´s supported with food, lodging, medicines, clothes, footwear, dental and psychological service, basic education and transportation as well as the rest of the children and adolescents of limited resources who are assisted in this institution.
When we meet Yamirka and the details of her short life, we realize that the most important thing we can do as a society is to support those who need it most, she is a young woman with a lot of desire to live and could only achieve it thanks to the will of people and associations such as AMANC dedicated to improving the lives of patients and their families.
Yamirka will continue to fight to recover from her illness and we can take her example to improve as people and not defeat us in the face of adversity.