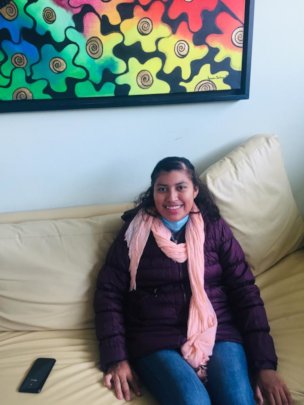 Jacqueline is a 17-year-old girl, comes from an ejido called "Las Armas" in the municipality of Tancanhuitz located in the Huasteca zone, 330 km from the state capital of San Luis Potosi and is the youngest of a family of seven brothers and sisters. Before arriving in the capital of San Luis Potosí, he studied the fourth semester of high school, and due to his illness he had to leave school.
On October 18 of last year she was detected with anemia; everything began with various discomforts and symptoms such as lack of appetite, pain in the extremities, and it was until, on December 25, she lost part of the mobility of her legs and began with dizziness, bleeding and even lost up to 8 kilos in just three weeks. This situation forced her to move to the nearest hospital located in the municipality of Ciudad Valles to obtain better medical care, staying hospitalized, since the discomforts did not stop and each time the pains were more intense, alarming her relatives and doctors from the hospital.
In December holidays Jacqueline had to be moved to the state capital of San Luis Potosi, where a month later she was diagnosed with leukemia. Everything happened very fast, declining her spirit markedly, initiating chemotherapy a week after her diagnosis.On the third day in hospital, one of our social workers went with Jacqueline to offer the necessary support, because she did not have any acquaintance or family member who had a place to go, nor with enough resources to cope with the treatment.
At AMANC SLP, we received her with her mother and stepfather because she can not walk or move freely. We are currently providing them with lodging, food and the necessary medications, as well as emotional, spiritual and accompanying assistance while overcoming this difficult situation that is happening.
Jacqueline's plans, once she finish her treatment are: resume and finish her studies and begin to help people with leukemia, since she have met many people with lack of information, which causes fear of being infected and prejudice to people with their same condition.
We are sure that in the same time she will be possible to overcome cancer and she will be able to reintegrate into society as a happy and courageous young person, that this type of tests strengthens the people who are facing it.