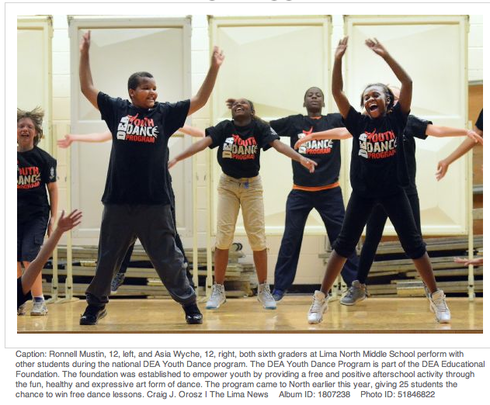 At the end of March, 2014 the DEA Educational Foundation launched a DEA Youth Dance Program at Lima North Middle to bring kids a positive and healthy activity at the end of the school day. This project was made possible through a very generous donation by Dizzy Feet Foundation to bring kids dance in memory of Cory Monteith, the young "Glee" actor who tragically lost his life to a drug overdose. The DEA Youth Dance Program is an outlet to help children to stay drugfree and to never go down the path of this type of tragedy. Lima was of particular interest to Dizzy Feet because Cory's last Glee series was filmed at a fictional high school in Lima, OH. As Lima is such a small, working-class city, the program launch proved to be one of the biggest events in the community history receiving extremely positive articles in the paper and news spots on TV. The DEA Youth Dance class is filled to capacity within less than one day, with over 60 applications coming in for a class of 25 students. The class is filled with half boys. Our partnering dance company heading up this project is Lyn's Dance Academy and they are very dedicated to this program.
The class, which is mostly filled with at-risk students from low-income families has had a tremendous impact on the students. "The opportunity to have a positive program build on the foundation of dance for our students will leave a lasting impact on their entire academic experience. The buzz that was generated after our opening assembly was so strong and uplifting in our building and was felt by all staff and students in attendance." (Matt Quatman, Vice Principal, Lima North Middle)
On April 2nd, even a greater opportunity for the students was presented. Dizzy Feet Foundation approached The DEA Youth Dance Program about having the Lima North students perform at the Dizzy Feet Foundation Gala in Los Angeles on July 19th, 2014. Although Dizzy Feet is unable to fund this venture, the DEA Educational Foundation felt they should do everything possible to make this opportunity a reality for the students.
The DEA Educational Foundation approved the use of funding to make this a reality for the DEA YDP students. All hotel rooms for the children and chaperones are being donated by a generous downtown Los Angeles hotel. And, due to the DEA Educational Foundation supporting this trip through operational funds, students will have the amazing experinece of performing on a Los Angeles stage and will see the largest U.S. city firsthand, likely a once in a lifetime opportunity. When parents of the students were informed, there were tears of joy. Additionally, the Vice Principal of Lima North Middle informed the DEA Educational Foundation that several of these students have never left Lima, OH.
Classes have begun to prepare the students for their performance and most will take their first plane ride and dip their toes in the ocean for the first time on July 18th, 2014.
The DEA Educational Foundation Youth Dance Program relies on generous donations such as yours to help us to continue DEA Youth Dance Programs around the United States, as well as reach new schools on our ever-growing waitlist. Funds also assist with scholarships in dance, as well as very special projects such as the bringing the Lima group to Los Angeles to experience a trip of a lifetime. Thank you for your continued support!
Links: