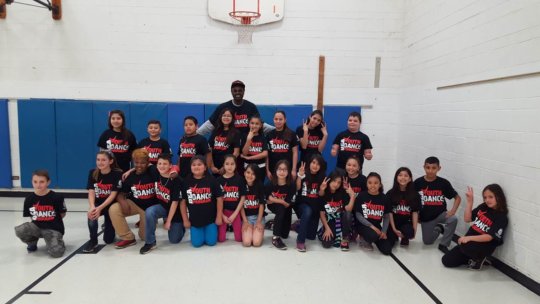 We are proud to be partnering with GlobalGiving for the United Nations International Youth Week 2017 (August 7th – August 11th), the theme of which is "Youth Building Peace." Students participating in The DEA Youth Dance Program learn important skills of team-building, self-esteem development, and healthy lifestyle habits to create peace in their communities by resisting drugs and violence.
Recognizing the national drug crisis and how it preys on the children of our country, we are using the occasion of the DEA YDP's Fifth Year Anniversary to launch "Inspiring Youth, One Step at a Time," a national initiative to strengthen DEA YDP's impact to provide students with the healthy outlet of dance as a positive alternative to drug abuse and violence. Emerging trends in drug usage among young people are very frightening, and prescription drug abuse is now the fastest growing drug problem in America today. This initiative not only celebrates our commitment to healthy, drug-free children who learn and succeed in school and life, but it will allow us to strengthen our impact of providing environments for children during the afterschool hours when they are most at risk for unhealthy behavior and choices. Simply stated, never before has our need to educate young people on the dangers of drug abuse been greater because every child deserves a chance to succeed.
There is a critical, urgent need to provide positive after-school arts education programs for at-risk and underserved youth. Your contribution will help us to reach our goal of "Inspiring Youth One Step At A Time."
To Donate to our International Youth Week Campaign, please visit our page on GlobalGiving at:https://goto.gg/10083
All recurring donations will be matched 100% by GlobalGiving!
Thank you for your continued support of The DEA Educational Foundation Youth Dance Program!
DEA Youth Dancers proudly performed for their schools and communities in 47 cities to close out the spring season. After 20-weeks of free dance classes, students grew in self-confidence, developed team-building skills, and learned the power of dance as a positive alternative to drugs and violence.
The DEA Youth Dance Program is proud to partner with DEA in bringing important programs to communities, in particular with the 360 Strategy, a comprehensive approach bringing together local law enforcement, DOJ, DEA, and community partners to combat heroin and opioid drug addiction in select cities nationwide. As a community partner with DEA 360 Strategy, DEA YDP provided a year of free dance classes in 5 cities in 2016. In 2017, we will continue to serve students through the DEA 360 Strategy in Albuquerque, Charleston, Dayton, and Manchester.
The DEA Educational Foundation Youth Dance Program proudly celebrates five years of inspiring youth, one step at a time! The program continues to spread the message of the dangers of drug abuse and the importance of healthy lifestyles through the art of dance. The celebrations kicked off with Payne Elementary, the first school to offer The DEA Youth Dance Program in 2012 to deserving at-risk and under-served youth. We will continue celebrating our 5th year anniversary around the country throughout this 2017 year!
We are so proud of the work our teachers have done with thousands of students over the past five years, and we are seeking support to assist us in continuing our reputable work in the community and to help us to reach our extensive waitlist. Together, let's continue to bring kids a healthy outlet through dance!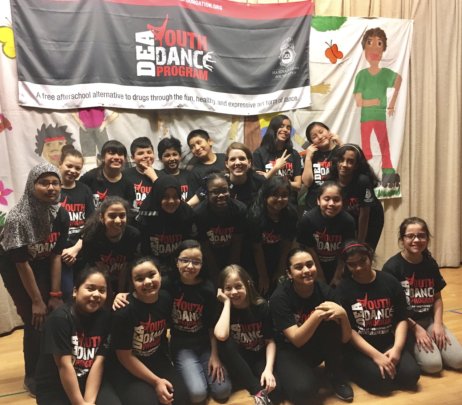 Links:
The DEA Educational Foundation Youth Dance Program proudly launched programming in 44 cities across the country this past fall and winter, providing high-quality, positive after-school programming to thousands of students nationwide! Students are about mid-way through their 20-session series learning hip-hop, modern, ballet, tap, jazz, and more with local, professional teaching artists.
Also in 2016, The DEA Educational Foundation Youth Dance Program was honored to be asked to be a partner of the DEA 360 Strategy in eight cities throughout the United States. The 360 Strategy is a holistic approach to combating the heroin and pharmaceutical opioid epidemic, as well as accompanying violence. The strategy leverages existing federal, state and local partnerships on three different fronts: law enforcement, diversion control and community outreach. The DEA Youth Dance Program is a proud partner, bringing positive and healthy after-school programs to at-risk children. The feedback has been overwhelmingly positive and The Youth Dance Program is working to raise funds to be able to continue offering dance education in each of the initial eight cities. With these regions, we have also added incredible new dance company partners, who have received comprehensive training through our Training Director and are now spreading important messages about dance and anti-drug, anti-violence education to very deserving youth.
Stay tuned for more exciting news from The DEA Educational Foundation Youth Dance Program as we approach our Five Year Anniversary this May, 2017!
Links:
WARNING: Javascript is currently disabled or is not available in your browser. GlobalGiving makes extensive use of Javascript and will not function properly with Javascript disabled.
Please enable Javascript
and refresh this page.