Every day we hear in the news about tragic loss of human life to an opioid overdose, young lungs failing due to vaping and reports about some of the latest street drugs being so strong that even one pill can be deadly. Now more than ever we need to offer positive and healthy outlets to youth, led by strong mentors, to show them that there are ways without drug abuse to feel free, express themselves and to be happy through building self-confidence and friendships. This fall, the DEA Educational Foundation Youth Dance Program has continued its powerful work in reaching thousands of kids through the 2019-2020 assembly launch programs, Youth Summits, National Dance Day, The DEA Educational Foundation NYC Gala and weekly dance classes right at their schools. And, in honor of Red Ribbon month, a uniform way for communities nationwide to take a stand against drugs and drug use, this fall DEA EF YDP students have been pledging to stay in school and remain drug free.
The past few months have been so busy, it is hard to know where to begin. With the program launching in nearly 50 cities and through numerous special events, we are reaching communities with important messaging far and wide. At the end of the summer, we reached Knoxville and Tampa for the very first time. And, on September 21st, 2019, The DEA Educational Foundation Youth Dance Program was thrilled to once again be invited as a performing guest at the Kennedy Center on National Dance Day! With our partner DEA joining us to speak with the audience about the dangers of drug abuse and the importance of positive activities, then a performance by a group of our Baltimore students, it was an exceptionally impactful day for those in the Washington, D.C. community and beyond.
In New Orleans we expanded our program and participated in a DEA led youth summit. In New York City, we had the fabulous opportunity to showcase work by one of our professional partners, Rainbow Tribe and students from New York City Schools to law enforcement, business leaders and community officials in the community. In Philadelphia, we brought nearly 150 students from one of the hardest hit communities in the opioid epidemic to experience professional dance classes at the Rock School of Dance. And, in Las Vegas, we began to pave our way for our first yearlong program.
In the words of some of some of our community partners:
"The students of Abington Avenue School were lucky to have received the opportunity to have dance instruction through the DEA Youth Dance Program, funded through their educational foundation. If the assembly, presented by professional dancers, is any indication, our children will develop a passion for dance that will sustain them through their later years. They left the assembly energized and excited, both about dance and about the message of respect and kindness in the choreographed and narrated dance program. The program is open to 25 students. Before school even started the morning after the assembly, students were lined up at my office door, applications in hand. Less than 24 hours after receiving the applications, I had 20 students with completed applications, eager to become dancers. Thank you, DEA EF Youth Dance Program, for opening up this opportunity to my 5th graders!" (Vice Principal)
"I want to thank the DEA EF YDP and Rock School for providing our students from Bayard Taylor Elementary School the opportunity to visit their dance school. I saw students dance who I rarely see raise their hands. I watched them have conversations for days about how cool it is that there are kids who go to school just to be dancer and about how hard what they were doing looked. I had students come up to me to ask for participation forms for the DEA Dance classes that will be held at our school, as well as students showing increased interest in our already established dance program. You opened their eyes to an opportunity they didn't know existed, and every pathway toward the future that they see gives them one more option that isn't what so many of them see in the neighborhoods in which they live. Thank you for this experience, they will never forget it." (5th Grade Teacher)
As we near the end of the 2019 year, we are thrilled to have reached our goals, one step at a time, in now providing programming in 50 cities since our very first pilot program in 2012. However, the program impact is so strong and the waitlist for programming is long; we have only just begun our important work! Generous donations and funding is more critical than ever as we prepare for 2020. We must maintain our critical programming and reach to the children, we wish to bring programming to schools on our waitlist and to more communities, we hope to build upon our current programming so more kids can join us in long-term dance classes and we want to reach feeder schools in communities for even a longer-term impact. Please support the DEA EF Youth Dance Program to help us continue to bring kids joy, passion and a positive outlet as they navigate the awe and challenges of adolescence in this ever-changing world.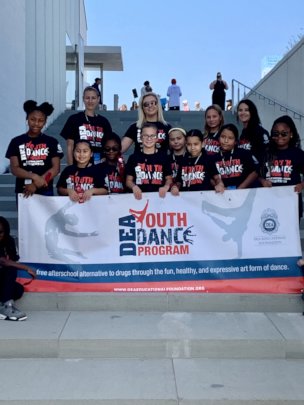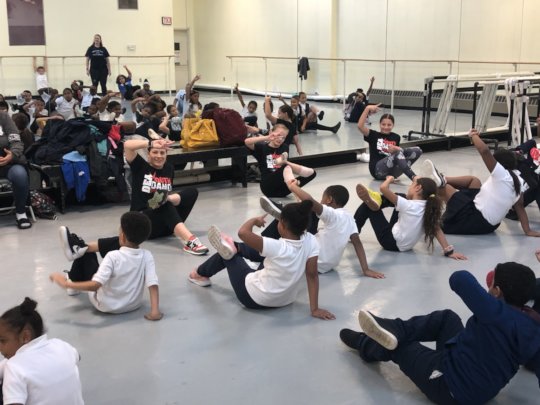 Links: