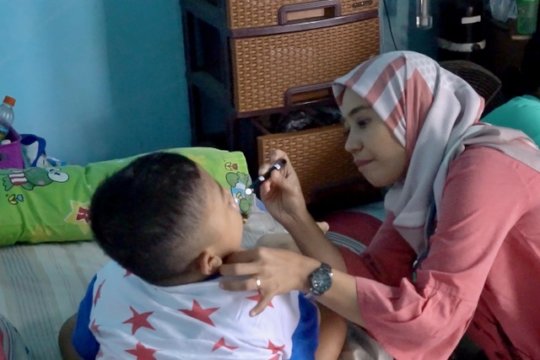 Help seriously-ill children live free from pain and suffering
There are thousands of children living with serious and terminal illnesses in Indonesia, in pain and with little or no access to care. These children living with illnesses such as cancer, congenital heart and lung conditions, with complex symptoms, often live their days with little joy and suffering.
While curative treatment may sometimes be too late, it is possible to manage the children's symptoms to allow them to live every day of their lives with joy that every child deserves.
This is the mission of Rachel House.
For the past 12 years, Rachel House's nurses have been providing palliative care to children from some of the most marginalized communities in Greater Jakarta areas*, free of charge. Rachel House's palliative care trained nurses to help manage the children's complex symptoms to allow the children to live their remaining days with joy and dignity.
Irsyad's story
Irsyad** is a 9-year-old boy. In 2018, he was diagnosed with leukemia, a blood cancer that attacks the bone marrow. For more than a year, Irsyad received aggressive chemotherapy treatment at the hospital. Unfortunately, the treatment did not stop the growth of the cancer cells through his little body. Irsyad is no longer able to walk, with cancer spreading to his spine; he struggles from constant pain, with open wounds in many areas of his body and kidney failure.
Irsyad's parents have been told that the cancer is now at Stage 4 and that the treatment is no longer working.
Irsyad was admitted to Rachel House's service at the end of 2018. Nurse Rina has been visiting him several times a week, making sure that his pain is being managed, the wounds on his back are being treated and that he is not suffering – physically and emotionally. Rina makes certain that Irsyad's parents are equipped with the knowledge and skills to keep him comfortable at home, and that they are assured of her presence and her availability to be there for them.
Rina knows that Irsyad's parents are afraid of seeing him suffer, and of the future. She is there for them – as the compassionate listening ear, and the shoulder to cry on.
When frightening symptoms appear, Nurse Rina is available to guide the family; or when needed, to speak to Irsyad's doctor to make available medicines or treatments to alleviate his suffering.
Irsyad's joyful moments
On his 9th birthday, a beautiful cake baked lovingly by a volunteer brought bright smiles on Irsyad's face. Visiting dolphins at SeaWorld? Why not? A special day at SeaWorld with other children was a dream come true, made possible with a contingent of nurses and caregivers on standby.
For as many days as Irsyad has left, Rachel House will make sure that he has every chance to live a life filled with joy and possibilities. Because at Rachel House, we believe that no child should ever have to live, or die, in pain.
Today in Indonesia there are many tens of thousands of children living with serious and terminal illnesses – such as cancer and HIV – whose days are filled with needless pain and suffering. Sadly it is not always possible to find a cure for their illnesses – but it is possible to make sure these children are living lives free from pain and suffering for as many days as they have left, and they and their families are receiving emotional and practical support.
Nurse Rina provided medicines and treatments to deal with Irsyad's untreated symptoms, such as fever, paralysis, shortness of breath, infection, bleeding, and other symptoms. Nurse Rina also provides psychological and emotional support to Irsyad and his family. This psychological support can be anything from being a shoulder to cry on or an ear to listen, through to helping arrange a birthday party or enable Irsyad to see the dolphins at SeaWorld. And for as many days as Irsyad has left the team at Rachel House will continue to walk by his and family side. Because at Rachel House we believe that no child should ever have to live or die in pain.
*Rachel House's service coverage areas include Jakarta, Depok, Tangerang, and Bekasi.
**Name has been changed to protect privacy.