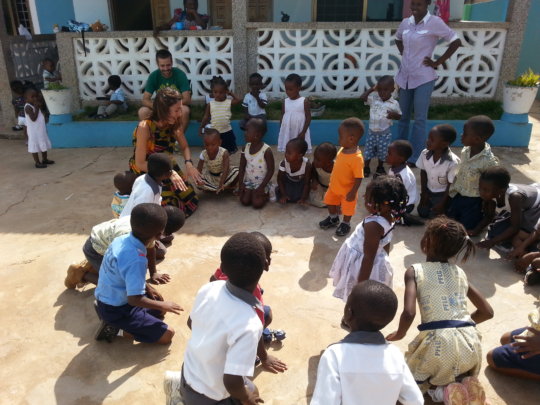 Our organization, Providing Adolescents and Adults Jobs for Advancement in the Future (PAAJAF), works with underprivileged children, youth, and women in rural Ghana. PAAJAF strives to eradicate poverty and illiteracy through quality education and job training. The PEI school was started to fulfil this vision. We presented our project to you in order to support the Family Learning Centre (FLC) activities where underprivileged children, orphans, youth -- and women of Ghana and the Gbawe community (GGC) -- are offered scholarship based educational opportunities.
To illustrate the need for the FLC, an understanding the current state of educational facilities is necessary. Gbawe is a rural community on the outskirts of an urban centre. It has a population of 44,000 out of which there are 19,000 children under the age of 13. Yet, the community has only one public school.
The public schools are overcrowded -- primary school classrooms have an average of 65 children; the junior high school has 45 students per class. The student-to-teacher ratio is high and, as a result, teachers are not able to provide each child with the attention he or she needs.
PAAJAF believes that education is the key that opens the door to ending poverty in Gbawe Community. The FLC was started on the foundation of this belief. This educational facility aims to create an enabling environment for children of age 1 to 15 years to develop their human potential to the fullest. The project includes a boarding house facility, recreational facilities, and a solid educational, ethical and moral program to prepare the students for success throughout life.
Observations
We report the following observations and accomplishments for this first year of the FLC:

For the initial pre-school enrollment, 120 children – or 200% of the target goal – matriculated in the first year of the program.
For the initial adult literacy program, 14 adults – or 140% of the target goal – matriculated in the first year of the program.
Your helped ensure that 30 students received full scholarships and 90 others received partial scholarships in year one of the program.
Fifteen (15) students from the original pre-school population out of 120 will graduate to primary level ceteris paribus -- (ages 7-12).
We need continues support to help provide scholarship school education to support our community and we solicit to you once again to come to our aid to meet our goals for the community.
Thank you