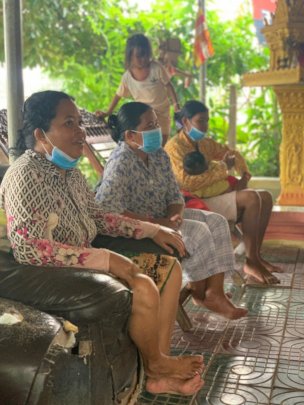 Dear Friend,
We hope this finds you well.
Thank you for supporting the Women's Resource Center here in Cambodia around this time last year. 2020 was not the year any of us expected, but we have continued to find new and innovative ways to support our community here in Siem Reap.
We have worked closely with the community to understand their changing needs and to respond to them. This response has included emergency food and hygiene supplies, plus seeds and chicks for them to have a more long term sustainable food source.
In terms of the support you have provided for workshops through 2020 we have been accutely aware that whilst in person workshops are difficult right now we still need to support the women in our community with financial literacy, women's health, women's rights and eqality and positive parenting. We have managed to switch most of our workshops to an online format and ensure this material is still delivered. There is no community transmission of COVID-19 in Cambodia currently, but we are all still being very careful. Due to this some of the women are able to come to the center to collect supplies from us and at these times we have taken the opportunity to do short, socially distanced workshops (pictured).
Thank you once again for your support.
Gemma and the WRC team.
Links: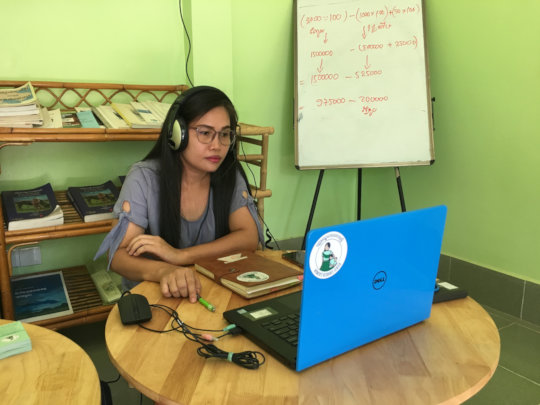 Dear Friend,
Thank you for your previous support for Women's Resource Center and our life skills workshops. As we are in unusual times we thought you might like an update...
Due to COVID19 our office and workshop space was forced to close back in March. Sadly, as Cambodia is very reliant on tourism, and the borders are currently closed to tourists, many of our community are suffering with poverty. At the end of March, we mobilised emergency support to give out food and hygiene packages. We moved our counselling service to the phone in order to support people emotionally and with practical advice, and we started to explore how we could deliver workshops to our community to keep up vital learning about life skills.
Since April we have been working hard behind the scenes to work out the best ways to reach the women and girls we support with our workshops. There has been some capacity building for staff, investing in new platforms and technology, and work withing the community to ensure our beneficiaries could access online platforms and receive the information we have to share. We are delighted to share that we recently ran our first online workshops via zoom on 'Women's Health - Menstruation / Hygiene' to 24 young adults and 'Positive Parenting' to 11 parents and are looking forward to delivering more over the coming months.
Thank you for supporting our workshops, we will keep working hard to deliver them despite our current challenges as these life skills are crucial to the women in our community.
Best wishes,
Gemma and team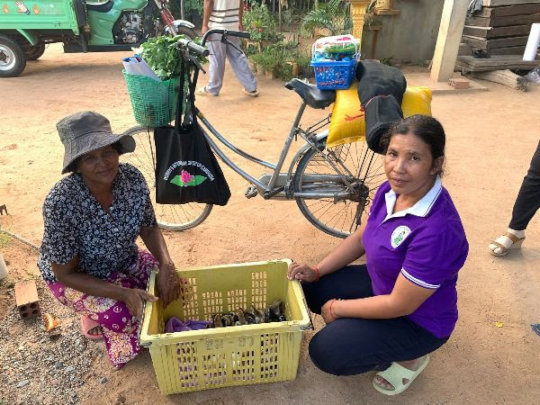 Links: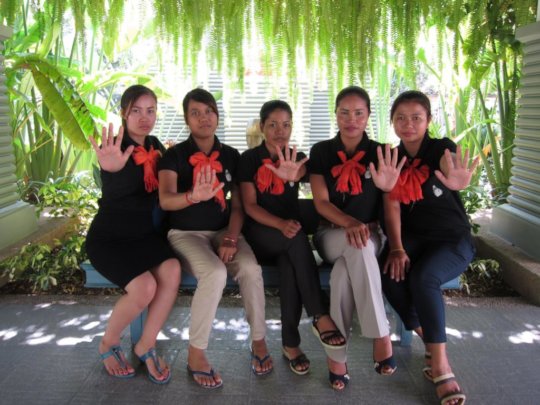 Thank you for supporting WRC and investing in our previous campaign to end violence against women in Cambodia!
Over the last few years, we have run a similar campaigns as the one you supported for December 2019. Each year we positively chip away at gender equality, women's rights, and most importantly the concept that violence is never ok. Usually, we host workshops, talks, marches, yoga and meditation and solidarity events. At this stage we are uncertain what we will be able to do face to face for our 2020 campaign. However, what we are certain of is our continued commitment to support women and eradicate violence.
Since the COVID19 global pandemic began we have seen a 300% rise in domestic violence. This sad and shocking statistic has been attributed to a combination of: general stress due to the pandemic; people being cooped up at home in lockdown; having full time caring responsibilities for children (as schools remain closed); unemployment and debt; and (for some) substance abuse that goes hand in had with this level of pressure.
In order to combat this, we have provided one on one counselling (via phone) to 30 new clients, followed upon 15 cases and provided ongoing support for 7 cases over the last month alone. That's around the number of clients we see in 6 months in just 4 weeks! We have been spending time in villages (where safe and following government guidelines) to assess and work with families, train our community ambassadors on how to support people more deeply, providing workshops online and emergency supplies to take the pressure off.
We will continue to support families who are experiencing domestic violence by reaching out to both the victims to help keep them safe, leave the situation if needed, and to the perpetrators where possible to help them control their frustrations and find other ways to communicate.
Thank you for supporting the work we do to eradicate violence!
Besy wishes,
Gemma and the WRC team
Links:
WARNING: Javascript is currently disabled or is not available in your browser. GlobalGiving makes extensive use of Javascript and will not function properly with Javascript disabled.
Please enable Javascript
and refresh this page.