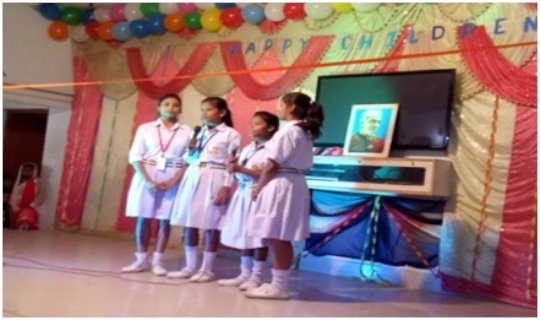 Journey for Change towards the Bright Future
Dear Supporters and Well Wishers,

Greetings from Lord Buddha Home for Children!!
Good deeds do not go unnoticed- they are like a lighthouse, shining to those, who need help and we know that your deeds are the good examples. Your support has been a great motivation to help us move towards our goal of building better future for the children of Lord Buddha Home. Our job is to develop the whole person, not simply feed and clothe a needy child. Thank you for your concern, for the kind heart, and for your active involvement. We are very grateful to share this report of LBHC children among all of you.
The celebration of Teacher's Day Children's day: On 5th September 2017 on the Birthday of Dr Sarvepalli who was the great teacher and first vice presidents of India, teacher's Day has been celebrated in LBHC with great pleasure. Children of LBHC performed songs and dance on Sri Ganesha, Prem Ratan Dhan Payo, Udi Udi Jai etc and performed the play on Dowry System.
On 14TH Nov 2017, children's day was celebrated in LBHC. Block president was the chief guest and he inaugurated the program. School principle delivered the speech about why this day is celebrated and what should children do for their bright future. Counselor of LBHC arranged sports competition where the participants were children and house mothers. After the competition prize distribution ceremony was done.
Local donor Lt. Colonel Mr Brajesh: Mr Brajesh, Lt. Colonel of ARMY in Officers Training Association, Gaya. He visited LBHC on 26.9.17. All the children gathered at LBHC community hall. Mr Brajesh distributed sweets, bananas, chocolate and cold drinks to all children. He told the children that, "All of you should work hard in the study and stay fit if you do this you will be a good person and will get good jobs. He provided 50 Kg Rice, 28 Kg Potatoes and 7 kg onion for the children.
The celebration of Festivals: Durga Puja and Vijaya Dashami were celebrated on dated 30.9.17 at LBHC. All the children went to the market with Mr Gandharv and respective house mothers to purchase new clothes as per their choice. They purchased jeans and top for girls and jeans, shirts and T-shirts for boys. Children went to visit the statue of Goddess Durga and light decoration in Bodhgaya with their mothers.
On 18th November LBHC celebrated Diwali festival with pomp and show. They enjoyed Diwali by lighting up so many firecrackers and with special food. Mothers of each house instructed the children regarding using the firecrackers with safety so that they could stay safe. Some children went with the counsellor in the river Falgu for the Chhat Puja early in the morning, worshipped in the river. Children enjoyed all the festivals a lot.
Science Exhibition:-Some children participated in science exhibition in Manav Bharti School on 12th November 2017 and prepared model for their project. Kailash's project was very appreciated by the school teachers.
District Level Sports: - In Gaya District, the Government authority organized District Level Sports program in which children of LBHC Ganesh, Dilip and Kailash who are studying in Manav Bharti School participated in sports. They won the football match and got selected for Inter-State Football Tournament.