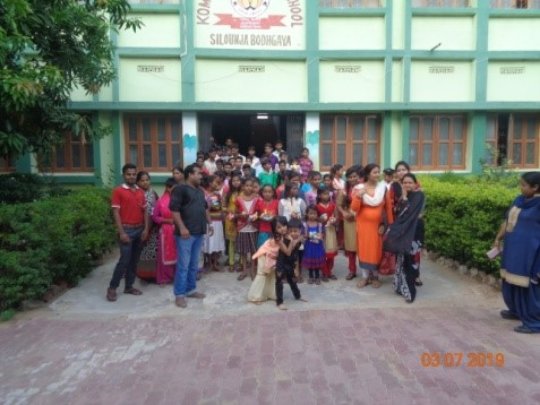 Brining light in the life of children of LBHC
Dear Supporters and Well Wishers

Heartiest Greetings from Lord Buddha Home for Children!!
Children of LBHC are doing well with your support. As we all know that every child needs a home, a family, care, support and love. We are very happy to say that LBHC is not working as orphanage, as it's a home for all 70 children, who get proper care and loving family environment. Your support is extremely helpful for this act and we are thankful for the support we receive from you. Your kind donation has been adding support in their education, food, shelter and other development activities.
Coaching and Computer classes: -
Daily routine coaching classes for all children is arranged by LBHC, where they attend classes as their Grade. Children learn computer in LBHC computer lab.
Yoga & Meditation: -
To improve mental & physical stability LBHC yoga & meditation class is organized for the children.
Every Sunday yoga & meditation class is being arranged for children of the LBHC. Children learn spinal support exercise, concentration improving exercise, breathing exercise etc. to improve their fitness.
Campus cleaning: -
Every week LBHC organizes cleaning activity in the campus to make children understand about the importance of hygiene and sanitation. Children perform cleaning work in playground, campus, class rooms, study area etc.
Celebrations in campus: -
On Independence Day of India children were very excited & happy, they sung national anthem, prepared and gave speeches as per the occasion, performed dance and songs for the occasion. Celebration started with national flag hoisting and National Anthem.LBHC management and school teachers were also present at the programme
They participated in Rakhi competition and competing with each other's by making better rakhi than other. Children of LBHC enjoyed the festival of "Raksha Bandhan" to the fullest.
Also, Children of LBHC and KPPS celebrated "Teachers Day".
Quality time with Guest: -
Guest from Indian NAVY distributed old books, clothes, utensil among the LBHC's children and they along with the childrenalso enjoyed sweets distributed by Sweets shop, Bodh Gaya, Bihar.
One local guest visited LBHC along with his family and interacted with children living in LBHC. They distributed snacks packets. Before leaving they took a group photograph with children. All the children felt happy on the occasion and thanked them.
Some Medical College students from Gaya also visited LBHC to meet children. They spent quality time with children and celebrated birthday party. Student of Medical College brought cakes and snacks for the children. Some children performed dance during the celebration and also some of them sang songs to welcome the guest.
Delegates from inner Wheel Club Gaya and Rotary Club Gaya, visited LBHC campus and interacted with children. They distributed Clothes (undergarments) and snacks among the children. Some social worker also visited with our Executive Director and gave information on saving tree and controlling pollution.
Other activities like, Music classes and fortnightly health checkup, donor visit, sport activities, parents meeting in school etc. are held on regular basis. Children of LBHC enjoy playing football, cricket.
Guest from Belgium: -
Guests from Belgium visited and met the children. They had lot of fun with all the children. They also shared some good yoga tips with all the children. Guest also visited their living area, class rooms and other place of LBHC.
Apart from these other regular activities like campus cleaning, yoga practices, medical check-up; monthly meeting, sports activities etc. are running as per the schedule in LBHC.
We are quite lucky and happy to have a generous donor like you. Again a warm thanks for continued support toour children.