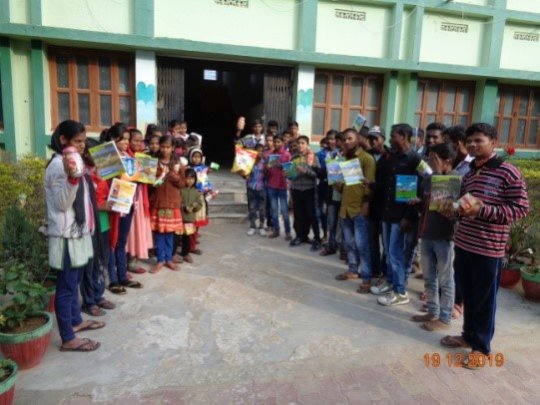 Hope for a Better World for LBHC Children
Dear Well Wishers

Heartiest Greetings from Lord Buddha Home for Children!
We are extremely grateful for all the support we received in this quarter from all of you. Through your support 70 children at Lord Buddha Home are doing well. At LBHC, orphans and children from tough backgrounds are raised in loving families created by our team. We depend on the monthly support of friends like you to create abetter world for these children.
Music Class- Some Children of LBHC are interested in music. Every Wednesday and Thursday children learn music. A music teacher comes to teach them music. Along with singing children also learn playing musical instruments.
Children are also taking regular tuition of their syllabus and focusing on their study.
Gandhi Jayanti Celebration- KPPSSchool and LBHC celebrated Gandhi Jayanti on 2nd Oct 2019. All children of LBHC were present and participated in speech and cultural program.
Festival Celebration- Festival season has started and all the children are very happy as they were waiting for Durga Pooja (Dussehra), Deepawali etc. They celebrated all the festivals with team at LBHC. They received new clothes during Durga Puja and especial food and sweets on the occasion of these festivals. They got crackers and sweets during Deepawali Festival.
Quality Time with Guest - Some guests came and met with children. They had lots of fun with all the children. They also bring some snacks packet for children and donated Ten Thousand Rupees for children. They shared some yoga tips with the children.
Amazon Gift Distribution- Amazon India send some gifts like Pen Copies, Oats, Dettol soaps, Chaywan Prash, Horlicks etc. Children were very happy after receiving these gift from Amazon India.
Educational Tour – Children of LBHC visited Nalanda and Rajgir with support of Komal Pujan Public School. Nalanda is famous for ruins of the world's most ancient university and Rajgir is famous for rock-cut caves, forts, Buddhist ruins. Children of LBHC saw those historical place.
Apart from this other regular activities like campus cleaning, yoga practices, medical check-up; monthly meeting, sports activities etc are running accordingly in LBHC.
We are so lucky to have a generous donor like you. Thank you again for your support to fill their lives with happiness.
With Regards,
Rashmi