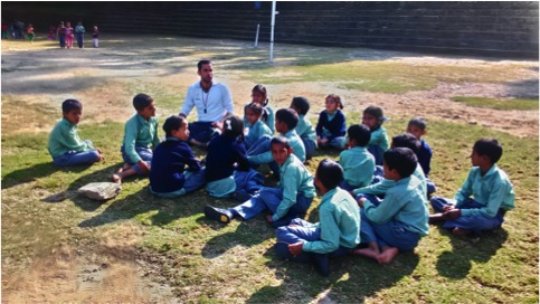 In the last report, we shared with you, the annual review, which detailed the progress of Aarohi Bal Sansar and the Scholarships Program for the year ending 31st March 2015. The goals outlined for the short-term included building teacher capacities, laying greater emphasis on sports and outdoor activities, continuing to focus on music, dance and art as an important part of the curriculum and improving interaction with the families of the students and community at large. We also planned to introduce an individual monitoring mechanism for students and teachers. In the medium term, we identified five areas to improve on our learning outcomes, namely effective lesson planning by teachers, differentiation in order to address multiple learning levels in each class, developing better reading habits of children and teachers, inclusion of creative teaching methods and continuously improving infrastructure to aid academic and extracurricular learning. We also planned to explore opportunities to integrate vocational learning as a discipline within the curriculum. Finally, we sought to introduce a structured mentoring program for teachers.
Progress Highlights (April to June 2015)
The progress made in the last quarter, against the short-term and medium term goals is as follows:
Short term:
Sports and Outdoor Activities
The 2nd annual Aarohi Kumaon Himalaya Ride took place between 3rd and 5th April 2015,
through which riders from around the world raised over INR 260,000 (approx. GBP 2,600). The funds help Aarohi pay better salaries to their teachers, bring e-learning curriculum to a rural school like Aarohi Bal Sansar, hire a dedicated sports teacher and much more. We hired a new sports coach Deepak, who joined us in April this year. Deepak has successfully carried out intensive sports training of students from Class 3 to 8 in athletics (long jump, running, javelin etc.), Kho-Kho, Kabaddi, Volley Ball, and Cycling. Awareness on diet has been given special emphasis, as a result of which children are now bringing more wholesome carbohydrate and protein rich food in their tiffin boxes. Monthly sports rallies (intra-school sporting competitions) are being organised to prepare children to part-take in sports at the State level. In addition, we have also been working closely with youth in the region, as a result of which the strength of the youth group has grown from 120 to 170 in a short span of three months. Of these, 80 boys and 60 girls have been successfully trained in cycling in preparation for next years Kumaon Himalaya Ride.
Music, Dance and Culture
In addition to Kumaoni folk dance, the teachers have also been introducing folk dance and music from other parts of India. Rajasthani folk dance was taught to Classes 3, 4 and 5. For Class 6, the curriculum focused on drama as majority of the children were interested in theatre. 'Bihu' which is an Assamese folk dance, as well as Bhangra (Punjab), and Dandiya (Gujarat) were taught to class 7 and 8. In theory, topics of Kumaoni traditional architecture, food, and attire were introduced wherein traditional practices and their practical value were discussed with the children. In Music, children learnt and performed Kumaoni and Garwali folk dance forms such as Jhoda Chapali, Hudkiya, Bol, Chaiti, Choliya, Tandi, Jhumelo etc.
Student and Teacher Monitoring
While we are still working on consolidating our databases for individual student monitoring, we have made good head way in laying down the foundation for monitoring and nurturing teacher progress and growth. Together with our mentors we have prepared a detailed evaluation form which will be used from now on for half yearly appraisals. The form comprises a comprehensive list of categories including lesson plan, materials used, methodology, remedial work, self-development etc. Further, each category is scored separately. This has been done to ensure that the evaluation process is as transparent and as objective as possible. This is one small step towards our commitment to invest in teacher capacity building and how we are proud that ALL our teachers are local.
Medium term:
The Reading initiative
We are now instituting processes where reading or 'engaging with text' is a pivotal element of pedagogy at ABS. The aim is to expose the children to as much English reading (and as a result better vocabulary and comprehension) this academic year. Some steps taken towards this end were:
Revamping the Library

: Three wonderful volunteers helped us revamp our library. Madhu Upadrasta, an experienced librarian in a school in Mumbai, volunteered to be Beena's mentor, our new librarian, and nurtured this young local lady into learning all about managing and maintaining a school library during her visit to Satoli in April. Gina Ali Khan, the English subject mentor, brought us a big suitcase, full of books donated by her school in Pune, MBIS. Another volunteer, Asmita Joshi, worked tirelessly with Beena and Gina to help catalogue all the books. We now, also have class libraries in addition to the main library since we have this elaborate catalogued collection of books! Thanks to the help and guidance from Madhu, Gina and Asmita and the on-going efforts of Beena, Aarohi school can now boast of a wonderful library, one of its kind in the area.
Staff Volunteering

:The office staff have started volunteering by taking reading sessions twice a week with classes 3 to 5. A record of the books read and new words learnt are being maintained and shared with teachers, so that they can be practiced in their regular classes. "I have been reading to class five for a little over six weeks now and it has been great fun! The kids and I both look forward to the class. Many a time, I drift off from the story into other discussions, and I find that the activity is a fun way of familiarising children with English and sustaining their interest in the language." Dr. Puneet Singh
'Gift a Smile' collaboration with Amazon
Aarohi Bal Sansar received its first package of books, DVDs, paints and stuffed toys as part of Amazon's 'gift a smile' campaign'.
These are being used to make classroom activities more interesting for the children. The books are also serving as a useful resource for teachers to help improve their English language skills.
Staff Mentoring Programme
The biannual Steering Committee Meeting was held in June 2015, in which teachers presented the progress made on various fronts and sought feedback from the committee members. A major outcome of the meeting was the decision to expand the staff mentoring program from English to include subjects of Hindi and Mathematics as well. Mr. Mohan Kabadwal, a retired state school Hindi teacher based in our village was appointed as the Hindi mentor, while Ms. Smriti Sharma, an experienced educationist based in Delhi has been appointed as the mentor for Mathematics. Mentors are approachable and experienced individuals who play an important role in guiding ABS teachers in day-to-day challenges they face
Scholarships
We now have consolidated data for scholarships (for students and teachers) offered by Aarohi since the inception of the program in 1997. A total of INR 8,211,568 has been invested in 925 students between 1997 and 2015.
Once again, we thank all of you donors for having faith in our capabilities to bring quality education to the young children of rural Kumaon.