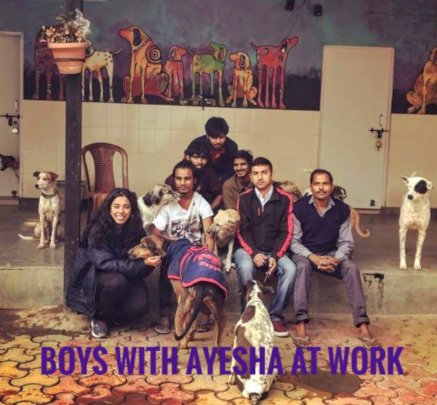 Karm Marg Quarterly Newsletter – Jan to March 2019S
Story of the quarter
It is always a big challenge for us when our young adults come of age to introduce them to the idea of leaving Karm Marg and starting anew. It is quite hard for us to help them realize the notion of living independently and stepping up to take responsibility for their own livelihood.
Three years back we faced a similar problem when four of our boys named Vipin, Jitender, Iqbal and Basant all 18+ of age, were not interested in participating our in house skill training programs and already established income generating programs under Jugaad, They were confused, lazy and hesitant about taking responsibility for their own future. We had offered them a number of opportunities and career counseling sessions but it didn't seem to help them. At the time one of Karm Marg's old friends Ayesha who runs an animal care shelter named Neighbourhood Woof who run ABC (Animal Birth Control) & ARV (Anti Rabies Vaccine) program for stray dogs in Delhi, came forward to help us. She took them under her wing and gave all four the option to come and help her at the shelter. She started giving them the necessary training as well as guiding and counseling them about living independently and earning to sustain their own livelihood. We soon noticed that they were all keen about working in animal care and are now full-time workers at her shelter in New Delhi and their transition to living independently has now gone smoothly.
It happened due to Ayesha's help and also because of the bonding that the children of Karm Marg have with animals. At Karm Marg's home, we have 10-12 dogs at a given time and a number of other animals that were either rescued from somewhere or were in urgent need of medical help. Living in close proximity with the animals teaches the kids to respect nature and to live with them in harmony, Having animals at our home also helps the children, some of whom suffer from depression or acute behavioral problems, find love and trust.


Volunteer Pablo

Jan 19th was the end of Pablo's volunteer program at our home. He joined us in the month of October under a three-month residential volunteer program to teach English to all our kids and some of the staff. At the end of his stay, many children had improved their knowledge of the English language which had been enhanced by his teaching. He was one of the most beloved volunteers to have come to Karm Marg and had stolen every child's heart. He was very dedicated to his task and ready to help where ever needed.

The final result for School examinations
March is the month for school examinations for our Children and we're always nervous with anticipation. The results were out at the end of the month except for 10th and 12th standards. Some kids scored high marks in their classes which are as follows.
Devraj scored 3rd and was promoted to 2nd standard
Khushi scored 1st, Neha 2nd and Simran 3rd and were all promoted to 3rd standard
Nargish scored 1st and was promoted to 5th standard
We also celebrated the festival of Holi in the month of March with our alumni, friends and supporters of Karm Marg. As is the case with every Holi at Karm Marg this one was no different, which is to mean it was full of high energy, fun and filled with joy.

Thanks, Note

It was an overwhelming and indescribable experience for us when Ms. Gitte Gilstrup and her husband from Albatross travel – A Denmark based Travel Company, visited Karm Marg to meet our children and donated clothes and shoes to all the kids in the loving memory of their only child who had sadly passed away. It was a sad yet very moving moment for everyone present. Thanks, Ms. Gitte for choosing to share those moments with us and spending the time with the kids who were very touched with what you did to honor your daughter.

Albatross Travel Company had also generously donated personal gifts for each staff member and children on Christmas day and a music system for Karm Marg.
Trustee of Our long term supporters and funders SCOMI (Step Children of Mother India) – Netherlands, Alfonsus Theodorus and Lambert visited Karm Marg, their aim was to visit our home and spend some time with the children and staff members directly and interact with the management to understand how we spent the last funding and how it benefited the children. They also engaged in a dialogue for our future needs and how we can work together on it.
In this way, we engage with our donors directly and help them witness the relationship between a donor and the NGO. We are thankful to SCOMI for partnering with us and becoming a part of the Karm Marg family
Thanks a lot also to Ms. Shagun Arora from Arora foundation and Akshay Mohan Sethi for your funds and contribution for the betterment of the children.
Hotel Taj Vivanta, Faridabad, organized lunch on 1st Jan on the occasion of New Year under their CSR project. Prepared and served by their HR team. The food was delicious and the menu comprised of many dishes which the kids were happy to enjoy.
Our dear friend and supporter Preeti Aggarwal Mehta celebrated her birthday by throwing a picnic for our kids at the famous Lodhi Gardens in Delhi with delicious food items and lots of dance and music.
Thanks to everyone else who helped us through donating in cash or kind. Every amount makes a big difference to cater to the needs of every kid and helps make their lives better.


Upcoming project
Baking skill unit - Our goal is to start a bakery unit under our skill training program Jugaad for young adults to give them more options to explore and improve their skills as well as baking becoming an alternative career option for them should they choose to.
We have observed for some time now that the young adults we have, mainly boys, are not interested in stitching and paper bag making anymore which is a major skill training program under our training unit Jugaad. Our young adults have also expressed a keen interest in picking up skills that enable them to run their own shops and have seen the food business especially baking thrive which appeals to them greatly.
We have seen an increased demand for good quality bakery and confectionery items as our village and its surrounding areas are getting rapidly urbanized. More and more city people are migrating to this area. There is a huge potential for consumption and marketing of quality bakery products. It will be a good source of income for the youth and helps them attain self-sufficiency. We also want to engage our differently abled youth in this unit so they will also be partially self-sufficient
We will start with bread and biscuits and slowly increase our variety as per the demand and promotion. For this, we will need to build a production area and infrastructure for the unit and hire an instructor to start this project.
Salary Increment – Starting off the new financial year from April onwards we need to increase the salary of our staff for which we need to generate funds. This year we have to increase the salary by 20% as last year we were unable to provide any increment due to a shortage of funds.


Jugaad – a skill training unit income generation program
This quarter was packed with exhibitions and completing orders for our clients. The yearly exhibition of Kala Ghoda held in Mumbai is a major outing for us in terms of sales and visibility and a place where we get to showcase our products. It went quite well this year. Through it we generate quite a good amount and it helps us with meeting and making contact with potential buyers. We were also able to obtain more orders which made our women workers very happy as it generates more income for them.
Shabila our stitching unit trainer and product development in charge have started a new program to work with women who have migrated from other states and live in nearby slums and villages in order to expand our stitching unit workforce and generate income for these marginalized women.
As the number of women working with us has increased, we need to find more orders for them accordingly to be able to generate their income regularly. It is proving to be quite a task as securing regular work in today's economy is a tough thing to achieve.