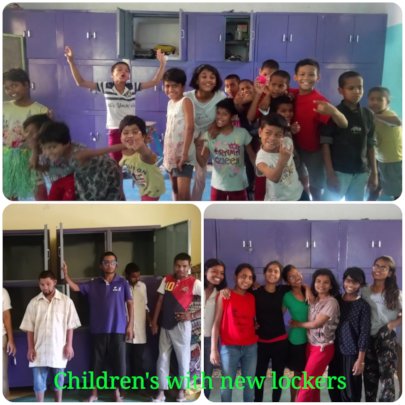 Karm Marg Quarterly Newsletter - April to June 2018
Success Story:
Interacting with children and youth with disabilities, we always felt a need for enhancing communication skill, so that as a community, we can understand them better. So, we initiated weekly communications training workshops to help facilitate this, with the help of Ms. Oshin Dhawan, who is a specialist communication trainer. It has been so wonderful to see how all the children, youth and staff of Karm Marg are now learning and expressing their feeling through different signs. It has helped open communication channels with our special needs youth and between ourselves too. It's made us realize how spoken language shouldn't be a barrier to communication and also that the onus to make it equal for all is on us, the majority, to learn new skills to accommodate those with limited ones.
Among other news, Sapna topped her school and graduated with very good marks in her 12th Boards and has got admission to pursue her Bachelor's degree. Her aim is to join the IPS (Indian Police Service).
Beneficiaries:
61 children and youth lived at the KM care home
22 youth participated in skill training program
3 youth secured jobs and started living independently
40 local rural women earned through our Income generation program
Our gratitude to all of you, who contributed and supported us to provide opportunities and fulfill the dreams of these children, youth and women, which wouldn't have been possible without this support.
Our Supporters:
'Shobha Singh Public Charitable Trust' generously donated three lakh rupees for new lockers for our 60 children and also helped us rebuild one of our boundary walls which had collapsed during the monsoon which was a big threat for the safety of the care home. We are very grateful to them for coming just at the right opportune moment. The children are super excited to use their new lockers. It's the one thing that's totally their own personal space, for their limited little treasures and belongings.
Taking one step ahead to become more sustainable and eco-friendly, 'Somfy Foundation' has agreed to our proposal to install Solar Power System at Karm Marg as part of their CSR project, Installation will be completed by the end of August. They visited us with their team members and spent a whole day at KM in April. We've had an exchange programme with them, demonstrating the skills we teach our youth and women groups to become sustainable. They tried their hands at different skills like screen printing, paper bag making, jewelry making and vertical kitchen garden plantation. It was a day well enjoyed by both parties.
Main Highlights:
This summer with a big-hearted contribution of 'Shagun Arora', all the children and youth went for a summer vacation and enjoyed it immensely. 26 older children went near Manali in Himachal for 6 days to beat the heat. Our dear friends Ayesha and Rahul Ram opened their hearts and their holiday home so we all could stay there and enjoyed the vacation utilizing the funds even more economically. During our stay, we did lots of trekking, meditation, discussions on various topics and tried local food. One of our dear friends, Ms Swati Seth who lives around the area took us on long forest treks to learn about the various local flora of the mountains. We had a lovely experience with using natural material around us to make art in the middle of the jungle. It was truly a wonderful trip which made us to appreciate and become closer to nature.
Our younger kids and children with special needs went to Water Park to beat the heat of summer. They spent the whole day there and thoroughly enjoyed dancing, eating and the many different rides and experiences.
Professional Skill Training & Knowledge Sharing:
Babli, our very own yoga enthusiast, got admission in the world renowned 'Sivananda Yoga Centre' for their foundation yoga course in April. After seeing her dedication and passion, they've offered to provide her full scholarship for their Teacher Training course in Kerala from October 2018. We are so proud of her focus and hope she will soon fulfill her lifelong dream of becoming a yoga teacher.
Tara has got admission in Food and Beverage Steward course in Dehradun under PMKVY (Pradhan Mantri Kaushal Yojna) for seven weeks of training.
In June 'Agastya Foundation', an NGO who are well known for their practical knowledge of science, conducted their workshops for our children. They had fun learn through play workshops on skeleton system, 3D model making using paper and match stick, paper cutting activities, thread painting and low-cost model making by using paper, balloons and pipes. Every year they do such interesting workshops with us and it really helps our kid to explore, be creative and improve their knowledge and understanding of science.
Dr.Tanu Shree Singh, our talented author, professor, storyteller friend returned once again to conduct her immensely enjoyable storytelling session which is always a huge hit with our children.
Srikant, a young boy from Manzil NGO, took a theatre workshop for our children and youth during the summer vacations. The pre-discussions revealed the children's concern about the global issue of shortage of water. They were alarmed that India will be running out of potable water by 2025. Working on stories relating to this issue, they will be performing this sketch in the coming quarter.
Three of our older girls showed interest toward learning baking. Our chef and restaurant owner friend, Rangeeta Murada was happy to be a mentor and organized a one-month baking training to these youngsters at her outlet in Rajinder Nagar. They explored making different types of desserts.
Our computer education classes for the young adults are running really well due to the continued enthusiasm of Manish and Sapna from Market Xcel. They have now offered our youth to further learn more skills at their company site. This will help them get a feel of working in a corporate environment too.
Jugaad Skill Training:
This quarter we hosted three girls from a remote area of Mathura (a village in a center part of India) who came to Jugaad Trust to learn basic skills of stitching and designing, to create jewelry and accessories with waste fabric. They will in turn share these skills in their village and help others become economically independent.