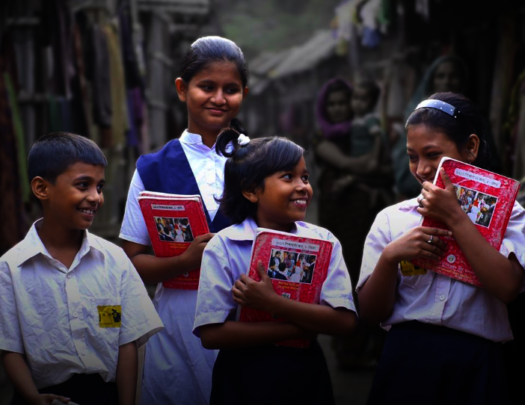 JAAGO recognises that the future of our nation lies in the hands of the girls in our country, therefore JAAGO strives to ensure that we give our students the best chance. JAAGO works to give our girls something that can never be taken away from them - an education. As Michelle Obama once said "When girls are educated, their countries become stronger and more prosperous". While formal education in traditional subjects (such as maths, english etc.) are important, to assure the success of our students JAAGO takes a more holistic approach. Placing an emphasis on life skills such as financial literacy and sanitation. Thus, allowing our female students at JAAGO to be more than just academically successful.
Teaching Girls to have Financial Control over their Lives

The World Bank has stressed the importance of financial inclusion in being a key enabler in reducing poverty and boosting shared prosperity. JAAGO has recently collaborated with the Mutual Trust Bank (MTB) in Bangladesh to introduce a new program called 'MTB ANKUR' (translating to MTB Seedlings), which will allow JAAGO students in our Rayer Bazar and Banani schools to open their own savings account without service or maintenance costs.
Studies show that when a woman controls her own finances, she invests in health, nutrition and the education of her family - investments that has the ability to create intergenerational change with a ripple effect in her community. For women, particularly those with low incomes, saving accounts are a complete game changer.
JAAGO's collaboration with MTB will teach our students the importance of savings and how it can be used to facilitate not only day-to-day living but also allows for them to plan for long-term goals (such as University) and unexpected emergencies, therefore improving the overall quality of their lives.
Changing the World: One Bar of Soap at a Time

Lifebuoy's renowned 'School of Five' has been implemented into our Banani school. Through the introduction of 5 superhero characters, Unilever's Lifebuoy 'School of Five' are encouraging students in schools to wash their hands 5 times a day, to help prevent infectious diseases, such as diarrhoea and pneumonia, the two leading causes of death for children under the age of 5. Since the launch of their program in 2006, Unilever has seen a global 36% reduction in childhood deaths from diarrhoea from 2008-2016, which is equivalent to over 265,000 lives saved.
The introduction of the 'School of Five' will teach our girls as well as their families the most effective way to wash their hands and the importance of proper sanitation. Women often bear the brunt of inadequate water and sanitation services, due to social and cultural stigma that persists within their communities, such as drinking and eating less so they won't need to use the latrine during the day where they can be seen or assaulted. The 'School of Five' will allow them to build confidence and ensure they don't compromise healthy habits regarding sanitation to bend to social norms.
Why JAAGO needs your help!

At the launch of the MTB ANKUR at our Banani Junior School we sat down with one of our students Fatima* and her mother Sakina*. When asked how such an amazing opportunity could change her life Fatima* said, "I am very happy and excited, with the small amount of money I am saving I can help my family in the hospital and I can sponsor a JAAGO student after I graduate from JAAGO school". Sakina* was overjoyed explaining that growing up in a slum she never imagined she would be able to see her daughter grow up and be able to have access to places such as a bank. In Bangladesh, it is often the men in the family that have a voice when it comes to how and what money is spent on, leaving the women at a disadvantage. This initiative has the ability to change that for the girls at JAAGO, and we need help to expand these opportunities to include more girls living in the slums of Bangladesh.
*All the individuals whose names and identity have been used in the narrative have given us their consent to publish their names and story prior to the writing of this report.


Thank You Note

We wish to express our sincerest gratitude to the donors of this project as they are not only gifting female children with the opportunity to receive quality education but also pave the way for them to bring about sustainable change within their communities, in turn supporting the nation in the future.