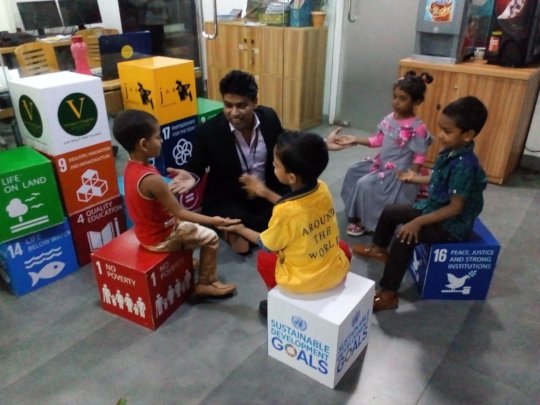 In the year of 2019, JAAGO has stepped into 12 years of establishment, continuing to touching lives of thousands of children and families. This has only become possible with your valuable support. Today with your help, we are directly educating a number of 3500 underprivileged students in our schools. These students education are supported by generous individual like your ones. At JAAGO Foundation, we call this supporter as sponsor parents of these children, who are letting them spread their wing of dreams and encouraging them to fly high.
These students often visit the workplace of their sponsor parents to meet them or they get together at JAAGO's office premises. They interact with each other, sharing thoughts and express their gratitude, express their dreams and takes suggestions. We encourage these interactions to increase the bonding of each other, helping to create the bridge between the sponsor parents and their children.
Classroom Market To Inspire for The Best
To bring out the best result from our students, we inspire our students in such a way that we could grab the attention and interest to the highest level. Classroom Market is a concept which we practice in our Schools with a regular interval and students are eager to participate on that. The concept is more likely buying objects as we buy objects from shops in real life. But the difference is that students are buying objects by their points gained by doing their classroom activities and showing excellent academic performances. It mainly keeps the students focused in the classroom activities and makes them motivated to learn more. In the end it is full of excitement and fun. Students loved the new experience by this activity and they are willing to engage in class activities and studies. We arranged the systems in all the 12 branches of JAAGO Foundation.
Using Spirit of Football: Sports for Good
At JAAGO Foundation School, we do not emphasize on children education only but we do focus on extracurricular activities along with sports. Recently Fifa's Asian Region's authority Asian Football Confederation, Coaches Across Continents, Bangladesh Football Federation and JAAGO Foundation has initiated a joint activation by using the medium of Football. They organized a day long training program where 75 students of JAAGO Foundation School took part and received training from international football experts, who have joined from English Football Association.
The participants were delighted to participate on the program where they received jersey, ball, cones, and vests along with valuable experience. This opportunity has given them the chance to play on professional turf. It helped the students to be inspired to dream of becoming footballer in future.
Educated Mother Is Promise of Civilized Nation
Currently JAAGO's schools are thriving with numbers and educating marginalized community children of hard to reach areas of the country. The scenario hasn't been like this before; in the beginning in 2007, we had to lure students by giving away different commodity to the parents so that they send their children to school. But now, the scenario had changed a lot. We provide free of cost education in English Version of Bangladesh Government and we recruit only 40 students in reception grade per branch each year. For these 40 students, we get around 3000 applications in different branches and we sort among them out the find the most suitable one's.
Turning a community's interest into sending their children to school is a big achievement for us. The mentality had changed a lot and this is something on what we cherish after 12 years of our journey. At JAAGO apart from mainstream education, we build a practice of retention of our culture. Recently, we celebrated Mother's Day across all of our schools. On that very occasion, our student created special designed cards for their mothers to show respect and tribute in honor to motherhood. We would like to create a practice of appreciating their mothers from very early stage of their lives with a hope of bringing sustainable perspective towards their mother.
Building An Excellent Culture with Extracurricular Activities
JAAGO Foundation educates the children with the maintenance of high quality and unique extracurricular activities to provide a wonderful learning scope to the students. Recently we celebrated crown giving day at our schools where we nominate the best skill of students and recognize them with a crown infront of the whole classroom. These skills can be anything such as best in art, reciting, debate, sports, discipline etc. We organize it in every quarter where each students feel special and get the motivation to do good in future.
Also every week, our teacher's gives meditation session to the students which help them to concentrate better, focus on things and do good in all activities. Apart from these, showing gratitude to teachers, conducting leaf craft work, drawing of national flags and so many things goes on JAAGO Foundation Schools.
Thank You Note
We are grateful to individuals, our NGO partners, corporates, donors and supporters for their generous support on "Free of Cost School for Underprivileged Children" project. On behalf of all the students and parents who are related with JAAGO, we would like to express our heartiest gratitude. Without your contribution and support, our journey would not have progressed and prospered in changing lives of these children who came from an economically disadvantaged background. We request you to continue your love by supporting this project of "Free of Cost School for Underprivileged Children".