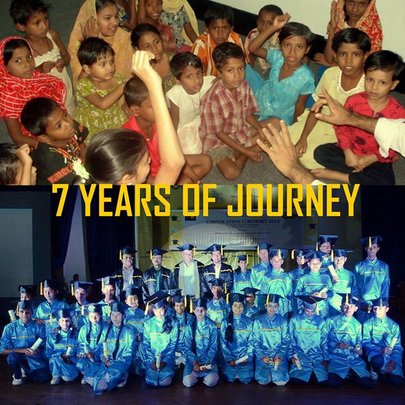 The JAAGO Journey
Since 2007 JAAGO Foundation has been working hard to provide high-quality, free-of-cost education to the underprivileged children of Bangladesh. With the help of generous supporters like yourself, JAAGO Foundation has recently celebrated its 7th Year Anniversary and in these short seven years, we have been able to challenge social norms and provide impoverished children the opportunity to learn.
In just seven years JAAGO Foundation has grown from one small classroom with just 17 students, one teacher and a white board; to 1,400 students, 70 teachers and eight schools.
Your kindness and generosity has been invaluable in helping us to achieve these milestones and we truly appreciate the support that you provide to help the children of Bangladesh break the poverty cycle and build a brighter future.
We would like to take this opportunity not only to thank you for your support, but also to tell you exactly how your donations have helped and where they have been used…
JAAGO never stops
In Bangladesh 33 million children still live below the poverty line and JAAGO Foundation will not stop until we achieve an illiteracy-free Bangladesh. In November 2014, with the support of generous Global Giving donations, JAAGO Foundation will open the doors of six more schools throughout Bangladesh; providing the opportunity to quality, free-of-cost education to a further 600 children, and employment and training for a total of 88 teachers.
Celebrating Student Success
As previously mentioned JAAGO Foundation recently celebrated its 7th Year Anniversary and to mark the occasion teachers, students and staff collectively organised a vibrant cultural performance held at the Dhaka National Museum Auditorium.
JAAGO teachers and volunteers worked together to plan, choreograph and teach students various performances to celebrate the outstanding achievements of our students and important milestones for JAAGO Foundation.
A particular highlight of the event involved the student's re-enactment of the JAAGO journey -where students theatrically interpreted the obstacles and challenges that JAAGO Foundation has faced, and revelled in how together we have triumphed. Furthermore the reception student's sparkling rendition of Twinkle, Twinkle Little Star in a contemporary ballet style delighted attendees, of whom special guests included the Primary & Mass Education Minister and British High Commissioner.
The evening concluded with JAAGO students waving flags high in the sky celebrating not only the academic achievements of the 100 JAAGO students graduating with flying colours, but also the collective accomplishments of JAAGO Foundation in breaking the cycle of poverty and building a brighter future for Bangladesh.
Life lessons for JAAGO students
A mother's love
On 11th May 2014 JAAGO Foundation celebrated Mother's Day for the first time, and provided students with the opportunity to reflect on how their mothers positively influence their lives. Our teachers organised a day for students to reflect on all of the support that their mother's provide them – from cooking their dinner and cleaning their uniform, to waking them up and getting them to school.
JAAGO students drew pictures of how their mothers support them, learnt to appreciate this support and also made cards for their mothers to thank them on this special day.
As well as teaching students this appreciation, JAAGO Foundation is also very proud to be able to support student's mothers in providing training and employment in our Sewing Centre. To date JAAGO Foundation has provided training to 460 parents and continues to work hard to advocate for women's rights and empowerment.
"The mother's heart is the child's schoolroom"
- Henry Ward Beecher
Getting creative
At JAAGO Foundation we strongly encourage our student's creativity and imagination, and focus on creating a playful and fun learning environment. This is because our students regularly face difficulties in attending school as many of their peers are unable to attend and there is often pressure to earn a living for their family. This has resulted in high drop-out rates in Bangladesh, with 33% of children failing to complete primary education. JAAGO is working hard to combat this, and one means of doing so is by focusing teaching techniques on rhymes, colouring in and interactive content to create the best learning environment for our students.
Every week a JAAGO teacher hosts a craft workshop in our Banani Branch with students aged 4 to 5 years. The day involves teaching students collage techniques, paper chains and how to recycle materials in a creative way. JAAGO students produce birthday cards, fans, ice cream cups and pen holders; with all students having a fantastic day. The workshop provides students an opportunity to stimulate their creative minds and understand the importance of recycling.
"Our students were elated to know that they could create interesting things from used bottles and waste paper! The students have become much more interested in their studies after this assignment, and now understand the advantages of team-working. We're surprised to see how involved the kids have become because of this assignment! All by themselves, they've made dolls, kites, Eid cards and birthday cards with just clay and paper!" - Mst. Nasrin Afroz Nahida, Reception Teacher
What your support means to JAAGO
JAAGO Foundation is a small but very special organisation, growing rapidly every day. Without the support of generous individuals like yourself, the impoverished children of Bangladesh would have no access to education and thus the poverty cycle would continue.
You are helping our students to break this cycle and build a brighter future. We send you our heartfelt thanks for your continued support and look forward to bringing you more exciting news in our next report.