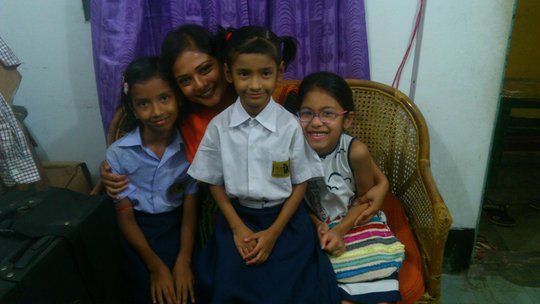 Bonding Between Sponsor Parent and Daughters

Ms. Sanjida wanted to help change the life of a child, and she wouldn't exchange the feeling of pure gratefulness and friendship her children in JAAGO had given back to her for anything in the world. Sanjida is from the U.K and has been supporting JAAGO Rayer bazar school's students Kajol and Rumpa for over a year for their education.
Sanjida works as the Director of a consulting company in Surrey, U.K during the day, takes care of her household at night, and even then manages to dedicate time for her life's holy grail – helping underprivileged children stand up on their own two feet. While it's true that a tiny portion of our earnings (USD 20 / month) help these kids weave their dreams, the love and bonding Sanjida and Rumpa and Kajol feel for each other is something that money can't buy. As Rumpa and Kajol's well-wisher / sponsor parent, Sanjida wants to see the girls become such human beings so that when they grow up, they also learn to give to people and transform the community in which they live.

Creativity is Intelligence having Fun

A well-wisher, Mr. Wilkie along with his daughter Jessica and our strong supporter Faiyaz Ahmed Khan joined in with our kids of JAAGO Foundation, Korail, Banani branch to design some T-shirts. JAAGO students spent a remarkable time painting on their T-shirt with fun and bright colors. Try new things are always exciting and challenging for every child. This session has helped the students to play with their imagination and creativity.
Workshop by Mozilla Firefox
Every day we are moving out of the narrow domain of the "geek" to the broader world. In recent years, web development and programming have started to percolate into the general perception of people. It hasn't become popular "just because". There is a growing realization that, knowing web development and programming is essential; especially for the growing children as it's the basic step towards learning technology.

Since JAAGO Foundation is certain of and has been facilitating quality education through technology by the unique idea of "online schooling"; Ed Tech has become an integral part of our learning. And to move beyond, we inspire our children to learn by making. Allowing them to think technology as a tool for creativity rather making it a critical skill, perhaps helping them to understand the building blocks of web.

With the help of "Webmaker" a project of Mozilla who believes that, innovation can come from anyone and are dedicated to spread web-education to every single corner of the society; JAAGO kids have advanced to the future world of technology. Kids excitedly made their own apps, web accounts and shared the knowledge of creating web without limits. This event was just a gateway, a foundation that'll help the kids to build anything upon it.


Annual Iftar Evening

Ramdan is the holy and a pious month for the Muslims. This is the month in which we not only experience the hardship the poor people faces, but we also build a bond of humanity with them. Every year JAAGO Foundation organizes an annual Iftar for their students and their respective sponsors, connecting the sponsors and the beneficiaries. Sponsors sit with their sponsored child and exchange their gratitude to each other. A special bond is always visible in that round table. During the annual Iftar, the supporters of the Foundation does not only travel to the past seeing how JAAGO grew, but a glimpse of the future is also made known.
Thank You
JAAGO is a family. And we are struggling hard to keep our bond stronger. We recently have strengthened our Sponsor a Child program to support all the new students we are going to accommodate in the coming session. We will open up two new branches this July and we need sponsors to support their education. A few minutes' look into our website and a little bit contribution might make a huge difference in their lives. JAAGO is deeply thankful all those generous sponsors who have been supporting us morally and through donation. We really thank you all for every benevolent contribution that helped us reach education to the many underprivileged kids in Bangladesh.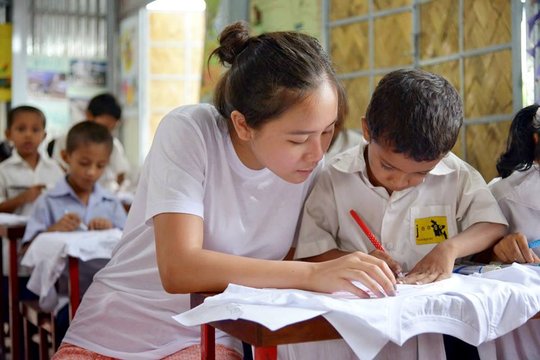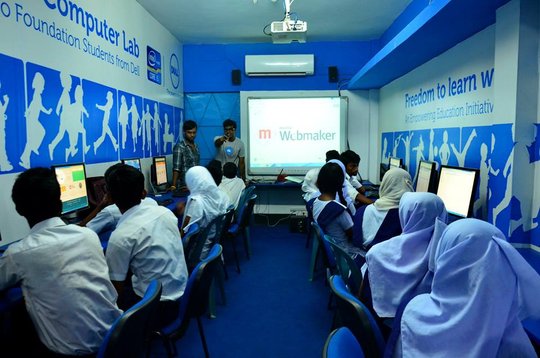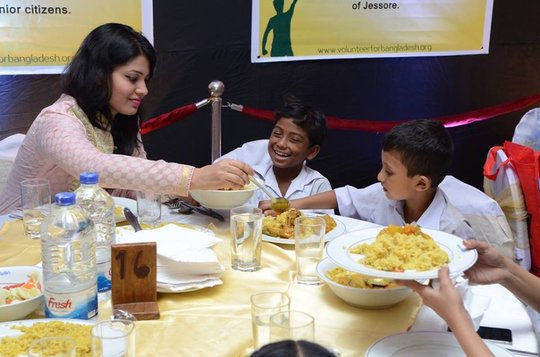 Links: