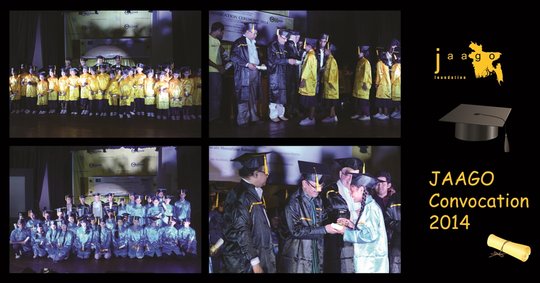 Recently celebrating our seven year anniversary, we are deeply proud of the progress that JAAGO Foundation has made in building a Bangladesh with equal opportunities for all. Our central focus has been on providing international standard education to the nation's most impoverished children, and beginning with one room and 17 kids, it is only owing to the generosity and continued support of our donors that we have made such meaningful, tangible progress, now with eight successful schools countrywide, and 1400 students.
What's been going on?
So far this year, our students have been flourishing both academically and creatively: thank you for your continued help in shaping young minds.
Passing with flying colours
From a young age, many children living below the poverty line are forced to accept a fate of hunger, exploitation and destitution, without challenges, dreams, or hope. With JAAGO School, the fabric of their future is changing. We recently held the graduation ceremony for our Primary Education Completion exams, for which our 29 students received outstanding results: not only did they achieve a 100% pass rate, but the majority also scored the equivalent of an A+.
In other wonderful news, our 80 sharp minded kindergarten kids have progressed from KG2 Pre-Primary to Primary Class 1, through passing our internal assessments – a huge well done!
Green activities for World Environment Day
On Thursday 5th June, JAAGO students across Bangladesh celebrated World Environment Day by watching a documentary to raise awareness of issues such as global warming and the importance of looking after our planet.
Following this, our kids got creative and drew beautiful pictures to show what they had learnt and express their care for the environment. "Brick fields pollute our environment - plant trees and save our environment!" said Rony from class 2, holding up his colourful drawing to show the effects of pollution.
Photography fun
Back in February, we were honoured to be visited by professional photojournalist Prito Reza, who dedicated his valuable time to organising a workshop for JAAGO children, during which they learnt about the art of photography. After the session, they had the opportunity to shoot some snaps themselves, and got to experience fun from both sides of the lens.
Next Steps
It is a continual pleasure to witness these young minds germinating; to provide those who have been caught up in the tide of poverty an opportunity to escape the life they were born into, and capitalise on their dreams. Through the power of education, we are paving the way for our young generation to build a better Bangladesh.
We have come a long way, but our ambitions are high: we aspire to establish a school in each of Bangladesh's 64 districts, eradicating the country's staggering 43% illiteracy rate and creating a brighter, more prosperous future for the nation's most deprived kids.
Child Welfare Department Testimonial:
Our current activities still require a great deal of support. Running the only free-of-cost English medium schools in Bangladesh, we are an invaluable educational resource to children from disadvantaged families. Through our Sponsor a Child program, we connect our children with a guardian sponsor; a kind hearted individual from outside their family who will act as a role model and mentor throughout their education.
Relationship Officer Nayeem Arefin manages these relationships and facilitates correspondence between children and sponsors:
"I deal with the queries, forward their messages such as letters and gifts to the kids, arrange online or real-life tête–à–tête between the kids and sponsors, keep a watchful eye on each student's academic and moral progress, and relay the student's academic or health update to the sponsor. At JAAGO, the sponsors bring their hope, the kids come with their bright eyes flaunting their ambitions, and we bring our work to make our rebellious dream a reality - to build an illiteracy free Bangladesh by educating the impoverished children who don't have access to education."