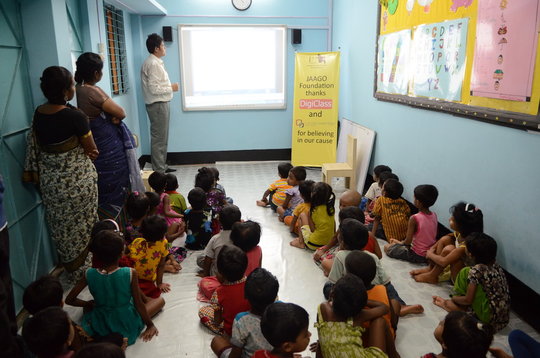 JAAGO sails ahead!
Despite hundreds imperatives JAAGO is determined to forge ahead. Within last three months, it has opened up two more schools and launched 'DigiClass', a pilot project to provide the students with state-of-the-art technological vantage aimed at making their learning process more effective and interactive. Apart from embracing new students, JAAGO Schools are taking novel steps to give the underprivileged children exposure to new experiences that they could not otherwise imagine! We are resolute to provide the best education to these children. Your engagement and benevolent contribution, in this course, will support us each step of the way to help them have a better life.
New Ventures!
Two New Branches!
Within last month JAAGO expanded its family to include two more branches of its school – one in Rajshahi on September 2, 2012 and the other in Chittagong on September16, 2012. This added 167 new children to JAAGO family making the total figure around 1200. We are working hard to reach more and more underprivileged children throughout the country and will soon open one more branch outside Dhaka to render quality education to the deprived.

JAAGO Goes Digital
'DigiClass', which is a syllabi-compliant, multimedia-based, interactive teaching tool, was inaugurated in the Rayer Bazar branch this month on September 10. It contains all educational contents designed for K-12 education and will transform the archaic blackboard-and-chalk classroom environs into a communicative milieu with help from this multimedia hardware. The venture will ease up explanation of complex concepts to the students through use of audio-visual contents and ensure active participation of all students. Launched as a trial scheme, JAAGO team is planning to soon bring over the project to its other branches.

The Rapturous Class Party and Bounce for a New Session
At the end of June students and teachers of three JAAGO schools joined in panoply to organize a class party full of glee, joy and bliss. Students, with their colourful clothes and party cap, were looking like butterflies dancing and singing in a chirpy mood the whole day. With help from their teachers the students decorated their classroom with balloons and colorful paper and prepared to dive for a new session from July this year.
Corporate Volunteerism
SCB Volunteers Spend a Day in JAAGO School
Encouraging and accommodating corporate volunteerism makes a unique feature for JAAGO Foundation Schools. This break supports community service proposition of the staffs under Employee Value Proposition (EVP) concern of the corporations and portrays them as role models for our students as well. Last month, as part of rapport building effort from both the organizations, employees from Standard Chartered Bank (SCB) volunteered in painting JAAGO classrooms. They also contributed in constructing one of our reception classrooms as well as redecorating the library.
Exposures
Learning English with Neel and Clay
The JAAGO students had two wonderful months with Neel Patel and Clay Hackney learning and enjoying the 'Conversation Class' with interactive sessions and fun-stuffs. Neel Patel and Clay Hackney, friends of JAAGO and students of University of North Carolina came to Bangladesh as our guests and became part of JAAGO team fabricating the concept of a 'Conversation Class'. The idea was aimed at making the students deft at communicative English through an innovative and playful learning experience.
Batighar Comes to JAAGO
As part of boosting motivation of its students, JAAGO Foundation Bangladesh organized a two-day workshop for students between 9-12 years at its Rayer Bazar branch from July 12-July 14, 2012.First margin of the workshop was designed with a meditation session named as 'Anandajatra'. The meditation session to be followed by two exercises – one 'Ekta Buro Angul Nore' and the other based on Tagore's 'Tasher Ghor'- and drawing pictures was schemed and conducted by Batighar, an organization dedicated towards child mental health development. The next day Batighar was joined by 'Brotocharee', a cultural movement, to make the day frisky with sharee gaan, briticharee, rhymes and again drawing pictures. JAAGO Foundation plans to make more such arrangements to provide its students as best the emotive boosting as possible.
Making Bond with Nature
After the celebration of 'World Biological Diversity Day' with IUCN, the students of JAAGO Foundation School - Karail Branch, attended a lecture on Environmental Studies. The session familiarized the students with the map of Bangladesh and Dhaka City; the main rivers of Bangladesh; and different types of flora and fauna. The session encouraged the students to love and be respectful towards their nature and environment. Students also participated in planting 200 trees in the school yard of its Rayer Bazar and Karail branch on World Environment Day 2012 under JAAGO's 'Green Dhaka: BE PART OF IT' campaign.

Culture We Indulge In
Drawing the Olympians
British Council Bangladesh and JAAGO Foundation teed up an art competition for the impoverished children studying in JAAGO schools. The competitors aged between 5 to 14 years drew pictures taking 'sports' as the theme in order to celebrate London Olympics 2012. A number of best artists will be selected from these art works and called on to attend a final competition to be held at British Council.
A Thank You Note!
We graciously thank all our sponsors for the wonderful difference they have made into the life of hundreds deprived children. Your contribution means a lot to us. Every penny you donate will change the course of a life merged in dire poverty. By contributing only a minimum amount of USD $20 per month under JAAGO's 'Sponsor a Child' program, you can also be a part of our family. Your donation will bear the educational expenditures of one particular child. If you intend to become a donor, please hop in to our 'Sponsor a Child' page and then visit our 'GlobalGiving Project Report' page to start donation! Every child is precious and with your help we can make a difference in their life together. Thank you so much again for supporting us in our cause!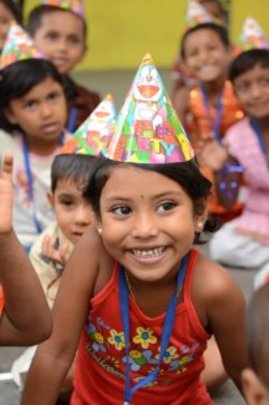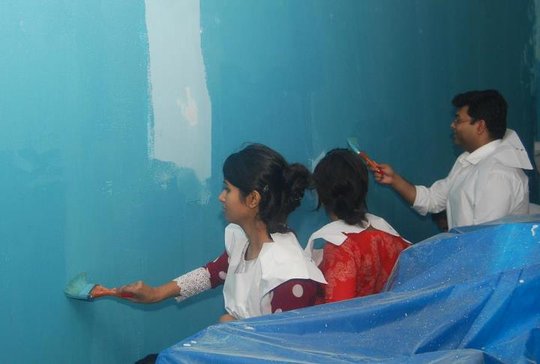 Links: