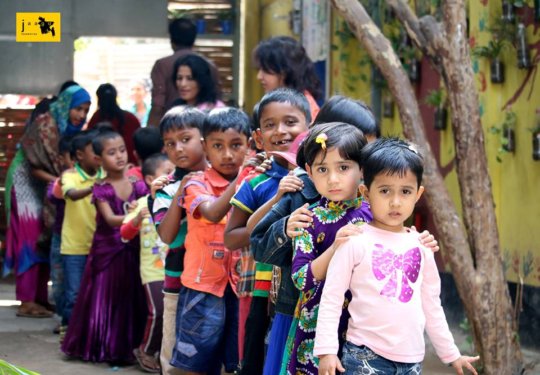 9th Batch Enters JAAGO
First day at School – an amazing experience for a child, an unforgettable & lifelong memory for the parents; Excitement, fear, anxiety - all sing and dance in a happy tune on this day in all our schools.
This very day is the first step towards painting a bright future of our children. Hundreds of little faces with little shaky footsteps and eyes full of big, colorful dreams - We, at JAAGO Foundation just welcomed yet another batch of its reception class with warmth and pride. Each year, our teachers and the JAAGO family celebrate this joyous day by sharing this excitement with the new children and their parents.
For us, this is another proud day, a token of love – which could not be achieved without the belief and trust of our supporters. Please welcome and pray for these budding dreamers and make their journey a smoother one by supporting our cause, however you can. Every single contribution counts.
Warmth of Happiness
This winter just came out to be priceless and filled with innocent smiles of our students. With the token of love, "Meril" took the moment to wrap our children in warmth of sweaters where Marketing Experts and Specialists of popular giant Square Toiletries Ltd. & our beloved Founder of JAAGO Foundation were present at this event; their act of caring created endless smiles on all of our students in 13 schools, across the country.
New Year! New Books!
This New Year, our beloved students finally got their hands on new colorful books. Their joy knew no bounds when they were handed over with academic books and handbooks for their new classes. Let these new textbooks bring bundles of happiness to these little dreamers! Let's inspire these little spirits on this special day of new text book distribution. We hope these books will bring them unlimited happiness and guide them towards their journey.
International Mother Language Day
Like every year in remembrance of the ones who sacrificed their lives for the native language Bangla, the teachers and students from all of our schools observed the International Mother Language day on 21st February, 2016. Students, Teachers tagged along with the Volunteers from Volunteers of Bangladesh (The Youth Wing of JAAGO Foundation) constructed and decorated replications of Shaheed Minar (Martyr Monument) beautifully with pure artisan spirit across the JAAGO schools all over Bangladesh. Students were told sacred history of this great language movement where the lion-hearted students of Dhaka University Rafiq, Jabbar, Salam, Borkot and many other brave souls sacrificed their lives during a protest at the University of Dhaka on February 21, 1952. Furthermore, students laid down flowers to the replications of Martyr`s Monument (Shaheed Minar) and took part in various cultural activities.
Thank You
The catch in writing thank-you notes is that we are consecrated twice. First, when we receive your gift, and again when we remember you our words. We hope you are doubly blessed in the giving and for always being there for us. Allow us to show our gratitude and thank you for all your support.