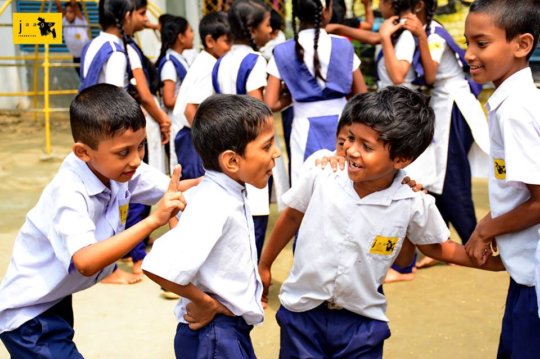 Science Festival 2016, JAAGO Rayer Bazar School
The Science Festival is a fantastic opportunity for the students as the whole process is a joyful learning experience. At the same time, for the school it's a hint to see how smart its students are becoming!
Sincerely, the Science Festival is something more than just 'Science'. It's a hands-on learning for the children, where they have to learn and exercise many life-skills that include: research, teamwork, leadership, democracy, public-speaking, presentation skills. Also they come to know about ethical issues such as: plagiarism and falsification of data used.
There were in total 10 distinctive projects where the little kids from Class 2 decorated and presented each one with much confidence and high spirit!
The participating 10 projects names were:
Seeds
Leaves
Living and Non-Living Things
Types of Plants
Parts of Plants
Different Types of Animals
How Plants Born and Grow
Man-made and Natural Things
Existence of Air, and
Different Types of Flowers
JAAGO would like to specially thank its dynamic teachers who made all these possible. Through their devoted commitment to their profession, and their inherent emotional affiliation with the JAAGO children, the change is in the making and already evident in these kids! At the same time, JAAGO thanks all its well-wishers, supporters and child-sponsors without whose active support these slum kids couldn't have even made up to this far!
Masterchef at JAAGO
It was an absolute pleasure to have the famous food journalist & TV personality from MasterChef Australia JAAGO Foundation Rayer Bazar School. Matt the MasterChef spent a wonderful time with our kids, played basketball, exchanged views and brought a magic box for them. When they opened up the box, it was full of delicious cookies which they enjoyed a lot!
JAAGO Foundation was his best trip among all and he enjoyed the most in here with the beautiful enthusiastic little souls. He wished them all the success in their lives.
JAAGO Health Camp
Like every year, JAAGO Foundation in association with a group of volunteering doctors held JAAGO Health Camp in Rayer Bazar School and Banani School. Over 1000 civilians and children from the underprivileged slum community in Rayer Bazar & Banani were given free of cost health checkup and basic medicines to fight back frequent diseases. We registered all the individuals who showed up at the camp to keep track of each of them. Infants, kids, youth and elders all were provided with provided Medical and Health Support. JAAGO Foundation and the volunteering doctors looks forward to continue this initiatives further every year for the well-being of the impoverished community.
Imaginations with Flying Colors
It was not just another regular school-day for the class-3 and 5 children of our Rayer Bazar School's morning shift. Since noon, the kids were getting so excited and thrilled! They had an art competition them. Our little artisans participated in an Art Competition, visualizing their thoughts and world around finally splashing colors on their creations. Every art piece made was like a Treasure for us, revealing tales and stories that keep on playing inside the minds of our little gems. The open-space of the school was well-decorated for accommodating the competition's little participants! The selectors-panel had to undergo a tough job to select the top three art-pieces among all the colorful submissions! The winners' names were announced and prizes were distributed! It was fun all through!
Science Book for the JAAGO Wizards

here does rain come from? Why does the Sun disappear at night? Why do volcanoes erupt? These are the few questions that involve and engage the little and lively minds. To answer their delightful queries 'Research and Development Department' of JAAGO Foundation developed an elementary science book for first graders.
The book "Elementary Science for Kids: Book-1" is a series of science textbooks for primary graders. The core content of this book is in total alignment with the objectives of our national curriculum, which will provide the foundation of next level concepts of different scientific topics. It illustrates the topics of fundamental science knowledge comprehending completely, that the audience of this book are our junior citizens and the language is kept basic and simple accordingly.
At the end of this topic, project work is designed as an assessment. This includes teamwork, which enables children to develop their interaction skills. This book focuses on the basic science knowledge with very fundamental English that is easy to understand for kids. It presents each chapter with hands-on activities and colorful images. Considering the personalities of our young fellows, classroom environment and social habits activities are designed in a particular manner.
Concepts are introduced with multiple warm up activities that are required by the kids to solve using their existing knowledge on the following concept. Along with these book also allows kids to practice creative and critical thinking through continuously assessment practice activities. Multiple project works and assessment practice items will help teachers to assess the understanding of our young fellows. A summary of the topic is included and new words are defined at the end of the chapter to practice and retain the major information of the topic. The initiative of developing this supplementary elementary science book series will encourage and promote activity based learning in classroom. It will also help young learners to learn and become interested and keen towards science knowledge to make sense of their surroundings. This book is designed to spark a love for science inside the little brains.
JAAGO Students at Service Fair 2016
JAAGO Rayer Bazar School children recently participated in a daylong cultural event titled 'Anondo Mela' ( Fun Fair ) , held at the Rayer Bazar boishakhi playground. Various development organizations under the Children Development Network (CDN) organized this fair for underprivileged children in Dhaka's Rayer Bazar slum area recently.
The objective of the fair was to promote the importance of education among the locals of Rayer Bazar slum area and ensure education for all
The fair was inaugurated by representatives of the participating organizations. Honorable guests, visitors, and guardians then visited stalls that displayed information about their respective core activities concerning welfare of under-privileged children. Finally, a cultural programme took place where our JAAGO Foundation children along with the other local children performed with high applause from the audience.
Art for a Cause
Kate Woolever Martinez, a teacher at the St. Paul Preparatory School in downtown St. Paul, Minnesota visited Bangladesh on a cultural exchange program a few years ago. Going back, she thought of taking her experience into her native classroom and doing something meaningful, insightful.

She turned a routine portrait assignment of her art-class into a valuable lesson, much larger than life! She linked it to the Climate refugees whom she met while here, of Bangladesh, a country worst-hit by the climate change. She also showed how a non-profit school of Bangladesh, JAAGO Foundation, was sincerely trying to making a difference, by improving the lives of families living in a densely populated urban slum located at Rayer Bazar, Dhaka.When Woolever Martinez returned to Minnesota, she was eager to incorporate her experience into her classroom. She emailed our JAAGO Rayer Bazar School asking for photographs of its students. Receiving the pack as requested, she assigned each of her high school art students the task of creating a drawing or painting from one of the photographs of JAAGO students.

The majority students at St. Paul Preparatory are foreign exchange students from countries like China and Brazil who come to the US to learn English. Kate's noble initiative created a long-lasting emotional impact in these young hearts, for Bangladesh and its distressed children!
Feel the Change, Be the Change

For an individual, knowledge is imperative for leading a decent, healthy life. For a community, knowledge is a must for ensuring a sustainable growth for a better living. For a nation, knowledge is essential for making a strong footprint in the global arena and maintaining strong international relations. As a developing country with over 160 million people, Bangladesh needs to ensure access to quality education for its large segment of under-privileged population. And to elevate their socio-economic condition, quality education is the most important tool they can equip with. JAAGO has been working towards that since last nine years. When you decide to support the education of a JAAGO child, it not only changes that very child's life in a positive manner, but it also reshapes your perspectives towards life, forever!

We thank all our supporters from the core of our soul, for where we are now. This was only possible only because we stood by each other. Thank You. Be the change, feel the change!