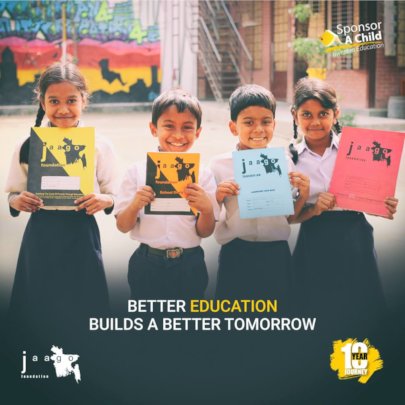 JAAGO Rousing Hope!
Hope is being able to see the light at the end of a pitch-black tunnel. It is the small inkling which holds you back from giving up. One cannot hope to build a better future without sharing the universal responsibility for humanity, where one's duty is to aid those who need the most.
It is with this faith of building a better world that JAAGO is galvanizing the hopes of thousands of children. Prior to JAAGO's planting seeds of hope within them, the children used to work as child labors or wander about on the streets. JAAGO provided them a greater vision by providing them with free quality education. JAAGO illuminated the dark tunnel and created hope within their hearts so that they can perceive the future differently for themselves, their families, and the nation.
11th Foundation Day | QUALITY EDUCATION FOR ALL
With the aim of breaking the cycle of poverty and provide quality education to the underprivileged, JAAGO started in a very small arena in 2007. Our first School started with only 17 children but now after 11 years, we have 3000 students in 12 Schools across Bangladesh. Also, JAAGO's Youth Development Program has created a platform where youth can raise their voice. The youth representatives of the country stand through JAAGO and engage themselves in the activities related to country's welfare.
During this long way of journey, we have achieved so many things and loves of people. We were determined to deliver rays of education to every corner of the country. On 15th of April, 2018 we have completed our 11th year of journey. We came this far with the promise of bright future and we will move forward to bigger goals and achievements for human welfare.
Artsy Tape Crafts- Workshop with Tape That
According to Greek Philosopher Aristotle, "Art completes what nature cannot bring to finish. The artist gives us knowledge of nature's unrealized ends." It is with this hope that JAAGO explores the artistic sides of our children and brings out their interpretations of their natural settings.
For the first time in Dhaka, Tape That conducted a workshop with an interesting medium to create art. Tape That visited JAAGO Rayer Bazar School this February to conduct the workshop on Tape Art, organized by German Embassy, Dhaka. Tape That is an artist collective established in Berlin and they create art works solely out of adhesives tapes. Each of their artworks is unique as they are inspired by and incorporate the spatial circumstances.
The children at JAAGO were fascinated by the idea of creating art out of an everyday object that most people take for granted. Our creative little minds watched the team of Tape That demonstrate the process and then produced remarkable pictures such as national monuments, skyscrapers, figures, the map of Bangladesh, etc. It was quite an amazing learning experience for our students where they got the opportunity to explore their talents and specialties via art.
Empowering through Innovation- Science Fair 2018
JAAGO has always believed that Innovation leads to progress, because of which we encourage our students to put their heads together. The JAAGO students carry out few days of training sessions and workshop before presenting their projects at the grand event. They form teams, brainstorm, get trained, practice, learn and finally present their project for the final event in front of sponsor parents, teachers, students, guests, JAAGO officials and sponsors. A jury board selects the winners by judging their innovations and declares winners among them. Thus this project helps the children to develop their interpersonal and presentational skills, encouraging them to take on bigger challenges for future.
6 teams from 2 branches of JAAGO had participated on this Annual Science Fair 2018, supported by KrisEnergy. They had gone through 4 days of formal workshop in two branches where they got trained by expert professionals. A number of 30 students from 2 branches participated in the program.
The projects they exhibiting at the Science Fair are Solar Caps, Solar House, Solar Hat, Solar Turbine, Electricity from Potato, Hand Generator. Participation on such events has helped the students of JAAGO to nourish their dreams and prepare them for future challenges ahead.
Technical and Vocational Education and Training

After the commencement of the Secondary School Certificate examination, JAAGO wanted to utilize the time students usually spend sitting idle by enrolling 13 of the students into UCEP Bangladesh for some short technical courses. We wanted to provide our students with an opportunity to get a strategic overview of a certain area, plus the working skills that is needed to put their ideas to work efficiently. These workshops would develop their skill-set and would help them in the future.

UCEP's core program is the Technical and Vocational Education and Training, which is comprised of skills training as well as formal stream of technical education (Grade 9 and 10 toward S.S.C. Vocational) with a timeline of 3-6 months. All UCEP Training centers have RTO (Registered Training Organization) and RPL (Recognition of Prior Learning Status) assessment center status from the government in a number of trades.
Our students enrolled in courses titled Sweater Linking Operator, Lathe Machine Operation and Mobile Phone Servicing Technician. These courses will help the students be more successful team members in the classroom, in organizations and in their professional spheres, and build essential skills for lives of leadership and service.
How JAAGO Changes Lives!

Statement of Sabbir
Grade 10
JAAGO Rayerbazar School
"I am Sabbir, a student of standard 10 at JAAGO School. Ten Years back when I entered JAAGO I felt I saw the 'Door of Alibaba'. It was a wonderland where I saw a prince ruling the kingdom peacefully.
I got a lot from JAAGO. It helped me to extend my world of imagination. I started to dream a lot bigger and better. JAAGO has inspired me a lot to increase my sense of responsibility towards my family, society and country. It has been a tremendous journey so far yet too short. We have a long way to go. As a student, I am extremely proud to be a part of JAAGO. I do not have any words to show my gratitude towards JAAGO. Probably, I need to come up with a new word in the dictionary to describe what JAAGO is to me. Just can say, without JAAGO my life would have been a pond without water, a tree without leaves, and a human without dreams.
Today it feels amazing to know that we have reached 10th year of our journey. In these 10 years we have gone through a lot of ups and downs. The contributions of our respectful teachers, parents, volunteers are unforgettable. I can proudly say that you will hardly find any organization as promising as JAAGO.
I wish to be able to spend my remaining lifetime in the service of JAAGO.I want to contribute ungrudgingly with everything that I have to see JAAGO at the peak of its success. Hopefully together we will not just have a better society, a better nation, but a better world.
I wish to get the blessing of Almighty in that regard.
LONG LIVE JAAGO…!!!
Thank You
It is with the utmost sincerity that we convey our gratitude to the national and international child sponsors, corporate partners, donor agencies and supporters from various fields. Without their contribution and support, this journey would not have progressed and prospered in changing lives of these underprivileged children. JAAGO requests them to continue providing their irreplaceable support to this humanitarian cause, so that we can ensure each child in every corner of the country, and perhaps beyond, receives quality education to rescue themselves from the curse of poverty in future. Stand with us to withstand odds falling onto our children!