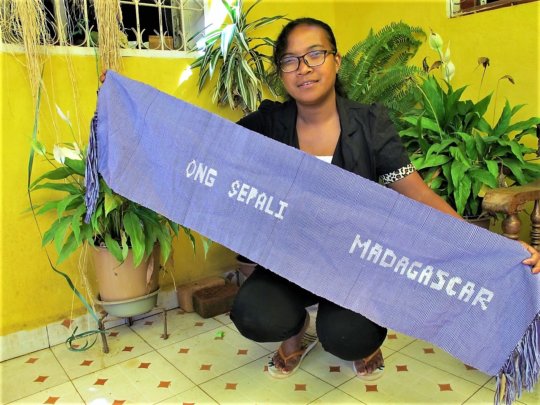 Misaotra Betsaka ("Thank you very much")!
We are happy to announce that we completed our fundraising goal for the first phase of our artisan training program! Hooray!
What does that mean?
Well, "phase one" of the Artisan Training initiative was dependent on a two-year fundraiser which was successfully completed this past month, but as you can tell from our reports, we didn't wait to get started. Investments in the project occurred as soon as they came in and we have already made significant progress towards our goals.
Thanks to your generous contributions, we were able to build infrastructure including a new silk drying house, dyeing houses and a bunk house, we invested in equipment, trained our staff in new production techniques, hosted international consultants, and most importantly, provided year-round training, facilities and support for Malagasy women to become artisans and earn a living. Those same artisans now support their families, send their children to school and invest in their futures.
From a meager start three years ago of just 10-20 meters of sample textile, we now have a production capacity of over 500 refined products per year, close to 20k in silk revenue and a year-round dedicated artisan community investing in sustainable livelihoods.
We are grateful for your support and encouragement and we can't wait to take the project to the next level.
What happens next?
Phase two!
Phase two takes the Artisan Training project from a Maroantsetra-centered initiative out into the rural communities to provide sustainable income-generating opportunities for women where few opportunities currently exist. Phase two will focus on raffia, a native palm fiber that can be woven into textile without electricity. This will expand and diversify our silk project and products while continuing to support endemic forests and resources. Keep your eyes peeled for Raffia and Looms, coming soon.
Thanks again!
All the best,
CPALI/SEPALI Team