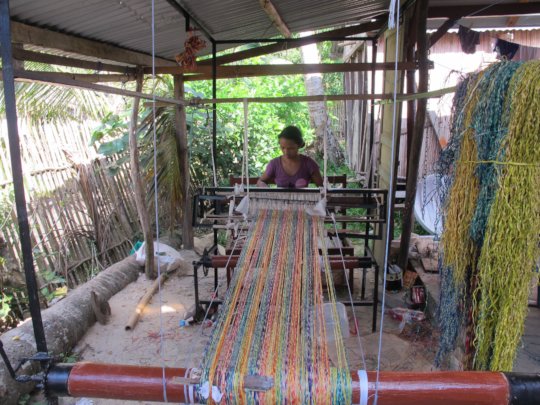 The SEPALI team in Madagascar is starting the year off with a big hustle. The word is out about our silks and the orders are coming in back-to-back, creating welcome challenges with regard to scaling our project properly and keeping us on track to reach our goal of a sustainable business model. We're not there yet, but consistent orders are certainly helping put the pressure on. The team is working to complete orders while sourcing silk from farmer cooperatives, growing the team appropriately, and actively combating the weather.
Battling Cyclone Season
Yes, cyclones are a season in Madagascar. Unfortunately this year has been more active than most. Ava made landfall in early January as a category 2 cyclone, Berguitta swept through in late January as a category 3, then a brief lull was followed by two in a row, category 3 Dumazile in early March and severe tropical storm Eliakim right on its heels. The relentless pummeling is starting to take its toll, but the team is taking the challenges as they come and trying to maintain a sense of normalcy and consistency. They are prioritizing tasks, adapting non-electric equipment during power outages, drying the silk in protected areas and continuing, miraculously, to ship boxes out on time. Best of all, the bridge that we repaired after last year's cyclone season still stands. Thank you donors!
Silk Expansion Packs
One recent marketing change that should help us weather the storms is the development and addition of 5 different species of wild silk to our collection. In addition to Ceranchia open and dense weave, we now feature Bombyx, Borocera, Argema, Antherina, and Deborrea. The new additions have already attracted positive feedback from our customers and we are now producing large repeat orders of paper, art pieces and material. Of course, that work involves expanding our farmer supply networks as well. The team is working on developing consistent, reliable networks for species of silk moths that require different host trees and different habitats. Good thing our director is an entomologist. Mamy has been rearing and studying these species for years and he's up for the task!
Looms and Raffia
Raffia continues to bolster our networks as well. The local raffia weavers make a high-quality, finely-woven raffia on traditional looms and women's groups from the capital supplement our supply with their own version of wide, large raffia pieces with lots of surface area. We have been in partnership with these groups over the past couple of months to learn their techniques and adapt them to the local communities and products of Maroantsetra. The results are slow, but steady. Our team now has a number of looms that they are training local artisans on and creating beautiful, new designs that are uniquely ours.
Upcoming Workshop
One of the most exciting parts of the spring is preparing for our annual design workshop with Docey Lewis. She agreed to return to Madagascar this year to teach new designs, refine existing skills, and prepare the team and products for our trade show in August. Her training workshops are always extremely valuable to the team and they look forward to it every year. Not only does it get us organized and give us a big dose of confidence for the year, but it provides our team with a structured opportunity to learn the skills necessary for becoming an independent and sustainable Malagasy business. This is still a significant, but worthwhile investment for us and anything you can do to help is appreciated!
Thank you for all your support!