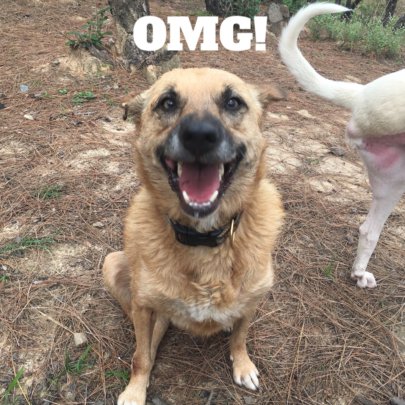 Dear friends of DAR,
Ruby, is the DAR CEO and is a distemper survivor.. A deadly disease for unvaccinated puppies. She has a story to tell:
'There is a t-shirt out there that says, "All I want to do is rescue dogs and drink wine."
Sounds too good to be true.. and it is. There are many times you may be drinking wine because of animals you cannot save or mistakes you made and lives were lost.
Luckily, lessons learned make our protocols and procedures better in India, a country that more stray dogs than anywhere else in the world. A place where veterinarians only go to vet school if they cannot get into human medical school.. not because they love animals.
There are no Government run mass vaccination programs for rabies which kills more humans in India than anywhere else in the world... nor are their mass vaccination prorgrams for highly contagious diseases like Parvo and Distemper... two deadly diseases for puppies and dogs with low immunity. Luckily because of DAR, I was saved.
Every year, twice a year, it is puppy season. We do our best to spay and neuter the streets dogs, but as there are thousands of them, it will take a life time to sterilize them all unless one day we get a HUGE influx of money, to have more space, find many more animal loving Indians and are able to hire more vets.
Since that is not the current case, what does this mean? Two times a year pups are born on the street. None are vaccinated against diseases, like parvo and distemper. Many of these pups are hit by cars, or dumped at our clinic by locals that do not want more dogs in their villages. Our clinic becomes overrun with puppies that have been taken away from the moms too soon and therefore have weak immune systems. Basically, prime candidates for these two diseases.
Two years ago, we had a disease protocol in place. We vaccinated every puppy against parvo and distemper upon entering our clinic. Some were too young for the vaccination but vet studies have shown that early vaccinations then boosters are beneficial in preventing the disease.
Unfortunately, one puppy started showing signs of parvo but we had no way of knowing for sure. The puppy was lethargic and had lost its appetite. We were not positive that is was parvo so we waited a few days to just monitor the pups behavior.
This was a huge mistake. Instead of assuming the worst and isolating this puppy he remained near the rest of the pups while we were monitoring his health. By day three 6 other puppies were showing early signs of parvo.
Now we were in a state of emergency. We needed to get any puppy not showing signs of parvo out of our clinic! Problem, in Dharamsala, not many people like street dogs, so we had to bring most of them to our own homes!!
Next, we needed to get every puppy still with us on treatment for parvo. As there is no cure for parvo, all we could do to treat the puppies is to do whatever we could to boost their immune systems to be able to fight it off.
Every single puppy died. It was awful.
Some puppies died right away and some after 10 days. We were all heartbroken and beating ourselves up for our failure.
To pick ourselves back up again, we closed the clinic for two weeks, the minimum amount of time needed to kill off the parvo disease.
We instituted new cleaning protocols to prevent disease from spreading.
We discovered that we could order snap tests kits for both parvo and distemper. This way, if any symptoms arose, we could immediately test the puppies to see if they had the disease, and if so, handle everything with a sense of urgency. Our new motto was "assume the worst," and do the test, as opposed to wait a few days and see.
This is unfortunately commom place in many shelters in India. With limited funds, space, and people who care, and a diseases uncontrollable with the amount of pups born on the street.
When we reopened the clinic, everyone was so fearful that a similar thing would happen and changing habits can be hard. Our management staff kept at the team until the new processes became second nature.
I am happy to report that in the past two years, since this incident and we have not had this situation again.. Not to say that there has been no disease, but with our new sense of urgency and protocol, we can save healthy puppies from contracting and dying of awful diseases.... just like me.
Our new systems do cost money! Each kit costs $3.50. During the two puppys seasons or 4 months per year, we will use on average 60 kits per month costing DAR $840.
We also provide 50 vaccinations per month for parvo and distemper prevention. Each vaccination costs $2.70 or $1620 per year.
It is a lot of money, but we think it is worth it to keep dogs safe and healthy from disease. If you can contribute to help cover these costs we would be so thankful.
Luckily Giving Tuesday is approaching and The Bill and Melinda Gates Foundation will be matching eac donation by 50%.
Yes, you heard that right, The Bill and Melinda Gates Foundation will be matching all donations to Dharamsala Animal Rescue on Giving Tuesday:
The 2016 #GivingTuesday campaign will begin November 29th, 2016, at

00:00:01 EST

and end at

23:59:59 EST

on November 29th, 2016.
Thank you so much as always for supporting our work.. to End Suffering and Increase Compassion for the stray animals of Dharamsala.
Thanks, Ruby
Links: