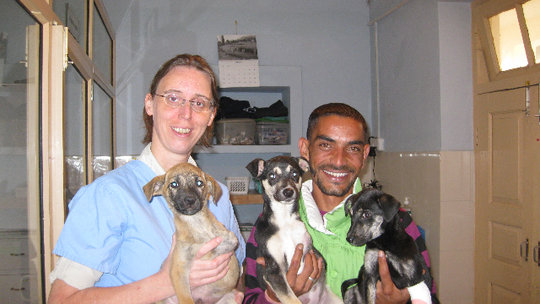 Namaste,
As some of you know, I left my corporate job in March to focus full time on DAR. My beloved dog, Wes, died in June, and I left to go to Dharamsala to work at our projects full time for almost 3 months.
It was a great opportunity to work at the Himalayan Nature Society (HNS), one of the NGOs DAR supports and see first hand our accomplishments and our failures. The good news is that the street dogs of Dharamsala have never looked better. Your donations and support have decreased the population of strays and created a healthier population. For the third year in a row, there were no reported deaths of human rabies in Dharamsala.
More good news was the beginning of our student Veterinarian internship program with World Wide Vets of the UK. The students were extremely helpful in cross cultural education for our staff. They worked to create better process for keeping track of our patients' health. They helped to create a quaratine area for animals with contagious deadly diseases like distemper and parvo. The program allowed them to get university credit.
Unfortunately, I discovered that the management of The Himalayan Nature Society was using some funds inappropriately and not investing in the betterment of the health of the animals, I decided to pull funding until the Chariman and the Board Members stepped down so we can pull in trustworthy and ethical professionals to move forward. This is not uncommon in the NGO world in developing and third world countries. However, I needed to put a stop to the corruption.
The animals at the clinic have been transferred to another NGO clinic that DAR now supports called Tibet Charity and a new sanctuary project called Wesley's Paw. All animals are now being cared for by these two groups until the reopening of the HNS clinic.
The HNS Chairman and Board are in the process of resigning and the police are helping us recoup the money that should have gone to our cause and not to their pockets. The clinic will reopen with DAR direct supervision with full support from the community of Dharamsala.
I believe that this hard lesson learned will prove to be a blessing in the future. We now will have greater control over where the money is spent and how the animals are treated.
For now, I would like to thank all of the folks in Dharamsala who have helped us keep moving forward with our good work during this difficult time:
Miet Van Dijick - Veterinarian Volunteer for DAR
Anje Sibbes - Veterinarian Volunteer for DAR
Sweety Singh - Director of Animal Care, Wesley's Paw
Ajeet Kapoor - Caretaker, Wesley's Paw
Anshita Sharma - Volunteer Dharamsala Animal Rescue, India
Tsering Thundup - Director at Tibet Charity
Lobsang Tuchee - Manager of Tibet Charity Animal Project
Dapka Tenzin - Veterinarian at Tibet Charity
Raja Sota - New Board Member of DAR, Owns Himalayan Explorers in Dharamsala
Elise Noel - New Board Member of DAR, Owns HImalayan Explorers in Dharamsala
Sheila Sedgewick - New Board Member of DAR, Owns Hotel Eagles Next in Dharamsala
Dr. Atul Puri - Governement Vet of Dharamsala
Dr. Sujay Sharma - Government Vet of Dharamsala
Dr. Mukesh Mahajan - Head Government Vet of Dharamsala
Ronny Novac - friend and animal lover in Dharamsala
Heidi Minx - friend and animal lover San Francisco and Dharamsala
Monja McKay - friend and animal lover Dharamsala
I hope I am not forgetting anyone, but these folks are helping our organization thrive. If you have any further questions about DAR, please email me at debjarrett@gmail.com
Thank you. I promise, all of you donations will be used for the betterment of the health of the street animals of Dharamsala and the community. Deb