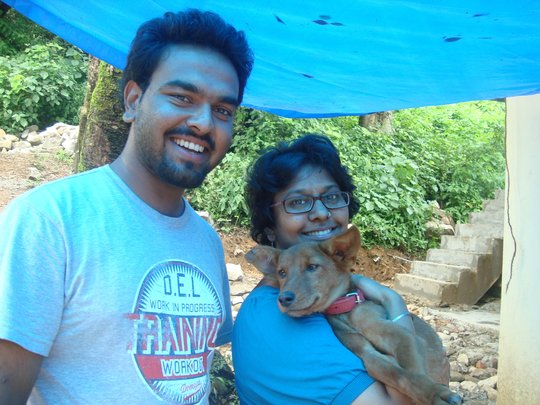 Hello friends,
I am in India these days working on the ground. It always gives me new energy about our mission to witness the progress first hand. This is my 5th time in India and the difference in the health of the street dogs is just astounding. First off, all there are fewer of them,thanks to our sterilization program, and they look so much healthier!! The only problem about being here at this time is that is it monsoon season, which basically means it is wet and rainy all of the time and nothing ever dries.
One thing that has ramped up this year is our adoption rate! We used to have about 2 to 4 per year, now we are seeing 2 to 4 per quarter!! I was lucky enough yesterday to witness a puppy we rescued with a fractured leg, recover and get adopted by a lovely family!! I have attached a photo. It was a really special day for me to see this first hand.
On the other hand, there are still so many dogs to be sterilized and vaccinated, especially in surrounds villages. Locally, we also have many cases of mange, broken bones from car accidents, distemper and parvo in puppies, and cancerous tumors. There also seems to be an uptick in cows being hit by cars. It is a really sad state of affairs. I am also attaching a photo of a calf we recently rescued and a dog with severe mange.
However, due to drought and food prices rising, power outages, and medicine prices our monthly budget has increased. If you can, please help us to be able to meet our goals.
We are now able to take tax exempt donations in both the US:
http://www.globalgiving.org/projects/spay-neuter-vaccinate-dogs-erradicate-rabies/
and the UK:
http://www.globalgiving.co.uk/projects/spay-neuter-vaccinate-dogs-erradicate-rabies/
If you can make a recurring donation, Global Giving has a sponsor who will MATCH MONTHLY. So if you can donate $10 per month it will be $20!!
As always, thank you so much for your support. With much gratitude. Deb Jarrett, Executive Director