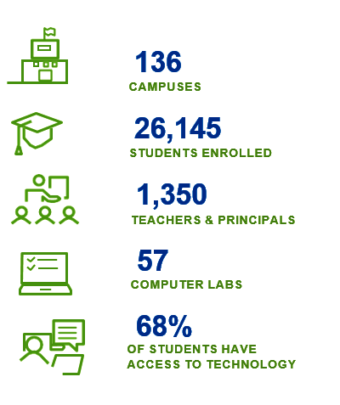 Dear DIL Trust UK Supporters,

DIL is delighted to join hands with the Federal Directorate of Education, in response to Covid-19, to bring quality education to children across Pakistan. The government's new PTV Tele School initiative, which started airing in early May, aims to advance student learning while schools remain closed nationwide. DIL videos are also being featured on PTV.
Our signature TEAL (Technology-enabled Academic Learning) video instruction has recast the way our students learn and apply new concepts, substantially improving learning outcomes. It now promises to do the same for children who will be watching the Tele School program from home. We are thrilled to be able to contribute so meaningfully when students are at risk of losing a semester or more of their education.
We'd like to thank you for allowing us to continue developing new and improved learning material, and count on your generous support, once again, during these difficult times.
Links: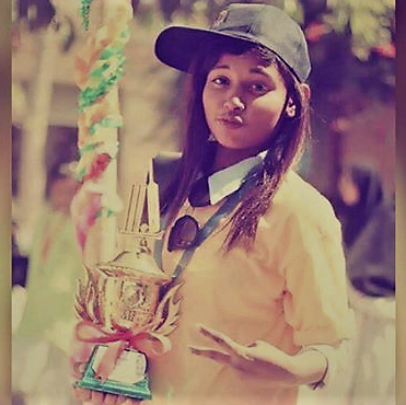 The path to a better future can only be paved through education. Quality education is not accessible for many and we would like your help in bringing it within reach of every child in Pakistan. Better education will enable children in rural and urban slums of Pakistan, who are generally the most vulnerable and susceptible to poverty and exploitation, develop to their full potential and lead a dignified and meaningful life.
DIL has and will continue to work towards achieving this goal of enabling every individual, girl or boy, to realize their right to educ[ation. Our goals are set, but we need your continued help in bringing them to life. On behalf of the school community, students and teachers, DIL would like to extend a huge thank you to all who have contributed so generously.
THANK YOU!
Meet Shafaq - DIL School, Orangi
My name is Shafaq and I completed my studies from DIL Junior School, Orangi. I don't remember the age when my father bought a bat and a ball for me but I can still recall that day, when I felt like the richest person in the world. I started playing cricket on the streets with my friends in the neighborhood when I was a kid. During my childhood there was nothing else on my mind except cricket. I was so passionate about cricket that I didn't care about my health or routine tasks. I feel so reluctant to say that I never completed my homework on time. With a little encouragement and guidance from my teachers I realised that I was a good manager, keeping a balance between studies and my passion. I gained confidence in myself when I got very good marks in my exams.
With the blessing and support of my parents and confidence building in my school, now, I am assured that I can turn my dream of being an all-rounder cricketer into reality. When I got admission in DIL Junior School, I heard that about the sports period which made me feel 'OH yes!!!' I used to wait for Saturday so that I can enjoy that period. I remember that how I gradually improved at cricket by playing at school and with friends. I performed better than the boys in both batting and bowling. Although now I am a DIL graduate, my school principal still supports me. I took admission in Customs Cricket Academy under the management of Mr. Jalal-u- Din and Shahid Khan Afridi, and was supported by the Pakistan Cricket Academy. It was 27th December 2016 when I got the best all-rounder award from the Customs Cricket Academy (C.C.A) and on 11th February, I got the best performance award from Karachi's No.1 College "Saint Lawrence's Government Degree College". Now, I dream to play for the Pakistan Women Cricket Team and become world's no 1 all-rounder player.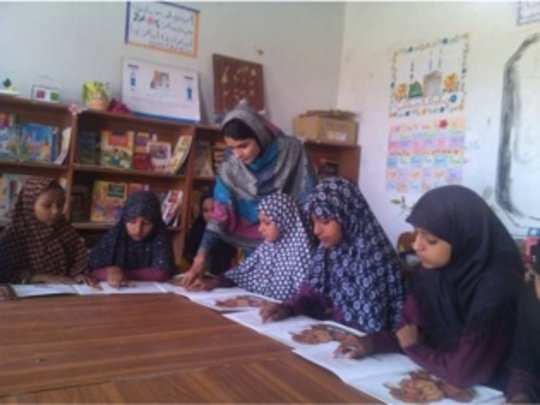 Thanks to your donations directed towards teacher training, many young women are facing a brighter future than they could previously envision. DIL Trust UK has managed to raise the standard of education through teacher training, an enhanced curriculum and by ensures that students stay in school and matriculate.
Riaz is one such student. She attained her education at a DIL Trust UK school in the village Abdul Hakeem Mungia, and was an active participant in all group activities and excelled in all her classes. After noting her enthusiasm, DIL Trust UK provided additional support to her through after school tuition in 9th and 10th grade. After graduating Riaz Bano took the teacher entry test at her school, and qualified! She is now employed by DIL as a nursery teacher at the school. DIL Trust UK is extremely proud of her achievement.
DIL Trust UK is also proud to announce that, this year the DIL School in village Kot Denal Shah will start welcoming 6th graders. 5th graders from the year below will no longer have to leave and look for admission in expensive private schools or poor performing government schools.
Sadaf – a brilliant student at DIL and her parents are most delighted about the news. Sadaf stopped attending school after 5th grade because her father thought it was a waste of time to put her through a government school. As a night duty watchman he could not afford to pay the fees at a private school.
Fortunately Sadaf will get back to learning at the DIL Kot Denal Shah School after taking a gap year.
These success stories are the reason for DIL's existence. This is why we reach out to our donors, because a little bit of charity can go a long way.
Thank you for all your support, Riaz would not be the breadwinner of her family and Sadaf would have never gone back to school without your support!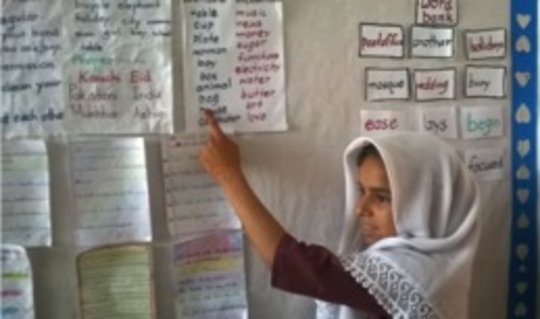 WARNING: Javascript is currently disabled or is not available in your browser. GlobalGiving makes extensive use of Javascript and will not function properly with Javascript disabled.
Please enable Javascript
and refresh this page.