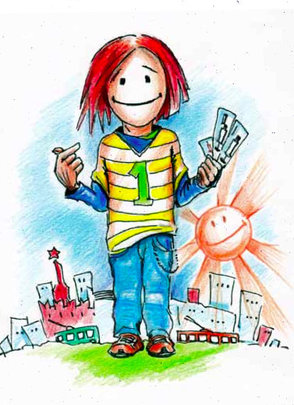 Dear supporters!
We have to share one important decision with you. After 2.5 years we decided to deactivate the project aimed at collecting money for the outreach bus. We will use the same money to support our daily outreach work with drug users, buy prevention materials and print information. The reason for our decision is that while initially the campaign was very energetic and it helped us to reach to wide audience with not only fundraising but also drug policy message, in 2.5 years we have only achieved 30% of the set target – 20K out of 60.000USD needed to buy a minibus. At the same time, the Russian economy is going through a period of destabilization and falling of the ruble – just in couple last month the ruble price compare to dollar has fallen by over 25% http://online.wsj.com/articles/russian-ruble-hits-fresh-low-against-dollar-1412592163
Since we receive all your donations from the GlobalGiving in roubles, and this money sits on our bank account, as we cannot spend it before we reach the 60K target, the value of your donation is rapidly falling. That is why we decided to close the bus project, use the money for syringes, condoms, ointments and other prevention materials and start a new project with more flexible target (we will be collecting for prevention materials only and with the condition that we will be able to use the money on the monthly basis, unlike now). All the re-curring donations will be transferred to the new project.
The bus idea was beautiful, but at the moment it looks not too realistic. We have also written to Volkswagen in Germany, asking for in-kind donation, but didn't hear anyting back. If you have great ideas how we can get this bus, please let us know!
Meanwhile, all your donations will be well placed and will help us to carry out daily work with drug users in Moscow. I attach a short report on the first year of our great new initiative - Integrating legal aid into the core of our health work
With warm regards and heartily thanks for your support!
Anya sarang
The pilot Street Lawyers project proved to be a very important and successful initiative, which helped us to bring our street, work with people who use drugs and are vulnerable to or living with HIV to a new level. The concept of our Street Lawyers project is to add on to our health harm reduction activities with the component of legal aid to our participants. In this, we aim at minimizing involvement of professional lawyers but rather at training outreach workers and project participants (drug users, affected by injustice) to gain understanding of legal issues and skills of legal representation.
Just in one year our case managers and outreach workers gained significant experience in several areas: interviewing people and identifying legal problems; representing people and helping them to represent themselves before all level of authority – from head doctors of medical institutions to judges in courts. To achieve that we organized training for outreach workers to gain legal skills and to be able to help participants represent their interests and also enable participants to defend their rights. By now we are fully convinced that legal representation should be a core part of harm reduction activities – as important as health – as injustice, over-incarceration, violations of human rights and human dignity are great harms of the War on drugs that ruin peoples lives, health, dignity and integrity.
From July 1st to September 31, 2014 we have continued to carry out daily outreach visits to the streets of Moscow to meet with people who use drugs. By the end of the project we had a team of street workers consisting of 16 outreach workers, two case managers (one of them focuses specifically on women), two medical workers and 4 lawyers (all came into the team as volunteers and continue to support the legal aspect of work) and one lawyer from Canadian HIV/AIDS Legal Network who helps the legal team and provided several trainings for the outreach team. The outreach coordinators compiles weekly schedule depending on availability of the outreach members who select evenings of the week that are convenient for them and work in pairs. Also sometimes unpaid volunteers and journalists join the pairs. The visits last about 1-2 hours or as long as it takes to give out all the materials that the outreachers can carry in their backpacks.
In total from July 1, 2013 to Sept 31, 2014 we had 3042 outreach contacts with drug users of them 807 contacts with women. We encountered 1325 new project participants (375 women) and provided prevention materials (98178 needles and syringes, condoms, alco-swaps, ointments, bandages, vitamins, 2585 ampules of Naloxone to prevent overdose deaths – and since June, 2014 we have received 227 reports of lifes saved by Naloxone!) carried out testing and counselling for HIV and hepatitis C on demand and provided 890 street consultations: 31 consultations on legal issues; 261 consultations on post-injection complications; 115 consultations and referrals on HIV and hepatitis testing and counselling; 377 on overdose prevention and management; 137 on drug addiction treatment; as well as referral to medical and social services in Moscow. The prevention materials are purchased from co-funding.
Some people asked for more specific assistance and our case managers worked to help them on their issues. As we started implementation of the legal aid component, our outreach consultations and case management started to concentrate more and more on legal issues encountered by the participants and utilize more and more legal tools and instruments.
In addition to street work we also carried out trainings and seminars – both for the team members as we had to learn a lot of new information on legal matters and advocacy, and new members needed to learn on health issues as well.
The usual format of the seminars for participants is mini – trainings for up to 10 people (usually 6-7). Since we don't have a regular space, we organize these mini trainings at participants' homes or at small cafes in the localities where we do outreach. We have organized several separate seminars for women, focusing on women issues. We have carried out 27 seminars (using LSF and co-funding money). 9 of them were on legal issues. In total 151 people were trained. We have organized three large trainings for the team focused specifically on legal issues and led by our partner from the Canadian HIV/AIDS Legal Network. We have also organized several seminars for legal specialists (in legal clinics) and one seminar on HIV for police in one of the localities of our outreach work (Marjino).
On top of legal counselling and case management we empower participants by the means of providing information: we have printed a brochure "Law and drugs" and 4 issues of our Newspaper for drug users "Shlyapa i bayan" which has a strong focus on legal issues and legal empowerment. We also regularly publish reports on our work and success stories on our social networks which are frequented by drug users from Moscow and other cities.

The pilot phase of the project clearly showed that despite of individual approach to support specific cases, street lawyers practice tends to spread to a wider audience through people, which cases have followed. On the one hand, clients share their experience and recommend street lawyers. On the other - knowledge and skills that clients obtained through this interaction are transmitted within the community, to other drug users. Thus, the project gradually covers a fairly large audience, developing trust and understanding of the fact that drug users are worthy of respect and justice, are able to act independently and to help each other. The success of this project has also inspired people from other regions and education on Street Lawyers modality has been included as part of the national proposal to the Global Fund. We have invited a sociologist Alexandra Dmitrieva from St. Petersburg State University who have studied and evaluated the pilot project. The evaluation report is expected by the end of November 2014 and it will be widely distributed to our partners and other harm reduction and human rights organizations in Russia and EECA region.

Plans for future: We will continue to provide legal help for most disadvantages people who use drugs and continue practice oriented training for our outreach workers and volunteers in order to provide them with more legal instruments, skills and knowledge. We also plan to share our experience with harm reduction services in other regions of Russia which will be supported by the Global Fund Program in Russia for 2015-2017. We also plan to continue cooperation with police and health authorities by way of providing police officers of district police detachments with basic knowledge of HIV prevention and human rights of people who use drugs. We already had one of such an experience.
Links: