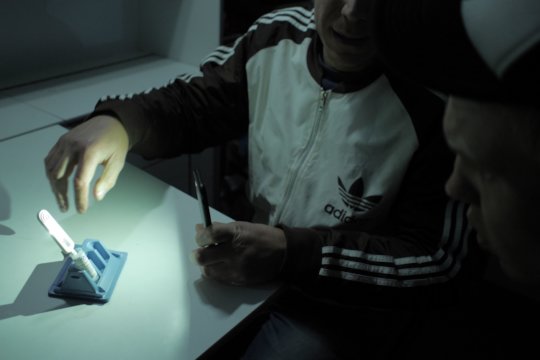 Dear friends --
Before the end of 2017, I would like to thank you once again for your unceasing support of our work on providing essential services to people who use drugs in Moscow. I also wanted to briefly share with you some heartwarming results of our work in 2017.
Unfortunately, in 2017 the health crisis in Russia keeps aggravating - unlike in other countries of the world the HIV epidemic is on the rise, especially among people who use drugs. Hepatitis C treatment is not available to people in need, and around 9000 overdose deaths were officially registered last year. The government of Russia is very persistent in its opposition to effective, evidence-based and humane approaches, such as opioid treatment and harm reduction. Our organization and like-minded NGOs remain under constant attack of the authorities - which included us in the Foreign Agents registry, fined and punished for our work. Russian drug policy is still one of the most conservative and repressive in the world. But despite all that, we believe we must resist and to keep helping our community and friends, even in this oppressive political climate.
One of ARF's most important activities is the harm reduction project -- the only one in Moscow -- that provides services, support, and prevention materials to people who use drugs. Most of our participants are very poor and very marginalized people. Some of them are homeless, some are migrants, some are sex workers. Some don't have any documents, many struggle to support themselves and their children and almost everyone faces legal problems. Our work helps people to improve their health, protect them from infections and overdose, but most importantly, we treat people with loving, dignity and respect that they deserve.
Here are some numbers: in 2017 we served around 3500 clients and provided 222.105 clean syringes and a little over 41.000 condoms. We carried out 1 138 counseling sessions on HIV and hepatitis and provided 324 HIV rapid tests, 26 of them turned out positive.
We distributed informational materials on health and legal issues and a newspaper for drug users. We provided 1233 individual consultation on overdose and 3573 ampules of Naloxone - a medicine that prevents the overdose death. We ask people to come back and tell us if there were able to save their friend's life with the help of Naloxone. In 2017 we received a record number of such reports -- 416 lives were saved with the help of Naloxone, and these are only those people that we know of for sure!
Besides working on the streets, we accompany our participants to health and social services, to drug treatment if opportunities arise. We help our project participants obtain the medical and social assistance they are entitled to. We also document cases of human rights violations and assist people who want to act and protect their rights. This year our participants have submitted 40 complaints to different government structures regarding violations of their rights. 207 participants received legal support, 82 participants received support in restoring their official documents. We have over 25 legal cases submitted to the European Court on Human Rights which aim to strategically challenge the repressive Russian legislation and practices.
Finally, we run a number of tiny sweet projects that help to make the lives of our participants a little bit happier. Among them: activities for children of people who use drugs - we take them to theaters and museums, organize parties where they can spend time with their parents, right now we are preparing for a New Year celebration. We also host several support groups, a cinema club, a women's club, and various social activities for our participants.
2018 is going to be a challenging year for us since we will not be getting the financial support of the Global Fund to Fight AIDS, tuberculosis, and malaria any longer, and no other major donors have emerged on the horizon so far. But we believe in our cause and will keep our little fight for the lives and health of our community and the humane drug policy in Russia. In this, we feel very much supported by our friends and like-minded people like yourselves, and we are very grateful for this support.
We wish you fun holiday adventures and a very very happy 2018!
With deep gratitude, on behalf of the team
Anya <3
Links: