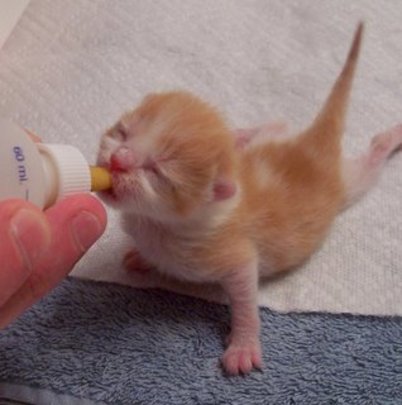 Spring has Sprung in San Diego, and that means.. kittens! Lots and lots of them! Kitten season is a joyous, exciting, and slightly hectic time at Cat Adoption Service. The influx of newborn kittens requires extra time and dedicated care by our team of amazing foster parents. Although many of the kittens we take in come along with their mother, some are orphaned as infants and need round-the-clock care in order to survive. Many mothers with babies come to us via the Feral Cat Society. We take in these mothers, allow them to nurse and care for their young until the kittens reach about 4 weeks of age, when we wean them. If the mothers turn out to be friendly, they are spayed and put up for adoption. Some of our favorite adoptions are when mothers get to go home with one or more of their babies! In the cases of mothers who are truly feral, they are spayed and returned to their colony.
Kittens orphaned at a young age require extra special parenting. They need to be fed every two hours for the first week of life, and every 3 hours for the next few weeks. Although these bottle-babies require intense care, the pay-off is sweet, seeing a kitten grow and change daily is fascinating and adorable!
As always, we depend on your help to cover the costs of the overwhelming number of young cats who need care and homes this time of year. Kittens require several anti-parasite regimens, internal and external, along with vaccine booster series, food, litter, sometimes extra health care. Not to be forgotten are the older cats in residence in our foster homes and adoption sites, patiently waiting for the perfect person to come along and take them home. Cats who stay with us longer require ongoing care and resources.
A big thanks to our amazing volunteers: foster parents, adoption counselors, transporters, and those who complete the various tasks required to keep our organization running smoothly. And from all of us to you: thanks to you for all you do to help the homeless cats of San Diego County! We couldn't do it without you.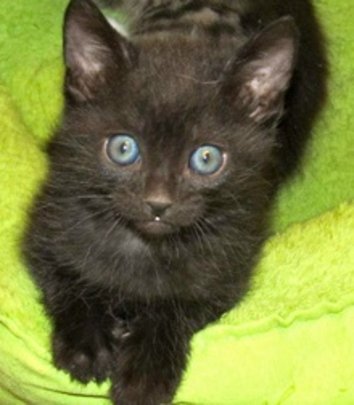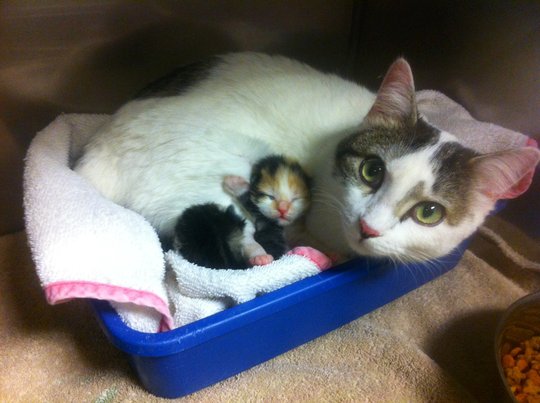 Links: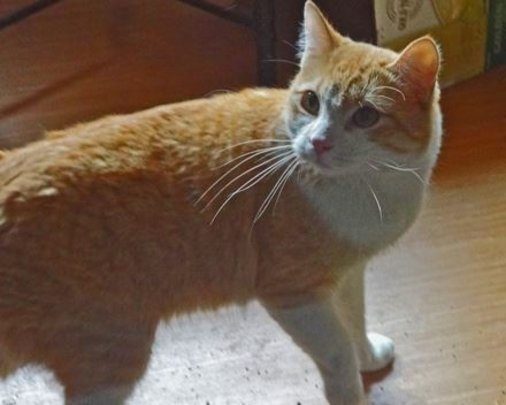 Happy New Year from San Diego Cat Adoption Service!
As we contemplate goals and plans for our rescue efforts in the coming year, it seems appropriate to share with you, our supporters, how your contributions are making a difference and why we depend on you. During 2012 our average cost per cat taken in was $143. (This includes basic supplies such as food and litter, anti-parasite medication, spay/neuter surgery, and the occasional major medical expense.) However that same year our average adoption fee was only $108. Therefore to maintain the same level of care and services, we need to receive donations of about $35 per cat, or $15,120 in a year. Unfortunately due to competition from other publicly funded shelters, we have not been able to raise our adoption rates for the last seven years.
In the past year these figures included a number of "extraordinary" medical expenses. These included several major dental surgeries (between $400-700 each), a host of lab tests for an array of GI pathogens ($100), and an eyelid surgery ($800). The sweet boy who needed the eyelid surgery came to us from a volunteer who saw him being abused and interceded. Perry was born without eyelids and needed rare surgery to correct them and let him live comfortably. Although Perry got a rough start at the hands of humans, extraordinary love and care have allowed him to have a radically different life. He was adopted by one of our volunteers and is tremendously happy in his new home. Because we never want to turn away cats who would be made well and happy due to lack of funds to treat a medical condition, we are hoping to raise $20,000 this year, which balances our expected expenses and provides an additional $5000 as a fund for any cats who come to us needing major medical care.
As you can see from the numbers, we really depend on donations to supplement our rescue efforts. That is why we cannot tell you enough times how much we appreciate your support. Your compassion and generosity make it possible for us to alleviate the suffering of hundreds of cats in the San Diego area each year and place them in loving homes. Thank you again, and remember, spay and neuter your pets, and your neighbors' pets!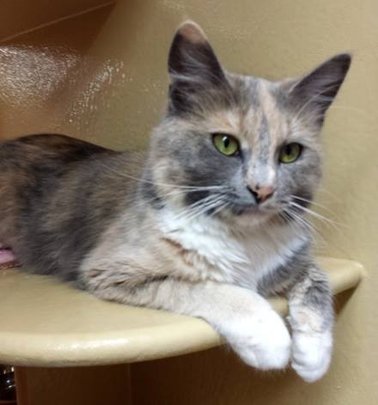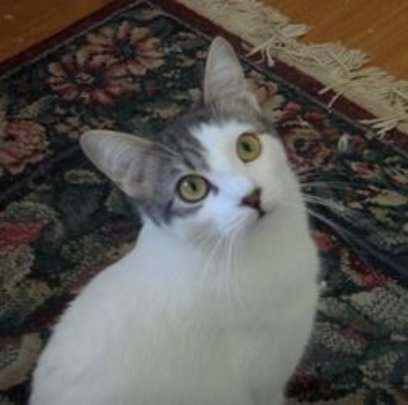 Links: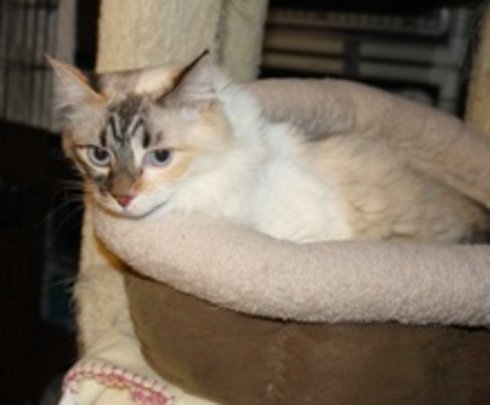 Hello Friends,
When working in rescue and adoption, sometimes it is easy to get overwhelmed by the numbers. So many homeless animals, all caused by human owner's irresponsibility and neglect of spay/neuter practices. One pair of breeding cats can produce a wopping family of 5000 in just 5 years. Around the country, roughly 70% of cats who enter shelters are euthanized. However, that doesn't make us want to stop trying. What makes us keep it up? The playful kittens and loving mamas, the sweet cuddly cats we rescue who never stop trying to find a loving person and a comfortable home, despite the hardships they have faced. At San Diego Cat Adoption Service we never euthanize adoptable cats, which means sometimes a cat could spend months or even years in our foster homes. This is wonderful for our volunteers because we get to know certain cats well, however it is costly, and our goal is to place cats in permanent homes as fast as possible so that we have room to help the next cat in need.
In the spirit of Thanksgiving, I'd like to share one of the stories that keeps us going. This is a letter our follow-up person recieved from a couple who adopted Cassiopea (real names excluded). She was an adult cat who we took from the Cat House on the Kings Sanctuary, along with 15 others in exchange for them taking 3 unadoptable cats to live permanently in their beautiful sanctuary.
We spent the evening with Cassy watching TV. She has already stolen our hearts. As we sat on the couch, she kept going between me and my hubby Dan. She was petted and scratched the whole time and she never stopped purring! She investigated the room a little, but she couldn't seem to go without human contact for more than 2 minutes. And when she relaxes, she talks to us. It is the sweetest sound!! In 37 years and 10 cats, I have never seen Dan take to a kitty this fast. My hubby is smitten with her :)

Marie, it is obvious that you love cats because you give so much of your time and love rescuing them. You must hope that each wonderful cat is adopted into a loving home. It must be hard to let them go not knowing what their future holds. I want to assure you that by adopting Cassie we have promised to care for, protect and love her all the days of her life. Beside loving her, we promise we will keep her safe. We will address and fix any and all medical condition, no matter the financial impact, as long as we can preserve her quality of life. We have kept this promise to our pets for 37 years and Cassie will be no exception!

It is my hope that Cassie will grow to love us as much as we already love her. And that Dan, Cassie and I will all grow old together :) Marie, thank you so much for your cat rescue efforts. With out you and people like you, we wouldn't have Cassie.

Erica

So to all you cat lovers out there who help us fight this fight by providing a warm, loving, happy home at the end of our cats' long journeys, thank you! To everyone who supports our work through donation, adoption, volunteering, and spreading the word about rescue and spay/neuter practices, thank you! We are all in this together and that makes a real difference out there in the world for cats and for all beings. We appreciate you all so much.

Happy Thanksgiving from all of us at San Diego Cat AdopTion Service!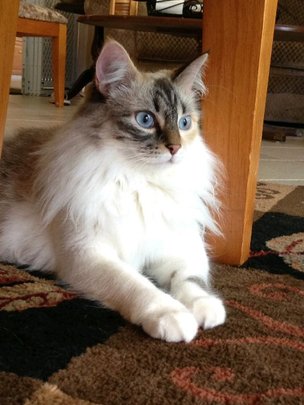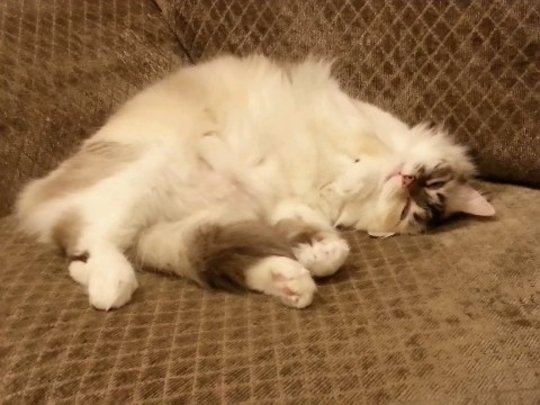 Links:
WARNING: Javascript is currently disabled or is not available in your browser. GlobalGiving makes extensive use of Javascript and will not function properly with Javascript disabled.
Please enable Javascript
and refresh this page.